Browse
Display numbers
Sublime 3 plugin that shows a number in 10, 16, 2 and 8 numeral systems
Details
0.2.0

9 months ago

2 hours ago

10 months ago
Installs
Total

86

Win

53

Mac

16

Linux

17
| | | | | | | | | | | | | | | | | | | | | | | | | | | | | | | | | | | | | | | | | | | | | | |
| --- | --- | --- | --- | --- | --- | --- | --- | --- | --- | --- | --- | --- | --- | --- | --- | --- | --- | --- | --- | --- | --- | --- | --- | --- | --- | --- | --- | --- | --- | --- | --- | --- | --- | --- | --- | --- | --- | --- | --- | --- | --- | --- | --- | --- | --- |
| | Oct 22 | Oct 21 | Oct 20 | Oct 19 | Oct 18 | Oct 17 | Oct 16 | Oct 15 | Oct 14 | Oct 13 | Oct 12 | Oct 11 | Oct 10 | Oct 9 | Oct 8 | Oct 7 | Oct 6 | Oct 5 | Oct 4 | Oct 3 | Oct 2 | Oct 1 | Sep 30 | Sep 29 | Sep 28 | Sep 27 | Sep 26 | Sep 25 | Sep 24 | Sep 23 | Sep 22 | Sep 21 | Sep 20 | Sep 19 | Sep 18 | Sep 17 | Sep 16 | Sep 15 | Sep 14 | Sep 13 | Sep 12 | Sep 11 | Sep 10 | Sep 9 | Sep 8 |
| Windows | 1 | 0 | 0 | 0 | 0 | 0 | 0 | 0 | 0 | 0 | 0 | 0 | 0 | 0 | 1 | 0 | 1 | 0 | 0 | 0 | 0 | 0 | 0 | 0 | 0 | 0 | 0 | 1 | 0 | 0 | 0 | 0 | 0 | 0 | 0 | 0 | 0 | 0 | 1 | 0 | 0 | 0 | 0 | 0 | 0 |
| Mac | 0 | 0 | 0 | 0 | 0 | 0 | 0 | 0 | 0 | 0 | 0 | 0 | 0 | 0 | 0 | 0 | 0 | 0 | 0 | 0 | 0 | 0 | 0 | 0 | 0 | 0 | 0 | 0 | 1 | 0 | 0 | 0 | 0 | 0 | 0 | 0 | 0 | 0 | 0 | 0 | 0 | 0 | 0 | 0 | 0 |
| Linux | 0 | 0 | 0 | 0 | 0 | 0 | 0 | 0 | 0 | 0 | 1 | 0 | 0 | 0 | 0 | 0 | 0 | 0 | 0 | 0 | 0 | 0 | 0 | 0 | 0 | 0 | 0 | 0 | 0 | 0 | 0 | 0 | 0 | 0 | 0 | 0 | 0 | 0 | 0 | 0 | 0 | 0 | 0 | 0 | 0 |
Readme
Source
Plugin that shows a number in 10, 16, 2 and 8 numeral systems for Sublime 3
This plugin converts the selected number in decimal, hexadecimal, binary or octal numeral systems and displays a popup that shows the result in all four (dec, hex, bin and oct) numeral systems. There is three modes of popup window:
basic

extended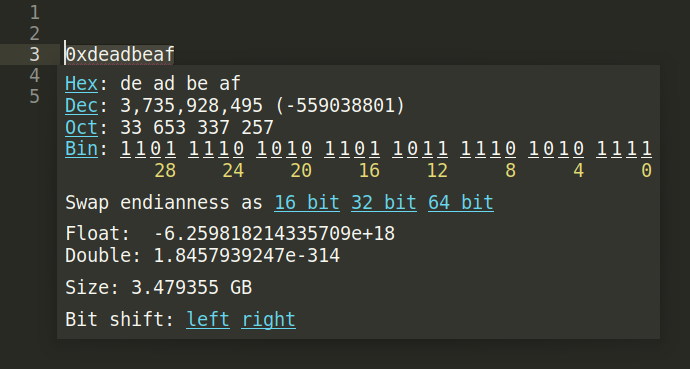 tabled

Installation
Clone this repository or download zip archive into the Sublime 3 package directory (you can find it in menu option Preferences -> Browse Packages...). Keep in mind that plugin folder name should be Display numbers.
Additional functionality
Pressing any digit of binary number makes it opposite of it's current value.
"swap" button swaps the bit positions what can be useful in some architectures.
Key binding is available for convert numeral system and swap endianness functions.
Settings
You can setup this plugin settings or key bindings which can be edited in menu option Preferences -> Package Settings -> Display nums -> Settings or Key bindings accordingly. Or you can define project specific settings by adding "disnum." to the setting option, for example:
user settings file
{


    

"plugin_mode"

:

 

"extended"




}



project settings file
{


    

"disnum.plugin_mode"

:

 

"tabled"




}