Browse
Git​Link
Open your Sublime Text files on GitHub, Bitbucket, Gitlab or Codebase
Details
0.9.0

1 month ago

1 hour ago

9 years ago
Installs
Total

4K

Win

1K

Mac

2K

Linux

874
| | | | | | | | | | | | | | | | | | | | | | | | | | | | | | | | | | | | | | | | | | | | | | |
| --- | --- | --- | --- | --- | --- | --- | --- | --- | --- | --- | --- | --- | --- | --- | --- | --- | --- | --- | --- | --- | --- | --- | --- | --- | --- | --- | --- | --- | --- | --- | --- | --- | --- | --- | --- | --- | --- | --- | --- | --- | --- | --- | --- | --- | --- |
| | Oct 3 | Oct 2 | Oct 1 | Sep 30 | Sep 29 | Sep 28 | Sep 27 | Sep 26 | Sep 25 | Sep 24 | Sep 23 | Sep 22 | Sep 21 | Sep 20 | Sep 19 | Sep 18 | Sep 17 | Sep 16 | Sep 15 | Sep 14 | Sep 13 | Sep 12 | Sep 11 | Sep 10 | Sep 9 | Sep 8 | Sep 7 | Sep 6 | Sep 5 | Sep 4 | Sep 3 | Sep 2 | Sep 1 | Aug 31 | Aug 30 | Aug 29 | Aug 28 | Aug 27 | Aug 26 | Aug 25 | Aug 24 | Aug 23 | Aug 22 | Aug 21 | Aug 20 |
| Windows | 0 | 1 | 0 | 0 | 0 | 0 | 1 | 0 | 0 | 0 | 1 | 0 | 0 | 0 | 0 | 0 | 1 | 0 | 1 | 0 | 0 | 0 | 0 | 0 | 0 | 0 | 2 | 0 | 1 | 0 | 0 | 0 | 0 | 1 | 0 | 0 | 0 | 0 | 0 | 0 | 1 | 0 | 0 | 0 | 0 |
| Mac | 0 | 0 | 0 | 0 | 0 | 0 | 0 | 0 | 1 | 0 | 0 | 0 | 0 | 1 | 0 | 0 | 0 | 0 | 0 | 0 | 0 | 0 | 0 | 0 | 0 | 0 | 0 | 0 | 0 | 0 | 0 | 0 | 0 | 0 | 0 | 1 | 0 | 0 | 0 | 1 | 1 | 1 | 0 | 0 | 0 |
| Linux | 0 | 1 | 0 | 0 | 0 | 0 | 0 | 0 | 0 | 0 | 0 | 0 | 0 | 0 | 0 | 0 | 0 | 0 | 0 | 2 | 0 | 0 | 0 | 0 | 0 | 1 | 0 | 0 | 0 | 2 | 0 | 0 | 0 | 0 | 0 | 0 | 1 | 0 | 0 | 0 | 0 | 0 | 0 | 0 | 0 |
Readme
Source
This repository is looking for a new maintainer
GitLink
Sublime Text plugin to derive shareable URLs to files in your source repositories. No more traversing your file structure finding the file you are working on. With support for: * http://github.com * http://bitbucket.org * https://about.gitlab.com * http://codebasehq.com
How it works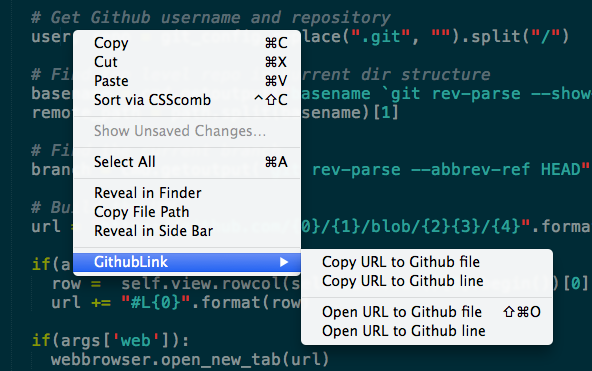 Or search for "GitLink" in the Command Palette
Copy URLs to files
command + shift + c Right click any file in the sidebar (that is part of a Git repository) and go to the GitLink menu item to see options.
Copy URLs to files with a deeplink the line number
Right click anywhere within the file you are currently editing. Your cursor position determines which line number will be used for the deeplink.
Open URLs in your default browser as a new tab
command + shift + o Use your default web browser (Chrome) to skip a step and open any of the links automatically in a new tab.
Installation
The easiest is to install using Package control.
To install manually, you can clone the Git repository directly: * Mac: * cd ~/Library/Application Support/Sublime Text/Packages/ * Linux: * cd ~/.config/sublime-text/Packages * git clone git@github.com:rscherf/GitLink.git * Restart Sublime Text
Configuration
To switch to generating permanent links that reference a git commit hash instead of branch name, add "gitlink_revision_type": "commithash" to your Preferences.sublime-settings file.
Contribute
GitHub and Sublime Text are powerful; I know all of you can make this way better than me.
Fork/clone the repository
Add whatever you'd like
Submit a Pull Request
Copyright
Star the Github repository
Follow http://twitter.com/ryanscherf on Twitter and tell me how much you love this plugin
Use it however you'd like