Browse
JDebug
Java Debugger for Sublime Text Editor
Details
2.0.2

4 years ago

46 minutes ago

4 years ago
Installs
Total

2K

Win

1K

OS X

672

Linux

450
| | | | | | | | | | | | | | | | | | | | | | | | | | | | | | | | | | | | | | | | | | | | | | | |
| --- | --- | --- | --- | --- | --- | --- | --- | --- | --- | --- | --- | --- | --- | --- | --- | --- | --- | --- | --- | --- | --- | --- | --- | --- | --- | --- | --- | --- | --- | --- | --- | --- | --- | --- | --- | --- | --- | --- | --- | --- | --- | --- | --- | --- | --- | --- |
| | Oct 18 | Oct 17 | Oct 16 | Oct 15 | Oct 14 | Oct 13 | Oct 12 | Oct 11 | Oct 10 | Oct 9 | Oct 8 | Oct 7 | Oct 6 | Oct 5 | Oct 4 | Oct 3 | Oct 2 | Oct 1 | Sep 30 | Sep 29 | Sep 28 | Sep 27 | Sep 26 | Sep 25 | Sep 24 | Sep 23 | Sep 22 | Sep 21 | Sep 20 | Sep 19 | Sep 18 | Sep 17 | Sep 16 | Sep 15 | Sep 14 | Sep 13 | Sep 12 | Sep 11 | Sep 10 | Sep 9 | Sep 8 | Sep 7 | Sep 6 | Sep 5 | Sep 4 | Sep 3 |
| Windows | 0 | 0 | 0 | 0 | 2 | 1 | 1 | 1 | 0 | 1 | 2 | 0 | 1 | 1 | 0 | 2 | 0 | 1 | 0 | 1 | 0 | 0 | 1 | 2 | 0 | 0 | 0 | 1 | 1 | 0 | 1 | 2 | 0 | 1 | 3 | 2 | 2 | 1 | 1 | 0 | 0 | 0 | 1 | 0 | 2 | 0 |
| OS X | 0 | 0 | 0 | 0 | 2 | 0 | 1 | 0 | 0 | 1 | 0 | 0 | 0 | 0 | 1 | 0 | 0 | 0 | 0 | 2 | 0 | 0 | 1 | 1 | 0 | 0 | 0 | 0 | 0 | 0 | 3 | 0 | 0 | 0 | 0 | 0 | 1 | 1 | 0 | 1 | 0 | 0 | 1 | 3 | 0 | 0 |
| Linux | 0 | 0 | 0 | 0 | 0 | 0 | 0 | 0 | 0 | 0 | 0 | 0 | 0 | 0 | 0 | 0 | 0 | 0 | 1 | 0 | 2 | 0 | 1 | 0 | 0 | 0 | 0 | 1 | 2 | 0 | 0 | 0 | 0 | 0 | 0 | 0 | 0 | 0 | 0 | 0 | 0 | 0 | 1 | 0 | 0 | 2 |
Readme
Source
JDebug
Description
JDebug is the Java Debugging Sublime Text plugin. It uses the Remote debugging features of JDB command.
More Details
Get More Information from the tutorial - http://blog.jdebugger.com/2015/02/jdebug-java-debugging-plugin-for.html
Usage
This is a beta version tested in Weblogic 11g(Windows, Ubuntu 14.04 and OS X Mavericks 10.9) with Sublime Text 2 & 3 and Java 1.6.0_29
To debug: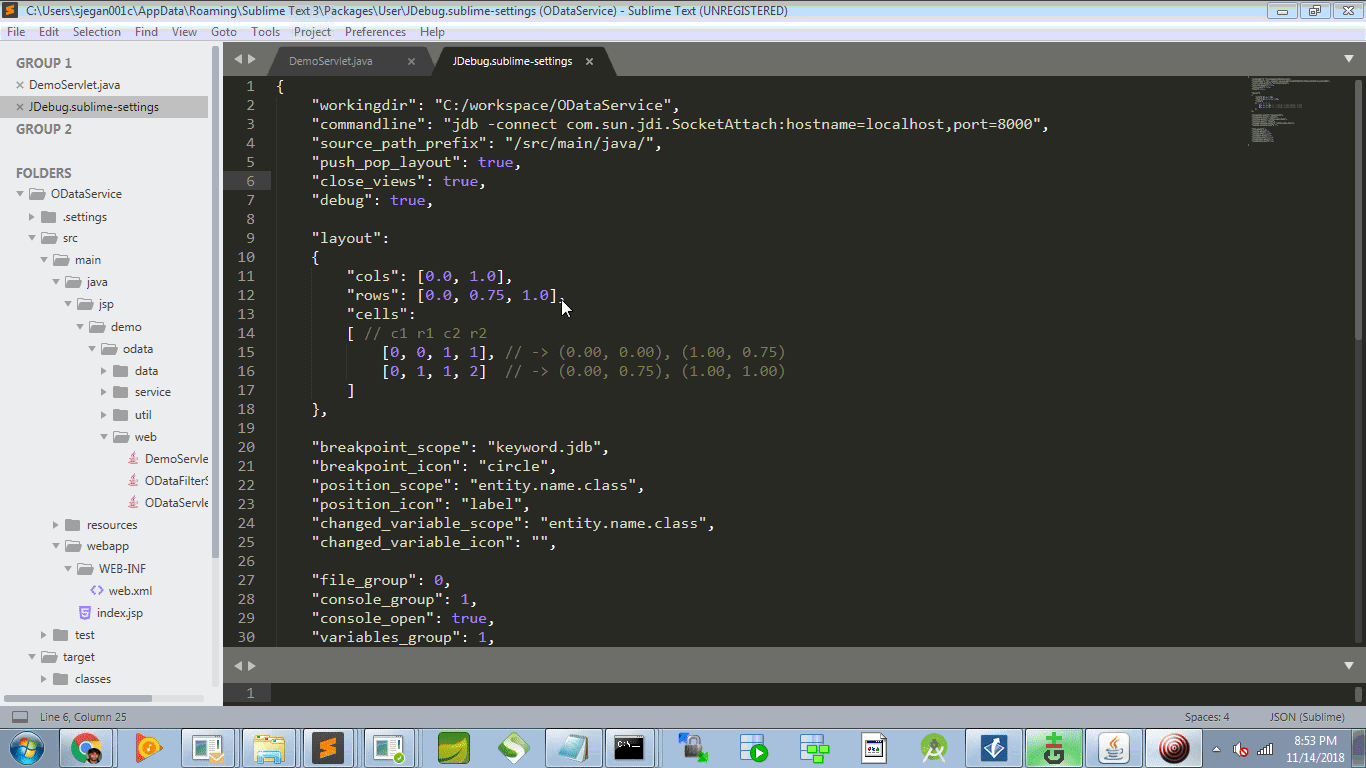 Support
Please donate for supporting the devlopment or click the ad in the above tutorial page.