Browse
JSHint
JSHint any JavaScript file in Sublime Text 2
Details
2018.02.11.05.59.59

6 years ago

2 hours ago

12 years ago
Installs
Total

272K

Win

143K

Mac

84K

Linux

45K
| | | | | | | | | | | | | | | | | | | | | | | | | | | | | | | | | | | | | | | | | | | | | | | |
| --- | --- | --- | --- | --- | --- | --- | --- | --- | --- | --- | --- | --- | --- | --- | --- | --- | --- | --- | --- | --- | --- | --- | --- | --- | --- | --- | --- | --- | --- | --- | --- | --- | --- | --- | --- | --- | --- | --- | --- | --- | --- | --- | --- | --- | --- | --- |
| | Dec 8 | Dec 7 | Dec 6 | Dec 5 | Dec 4 | Dec 3 | Dec 2 | Dec 1 | Nov 30 | Nov 29 | Nov 28 | Nov 27 | Nov 26 | Nov 25 | Nov 24 | Nov 23 | Nov 22 | Nov 21 | Nov 20 | Nov 19 | Nov 18 | Nov 17 | Nov 16 | Nov 15 | Nov 14 | Nov 13 | Nov 12 | Nov 11 | Nov 10 | Nov 9 | Nov 8 | Nov 7 | Nov 6 | Nov 5 | Nov 4 | Nov 3 | Nov 2 | Nov 1 | Oct 31 | Oct 30 | Oct 29 | Oct 28 | Oct 27 | Oct 26 | Oct 25 | Oct 24 |
| Windows | 2 | 13 | 7 | 4 | 2 | 6 | 1 | 4 | 7 | 5 | 4 | 6 | 4 | 2 | 6 | 4 | 4 | 6 | 5 | 4 | 6 | 2 | 5 | 5 | 8 | 6 | 4 | 4 | 7 | 2 | 3 | 9 | 7 | 2 | 4 | 5 | 6 | 4 | 7 | 4 | 7 | 5 | 1 | 8 | 4 | 7 |
| Mac | 1 | 0 | 2 | 1 | 4 | 1 | 1 | 1 | 1 | 1 | 0 | 0 | 0 | 1 | 1 | 1 | 1 | 1 | 1 | 3 | 0 | 1 | 0 | 0 | 1 | 0 | 1 | 1 | 5 | 1 | 1 | 1 | 0 | 1 | 1 | 0 | 1 | 1 | 0 | 1 | 0 | 2 | 2 | 2 | 2 | 1 |
| Linux | 0 | 3 | 2 | 1 | 1 | 6 | 1 | 0 | 3 | 3 | 2 | 2 | 0 | 2 | 3 | 3 | 2 | 3 | 2 | 3 | 1 | 0 | 3 | 0 | 2 | 0 | 2 | 0 | 1 | 3 | 3 | 0 | 0 | 2 | 1 | 1 | 3 | 4 | 2 | 0 | 1 | 1 | 2 | 1 | 0 | 0 |
Readme
Source
JSHint for Sublime Text
The best JavaScript syntax checker: JSHint for the best text editor: Sublime Text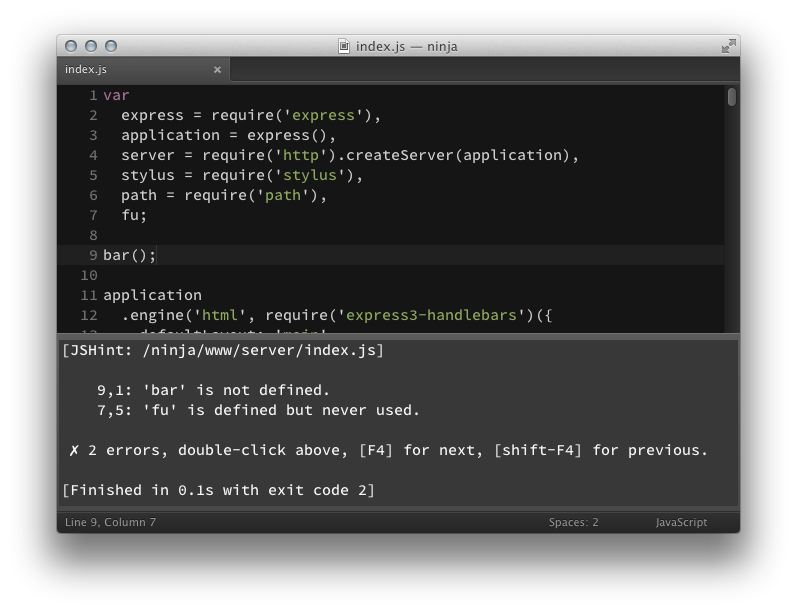 Prerequisites: jshint and Sublime Package Control
Mac OS X: Installing node with homebrew or macports is assumed. Use SublimeFixMacPath for setting the correct OS X path. Supports nvm - Node Version Manager
Linux: Make sure jshint is in your environment path.
Windows: Installing node with the Windows Installer from nodejs.org is assumed.
1. Terminal
Note: JSHint will use the first .jshintrc file found traversing from the active file in Sublime Text up to your project's root.
2. Sublime Text Package Control
command-shift-p or control-shift-p in Linux/Windows
type install p, select Package Control: Install Package
type jshint, select JSHint
Note: Without Sublime Package Control, you could manually clone to Packages directory as 'JSHint', exactly.
3. JSHint an active JavaScript file
control-j or alt-j in Linux/Windows or Tools/Contextual menus or the Command Palette
F4 jump to next error row/column
shift-F4 jump to previous error row-column
Note: The control-j/alt-j shortcut changes the Build System on the current file to JSHint, then Builds to run JSHint on the file and output any errors for jumping to within the file. You could alternatively set the Build System to Automatic and command-b/control-b/F7, but only on files that end with .js.
JSHint on save
Install SublimeOnSaveBuild