Browse
Jump Along Indent
Sublime 3 plugin to move cursor to next/previous line at the same indentation level as the current line
Details
0.4.0

8 years ago

9 minutes ago

9 years ago
Installs
Total

3K

Win

1K

Mac

1K

Linux

666
| | | | | | | | | | | | | | | | | | | | | | | | | | | | | | | | | | | | | | | | | | | | | | |
| --- | --- | --- | --- | --- | --- | --- | --- | --- | --- | --- | --- | --- | --- | --- | --- | --- | --- | --- | --- | --- | --- | --- | --- | --- | --- | --- | --- | --- | --- | --- | --- | --- | --- | --- | --- | --- | --- | --- | --- | --- | --- | --- | --- | --- | --- |
| | Nov 27 | Nov 26 | Nov 25 | Nov 24 | Nov 23 | Nov 22 | Nov 21 | Nov 20 | Nov 19 | Nov 18 | Nov 17 | Nov 16 | Nov 15 | Nov 14 | Nov 13 | Nov 12 | Nov 11 | Nov 10 | Nov 9 | Nov 8 | Nov 7 | Nov 6 | Nov 5 | Nov 4 | Nov 3 | Nov 2 | Nov 1 | Oct 31 | Oct 30 | Oct 29 | Oct 28 | Oct 27 | Oct 26 | Oct 25 | Oct 24 | Oct 23 | Oct 22 | Oct 21 | Oct 20 | Oct 19 | Oct 18 | Oct 17 | Oct 16 | Oct 15 | Oct 14 |
| Windows | 0 | 0 | 0 | 1 | 1 | 0 | 0 | 0 | 0 | 1 | 0 | 0 | 0 | 1 | 0 | 0 | 0 | 1 | 1 | 0 | 0 | 0 | 0 | 0 | 0 | 0 | 0 | 0 | 0 | 0 | 0 | 0 | 0 | 0 | 0 | 0 | 0 | 1 | 0 | 0 | 0 | 0 | 0 | 0 | 0 |
| Mac | 0 | 0 | 0 | 0 | 0 | 1 | 0 | 0 | 0 | 1 | 0 | 0 | 0 | 0 | 1 | 0 | 0 | 0 | 0 | 0 | 0 | 0 | 0 | 0 | 0 | 1 | 0 | 0 | 0 | 0 | 1 | 0 | 0 | 1 | 0 | 0 | 0 | 0 | 0 | 0 | 0 | 1 | 0 | 0 | 0 |
| Linux | 0 | 0 | 0 | 0 | 0 | 0 | 1 | 3 | 0 | 0 | 0 | 1 | 1 | 0 | 0 | 0 | 0 | 0 | 0 | 0 | 0 | 0 | 0 | 0 | 0 | 0 | 0 | 0 | 0 | 0 | 0 | 0 | 0 | 1 | 0 | 0 | 0 | 0 | 0 | 0 | 0 | 0 | 0 | 0 | 0 |
Readme
Source
Sublime Jump Along Indent
Description
A Sublime Text 3 plugin to move the cursor to next/previous line at the same indentation level as the current line.
There are two commands: jump_next_indent and jump_prev_indent.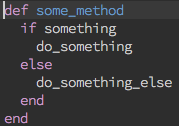 →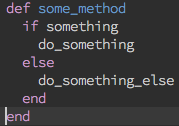 If the cursor is to the left of an indented line, it will jump to the next line that is at that level or less.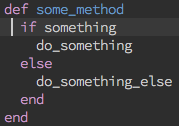 →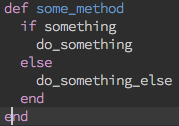 If there are several lines on the same indent level, the cursor will jump to the beginning or end of the block of lines.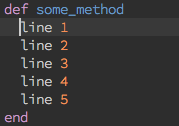 →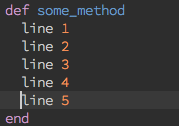 Extending selection
With the option extend_selection: true you can extend the selection while jumping: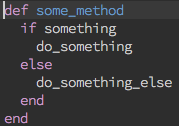 →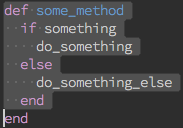 Jumping to a different indent level
You can also use the indent_offset option to jump to a more or less-indented line. For example, with indent_offset = -1: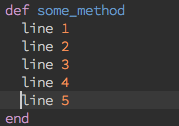 →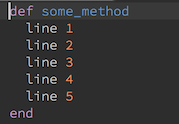 Installation
Using Package Control
Select "Package Control: Install Package" from the Command Palette
Search for "Jump Along Indent"
Using Git
Clone the repository in your Sublime Text Packages directory:
git clone https://github.com/mwean/sublime_jump_along_indent.git /path/to/sublime/packages
Not Using Git
Unzip and move to Sublime Text packages folder
Usage
The plugin comes with a set of default keybindings:
alt+up: Jump to previous indented line
alt+down: Jump to next indented line
alt+shift+up: Jump to previous indented line and extend selection
alt+shift+down: Jump to next indented line and extend selection
Credits
Some of the methods in file_scanner.py were adapted from the VintageEx plugin.