Browse
Python Breakpoints
Sublime Text plugin to set Python breakpoints
Details
2015.05.13.08.45.48

8 years ago

1 hour ago

10 years ago
Installs
Total

64K

Win

35K

Mac

13K

Linux

15K
| | | | | | | | | | | | | | | | | | | | | | | | | | | | | | | | | | | | | | | | | | | | | | | |
| --- | --- | --- | --- | --- | --- | --- | --- | --- | --- | --- | --- | --- | --- | --- | --- | --- | --- | --- | --- | --- | --- | --- | --- | --- | --- | --- | --- | --- | --- | --- | --- | --- | --- | --- | --- | --- | --- | --- | --- | --- | --- | --- | --- | --- | --- | --- |
| | Sep 22 | Sep 21 | Sep 20 | Sep 19 | Sep 18 | Sep 17 | Sep 16 | Sep 15 | Sep 14 | Sep 13 | Sep 12 | Sep 11 | Sep 10 | Sep 9 | Sep 8 | Sep 7 | Sep 6 | Sep 5 | Sep 4 | Sep 3 | Sep 2 | Sep 1 | Aug 31 | Aug 30 | Aug 29 | Aug 28 | Aug 27 | Aug 26 | Aug 25 | Aug 24 | Aug 23 | Aug 22 | Aug 21 | Aug 20 | Aug 19 | Aug 18 | Aug 17 | Aug 16 | Aug 15 | Aug 14 | Aug 13 | Aug 12 | Aug 11 | Aug 10 | Aug 9 | Aug 8 |
| Windows | 7 | 5 | 9 | 4 | 4 | 4 | 4 | 6 | 4 | 4 | 3 | 8 | 3 | 3 | 0 | 5 | 5 | 6 | 3 | 8 | 2 | 2 | 9 | 4 | 8 | 6 | 3 | 4 | 4 | 3 | 3 | 4 | 1 | 3 | 5 | 6 | 2 | 2 | 2 | 4 | 4 | 4 | 9 | 6 | 12 | 4 |
| Mac | 0 | 0 | 0 | 2 | 2 | 0 | 0 | 1 | 0 | 2 | 0 | 2 | 0 | 2 | 3 | 2 | 1 | 1 | 1 | 0 | 1 | 0 | 1 | 1 | 1 | 2 | 0 | 1 | 0 | 1 | 3 | 1 | 1 | 2 | 2 | 0 | 1 | 1 | 0 | 1 | 1 | 1 | 0 | 2 | 1 | 3 |
| Linux | 2 | 6 | 1 | 1 | 1 | 2 | 2 | 2 | 3 | 0 | 1 | 3 | 3 | 2 | 1 | 1 | 2 | 1 | 1 | 1 | 0 | 0 | 2 | 3 | 0 | 1 | 2 | 2 | 5 | 3 | 1 | 1 | 1 | 2 | 1 | 2 | 2 | 0 | 0 | 2 | 2 | 1 | 1 | 2 | 2 | 2 |
Readme
Source
Sublime Text Python Breakpoints
This is a Sublime Text plugin allowing to quickly set Python breakpoints by injecting set_trace() call of pdb or other debugger of your choice.
Features
breakpoint color highlighting, gutter icons
auto indentation, auto save on toggle (off by default, configurable)
your source file stores all breakpoints; plugin detects and recreates them on next load
support for user comments to help navigate among many breakpoints
Screenshot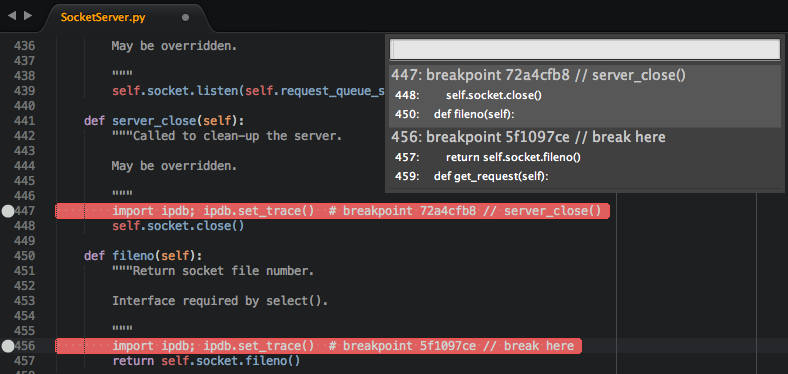 Install
Through Package Control (recommended):
Command Palette > Package Control: Install Package > Python Breakpoints
From GitHub: Clone this repository into your version/platform specific Packages directory. Example for Mac and ST2 (note the space in the target directory name):
cd ~/Library/Application Support/Sublime Text 2/Packages
git clone https://github.com/obormot/PythonBreakpoints 'Python Breakpoints'

Usage
Command Palette > Python Breakpoints: ...
Toggle a breakpoint at current line (or ctrl+shift+b)
Goto a selected breakpoint (or ctrl+shift+g, or Menu > Goto > Goto Python Breakpoint...)
Clear All breakpoints in current file (or Menu > Tools > Breakpoints > Clear All Python Breakpoints)
If one or multiple lines of code are selected, the Toggle command will wrap the selected lines in a try-except statement and a new breakpoint will be added under the except: section.
Settings
Preferences > Package Settings > Python Breakpoints
Caveats
only space indentation is supported
in some code fragments the plugin may incorrectly indent the breakpoint; in such cases just use Indent/Unindent keyboard shortcuts to move it into desired position