Browse
Scratchpad
Scratchpad plugin for sublime text
Details
1.0.2

8 years ago

20 minutes ago

9 years ago
Installs
Total

2K

Win

561

Mac

693

Linux

394
| | | | | | | | | | | | | | | | | | | | | | | | | | | | | | | | | | | | | | | | | | | | | | |
| --- | --- | --- | --- | --- | --- | --- | --- | --- | --- | --- | --- | --- | --- | --- | --- | --- | --- | --- | --- | --- | --- | --- | --- | --- | --- | --- | --- | --- | --- | --- | --- | --- | --- | --- | --- | --- | --- | --- | --- | --- | --- | --- | --- | --- | --- |
| | Oct 1 | Sep 30 | Sep 29 | Sep 28 | Sep 27 | Sep 26 | Sep 25 | Sep 24 | Sep 23 | Sep 22 | Sep 21 | Sep 20 | Sep 19 | Sep 18 | Sep 17 | Sep 16 | Sep 15 | Sep 14 | Sep 13 | Sep 12 | Sep 11 | Sep 10 | Sep 9 | Sep 8 | Sep 7 | Sep 6 | Sep 5 | Sep 4 | Sep 3 | Sep 2 | Sep 1 | Aug 31 | Aug 30 | Aug 29 | Aug 28 | Aug 27 | Aug 26 | Aug 25 | Aug 24 | Aug 23 | Aug 22 | Aug 21 | Aug 20 | Aug 19 | Aug 18 |
| Windows | 0 | 0 | 0 | 0 | 0 | 0 | 0 | 0 | 0 | 0 | 0 | 0 | 0 | 0 | 0 | 0 | 0 | 0 | 0 | 0 | 0 | 0 | 0 | 0 | 0 | 0 | 0 | 0 | 0 | 0 | 0 | 0 | 0 | 0 | 0 | 0 | 0 | 0 | 1 | 0 | 0 | 0 | 0 | 0 | 0 |
| Mac | 0 | 0 | 0 | 0 | 0 | 0 | 0 | 0 | 0 | 0 | 0 | 0 | 0 | 0 | 0 | 0 | 0 | 0 | 0 | 0 | 0 | 0 | 0 | 0 | 0 | 0 | 0 | 0 | 0 | 0 | 0 | 0 | 0 | 0 | 0 | 0 | 0 | 1 | 0 | 0 | 0 | 0 | 0 | 0 | 0 |
| Linux | 0 | 0 | 0 | 0 | 0 | 0 | 0 | 0 | 0 | 0 | 0 | 0 | 1 | 0 | 0 | 0 | 0 | 0 | 0 | 0 | 0 | 0 | 0 | 1 | 0 | 0 | 0 | 0 | 0 | 0 | 0 | 0 | 0 | 0 | 0 | 0 | 0 | 0 | 0 | 0 | 0 | 1 | 0 | 0 | 1 |
Readme
Source
Sublime Scratchpad
Easy to use Note taking tool for Sublime Text.
Motivation
Sublime text is a great text editor and it can be used to write down your important notes, todo lists and random musings while you code :)
I keep finding myself creating a new file every time using 'Ctrl+n' to write down something. Saving and managing these files is a pain.
Solution
This plugin maintains a single scratchpad file which you can open using 'Ctrl+alt+n' to view the contents of the file.
Hitting 'Ctrl+Space' will open and add a time-stamp at the end of the file where you can start typing your stuff.
Example Screenshot: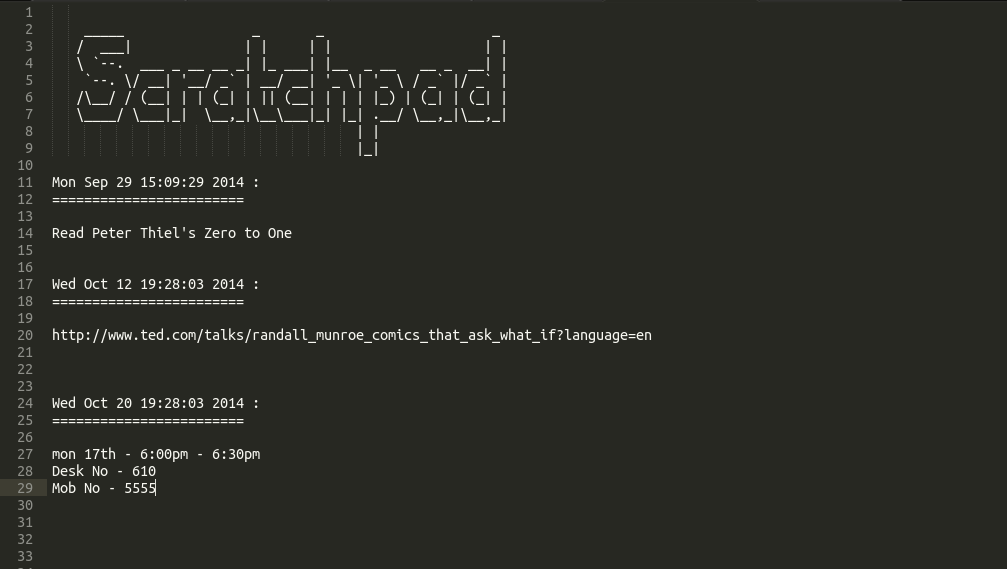 You can also type "Scratch Pad" in command panel(ctrl+shift+p) to edit the scratchpad file
This will help you stay organized with all your notes, as it will allow you to easily search your file contents. The time-stamp is a very useful feature to organize your notes.
Installation
You can install this plugin from package control. Once you have package control installed type Install package in command panel. Search and select Scratchpad in the list.
You can manually install this plugin by clonning or downloading this repository into Packages directory of your sublime text installation.
License
All of Sublime Scratchpad is licensed under the MIT license.