Browse
St​Gitlab
Sublime text Gitlab manager
Details
1.0.9

4 years ago

22 minutes ago

6 years ago
Installs
Total

3K

Win

1K

Mac

626

Linux

648
| | | | | | | | | | | | | | | | | | | | | | | | | | | | | | | | | | | | | | | | | | | | | | |
| --- | --- | --- | --- | --- | --- | --- | --- | --- | --- | --- | --- | --- | --- | --- | --- | --- | --- | --- | --- | --- | --- | --- | --- | --- | --- | --- | --- | --- | --- | --- | --- | --- | --- | --- | --- | --- | --- | --- | --- | --- | --- | --- | --- | --- | --- |
| | Nov 28 | Nov 27 | Nov 26 | Nov 25 | Nov 24 | Nov 23 | Nov 22 | Nov 21 | Nov 20 | Nov 19 | Nov 18 | Nov 17 | Nov 16 | Nov 15 | Nov 14 | Nov 13 | Nov 12 | Nov 11 | Nov 10 | Nov 9 | Nov 8 | Nov 7 | Nov 6 | Nov 5 | Nov 4 | Nov 3 | Nov 2 | Nov 1 | Oct 31 | Oct 30 | Oct 29 | Oct 28 | Oct 27 | Oct 26 | Oct 25 | Oct 24 | Oct 23 | Oct 22 | Oct 21 | Oct 20 | Oct 19 | Oct 18 | Oct 17 | Oct 16 | Oct 15 |
| Windows | 0 | 0 | 0 | 0 | 0 | 0 | 0 | 0 | 0 | 0 | 0 | 0 | 0 | 2 | 0 | 0 | 0 | 0 | 0 | 0 | 0 | 0 | 0 | 0 | 0 | 0 | 0 | 0 | 0 | 0 | 1 | 0 | 0 | 0 | 0 | 0 | 0 | 0 | 0 | 0 | 0 | 0 | 1 | 0 | 0 |
| Mac | 0 | 0 | 0 | 0 | 0 | 0 | 0 | 0 | 0 | 0 | 0 | 0 | 0 | 0 | 0 | 0 | 0 | 0 | 0 | 0 | 0 | 0 | 0 | 0 | 0 | 1 | 0 | 0 | 0 | 0 | 1 | 0 | 0 | 0 | 0 | 0 | 0 | 1 | 0 | 0 | 0 | 0 | 0 | 0 | 0 |
| Linux | 0 | 0 | 0 | 0 | 0 | 0 | 1 | 0 | 2 | 0 | 0 | 0 | 1 | 1 | 0 | 0 | 0 | 0 | 0 | 0 | 1 | 0 | 0 | 0 | 0 | 1 | 0 | 0 | 0 | 0 | 0 | 0 | 0 | 0 | 0 | 0 | 0 | 0 | 0 | 0 | 0 | 0 | 0 | 0 | 0 |
Readme
Source
StGitlab: SublimeText Gitlab manager
SublimeText 3 plugin to manage Gitlab projects: * issues * merge-requests * pipelines * branches * snippets
Features
Fully customizable fields
Create/Show/Edit issues
Create/Show/Edit merge-requests
Create/Show/Edit snippets
Show/Retry/Cancel pipelines
Shortcuts panels on every screen for fast access to commands
Screenshots
Project issues list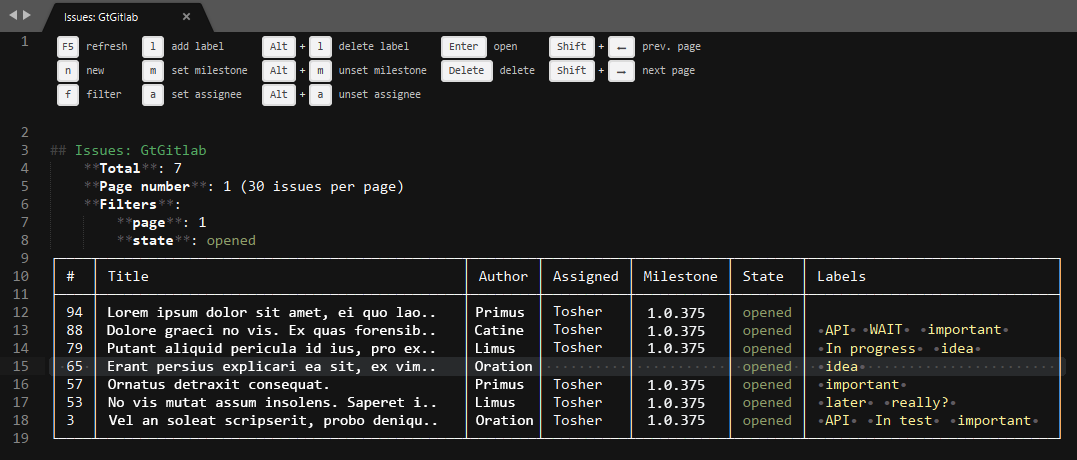 Issue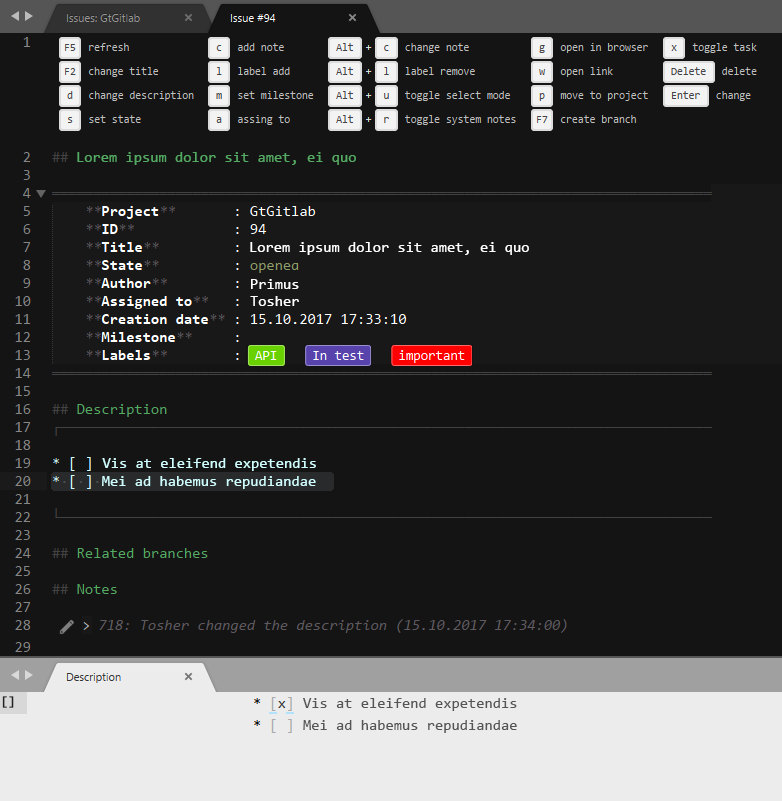 Snippet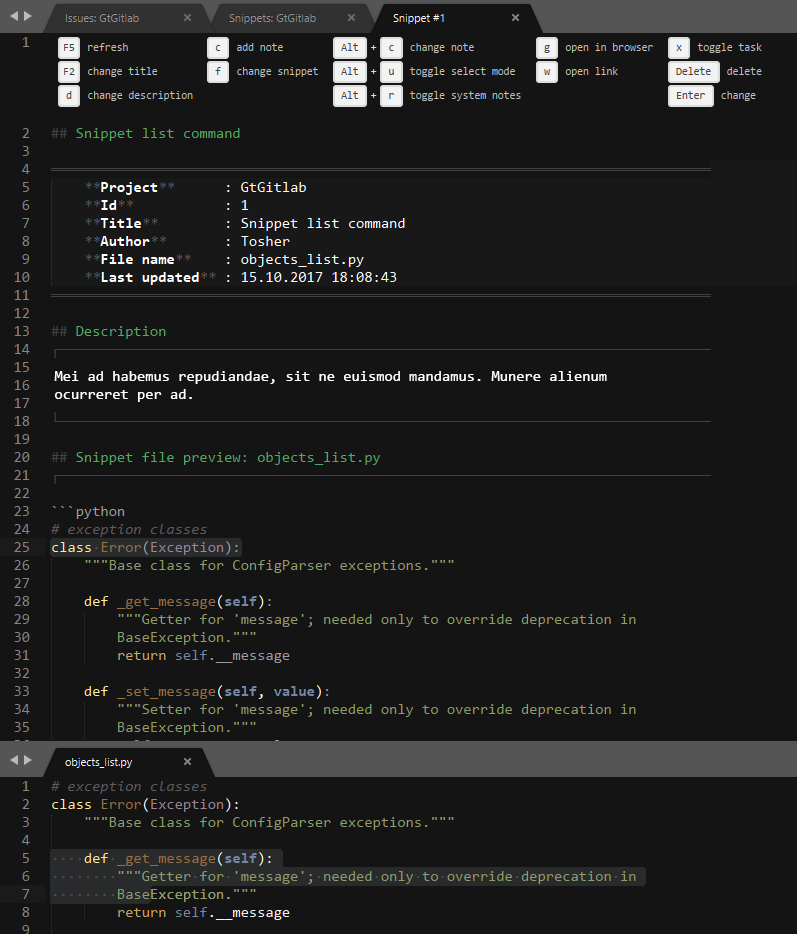 Install
Package Control
The easiest way to install this is with Package Control.
If you just went and installed Package Control, you probably need to restart Sublime Text before doing this next bit.
Bring up the Command Palette (Command+Shift+p on OS X, Control+Shift+p on Linux/Windows).
Select "Package Control: Install Package" (it'll take a few seconds)
Select StGitlab when the list appears.
Package Control will automatically keep StGitlab up to date with the latest version.
Configure
Basic
Open plugin settings Preferences: Package Settings > StGitlab > Settings
Set the gitlab_url and api_token
Configure other options as you want
Set the projects_filter for filtering data for your projects only
Set the users_group_filter for filtering user groups.
Customize columns by options like issue_list_columns, etc.
For editing descriptions, notes for issues, merges, etc. in markdown, plugin MarkdownEditing is recommended.
Example:
{


    

"gitlab_url"

:

 

"URL to your Gitlab"

,


    

"api_token"

:

 

"Set your Gitlab API token"

,


    

"ssl_verify"

:

 

true

,


    

"projects_filter"

:

 

[

"mygroup/MyProject"

],


    

"users_group_filter"

:

 

[

"mygroup"

],


    

"list_page_size"

:

 

40

,


    

"show_system_notes"

:

 

true

,


    

"syntax_file"

:

 

"Packages/StGitlab/StGitlab.sublime-syntax"

,


    

"syntax_file_edit"

:

 

"Packages/MarkdownEditing/Markdown.sublime-syntax"

,




}



Hints
For auto-completions show, add option to syntax specific settings (markdown):
"auto_complete_triggers": [ {"selector": "text.html.markdown", "characters": "#!@"} ]

External dependencies
Dependencies, supported by Package control