Browse
Tomato Time
a sublime plugin to use tomato time
Details
0.0.7

4 years ago

2 hours ago

4 years ago
Installs
Total

81

Win

53

Mac

17

Linux

11
| | | | | | | | | | | | | | | | | | | | | | | | | | | | | | | | | | | | | | | | | | | | | | |
| --- | --- | --- | --- | --- | --- | --- | --- | --- | --- | --- | --- | --- | --- | --- | --- | --- | --- | --- | --- | --- | --- | --- | --- | --- | --- | --- | --- | --- | --- | --- | --- | --- | --- | --- | --- | --- | --- | --- | --- | --- | --- | --- | --- | --- | --- |
| | Sep 25 | Sep 24 | Sep 23 | Sep 22 | Sep 21 | Sep 20 | Sep 19 | Sep 18 | Sep 17 | Sep 16 | Sep 15 | Sep 14 | Sep 13 | Sep 12 | Sep 11 | Sep 10 | Sep 9 | Sep 8 | Sep 7 | Sep 6 | Sep 5 | Sep 4 | Sep 3 | Sep 2 | Sep 1 | Aug 31 | Aug 30 | Aug 29 | Aug 28 | Aug 27 | Aug 26 | Aug 25 | Aug 24 | Aug 23 | Aug 22 | Aug 21 | Aug 20 | Aug 19 | Aug 18 | Aug 17 | Aug 16 | Aug 15 | Aug 14 | Aug 13 | Aug 12 |
| Windows | 0 | 0 | 0 | 0 | 0 | 0 | 0 | 0 | 0 | 0 | 0 | 0 | 0 | 0 | 0 | 0 | 0 | 0 | 0 | 0 | 0 | 0 | 1 | 0 | 0 | 0 | 0 | 0 | 0 | 0 | 0 | 0 | 0 | 0 | 0 | 0 | 0 | 0 | 0 | 0 | 0 | 0 | 0 | 0 | 0 |
| Mac | 0 | 0 | 0 | 0 | 0 | 0 | 0 | 0 | 0 | 0 | 0 | 0 | 0 | 0 | 0 | 0 | 0 | 0 | 0 | 0 | 0 | 0 | 0 | 0 | 0 | 0 | 0 | 0 | 0 | 0 | 0 | 0 | 0 | 0 | 0 | 0 | 0 | 0 | 0 | 0 | 0 | 0 | 0 | 0 | 0 |
| Linux | 0 | 0 | 0 | 0 | 0 | 0 | 0 | 0 | 0 | 0 | 0 | 0 | 0 | 0 | 0 | 0 | 0 | 0 | 0 | 0 | 0 | 0 | 0 | 0 | 0 | 0 | 0 | 0 | 0 | 0 | 0 | 0 | 0 | 0 | 0 | 0 | 0 | 0 | 0 | 0 | 0 | 0 | 0 | 0 | 0 |
Readme
Source
Tomato Time
a sublime plugin to use tomato time
Installation
Package Control
Search Tomato Time via Package Control: Install Package

Git
git clone this repository to sublime/packages/path

Zip
download zip and unzip to sublime/packages/path
Key Bindings
The package comes with some pre-defined keyboard shortcuts. You can always configure your own shortcuts via Preferences → Package Settings → Tomato Time → Key Bindings.
| Command | Linux & Windows & macOS |
| --- | --- |
| Tomato Time | Ctrl + Alt + T |
How to use

Open the sublime command panel (ctrl+alt+t), and create a new tomato time(Create Tomato Time). In the tomato time, you can discard it(Discard Tomato Time) and show/hide progress in status bar(Show Status Progress/Hide Status Progress). When it's over, the record will be saved locally, you can show or clear it(Show Tomato Time Complete Records/Clear Tomato Time Complete Records).
Tomato Time: Create Tomato Time

When you create a tomato time, you can add a tag and description.
Tag can be create and delete.
The description will automatically record the last one.
Tomato Time: Discard Tomato Time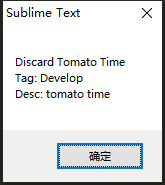 Tomato Time: Show Status Progress

Tomato Time: Show Tomato Time Complete Records