Browse
Visual studio code
Open visual studio code from sublime, light integration
Details
0.2.0

1 year ago

2 hours ago

3 years ago
Installs
Total

4K

Win

3K

Mac

449

Linux

670
| | | | | | | | | | | | | | | | | | | | | | | | | | | | | | | | | | | | | | | | | | | | | | | |
| --- | --- | --- | --- | --- | --- | --- | --- | --- | --- | --- | --- | --- | --- | --- | --- | --- | --- | --- | --- | --- | --- | --- | --- | --- | --- | --- | --- | --- | --- | --- | --- | --- | --- | --- | --- | --- | --- | --- | --- | --- | --- | --- | --- | --- | --- | --- |
| | Oct 1 | Sep 30 | Sep 29 | Sep 28 | Sep 27 | Sep 26 | Sep 25 | Sep 24 | Sep 23 | Sep 22 | Sep 21 | Sep 20 | Sep 19 | Sep 18 | Sep 17 | Sep 16 | Sep 15 | Sep 14 | Sep 13 | Sep 12 | Sep 11 | Sep 10 | Sep 9 | Sep 8 | Sep 7 | Sep 6 | Sep 5 | Sep 4 | Sep 3 | Sep 2 | Sep 1 | Aug 31 | Aug 30 | Aug 29 | Aug 28 | Aug 27 | Aug 26 | Aug 25 | Aug 24 | Aug 23 | Aug 22 | Aug 21 | Aug 20 | Aug 19 | Aug 18 | Aug 17 |
| Windows | 0 | 3 | 2 | 4 | 9 | 0 | 0 | 2 | 3 | 3 | 0 | 2 | 2 | 1 | 1 | 1 | 2 | 0 | 2 | 2 | 3 | 0 | 3 | 0 | 3 | 2 | 3 | 1 | 5 | 1 | 5 | 2 | 7 | 0 | 2 | 0 | 4 | 2 | 3 | 4 | 2 | 4 | 2 | 0 | 2 | 3 |
| Mac | 0 | 1 | 1 | 0 | 0 | 0 | 0 | 0 | 0 | 0 | 0 | 1 | 1 | 1 | 0 | 0 | 0 | 1 | 1 | 0 | 0 | 0 | 0 | 0 | 0 | 0 | 1 | 1 | 0 | 1 | 1 | 1 | 1 | 0 | 0 | 0 | 0 | 1 | 1 | 0 | 0 | 1 | 0 | 0 | 2 | 0 |
| Linux | 3 | 0 | 2 | 2 | 0 | 0 | 0 | 0 | 3 | 1 | 0 | 2 | 1 | 0 | 0 | 1 | 3 | 0 | 1 | 0 | 0 | 0 | 0 | 2 | 0 | 0 | 1 | 0 | 0 | 0 | 1 | 0 | 2 | 0 | 1 | 1 | 1 | 0 | 0 | 0 | 1 | 1 | 0 | 1 | 1 | 1 |
Readme
Source
Visual Studio Code - sublime integration
This package lets you open Visual Studio Code from sublime. It's a very simple integration. It calls to the code executable with the path to the current file and directory.
I created this since there are cases where the VScode integration is better like TypeScript integration.
demo: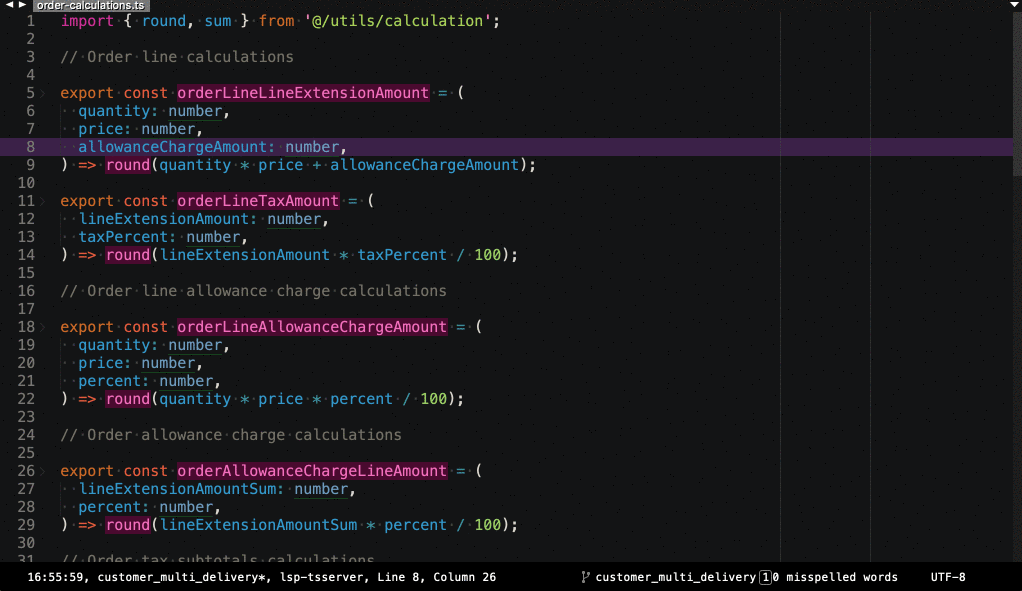 There are a default key binding and a command pallet command.
Error: language "jsonb" is not supported
[
  { "keys": ["ctrl+super+v", "ctrl+super+s"], "command": "vsc_open_in_visal_studio_code" },

  // There are some tool to open VScode from GitSavvy
  // Can highly recommend GitSavvy as git integration in Sublime

  // Open in vscode from GitSavvy inline diff
  {
    "keys": ["o"],
    "command": "vsc_open_in_visal_studio_code",
    "context": [
      { "key": "setting.command_mode", "operator": "equal", "operand": false },
      { "key": "setting.git_savvy.inline_diff_view", "operator": "equal", "operand": true }
    ]
  },
  // Open in vscode from GitSavvy status
  {
    "keys": ["o"],
    "command": "vsc_open_in_visal_studio_code_git_savvy_status",
    "context": [
      { "key": "setting.command_mode", "operator": "equal", "operand": false },
      { "key": "setting.git_savvy.status_view", "operator": "equal", "operand": true }
    ]
  },
]