Browse
Zeal
Zeal for Sublime Text 2/3
Details
2018.10.05.05.57.30

1 year ago

2 hours ago

6 years ago
Installs
Total

12K

Win

6K

Mac

712

Linux

5K
| | | | | | | | | | | | | | | | | | | | | | | | | | | | | | | | | | | | | | | | | | | | | | | |
| --- | --- | --- | --- | --- | --- | --- | --- | --- | --- | --- | --- | --- | --- | --- | --- | --- | --- | --- | --- | --- | --- | --- | --- | --- | --- | --- | --- | --- | --- | --- | --- | --- | --- | --- | --- | --- | --- | --- | --- | --- | --- | --- | --- | --- | --- | --- |
| | Apr 4 | Apr 3 | Apr 2 | Apr 1 | Mar 31 | Mar 30 | Mar 29 | Mar 28 | Mar 27 | Mar 26 | Mar 25 | Mar 24 | Mar 23 | Mar 22 | Mar 21 | Mar 20 | Mar 19 | Mar 18 | Mar 17 | Mar 16 | Mar 15 | Mar 14 | Mar 13 | Mar 12 | Mar 11 | Mar 10 | Mar 9 | Mar 8 | Mar 7 | Mar 6 | Mar 5 | Mar 4 | Mar 3 | Mar 2 | Mar 1 | Feb 29 | Feb 28 | Feb 27 | Feb 26 | Feb 25 | Feb 24 | Feb 23 | Feb 22 | Feb 21 | Feb 20 | Feb 19 |
| Windows | 0 | 2 | 0 | 0 | 0 | 1 | 1 | 0 | 3 | 1 | 1 | 0 | 1 | 0 | 2 | 0 | 1 | 0 | 0 | 0 | 1 | 0 | 1 | 0 | 0 | 1 | 0 | 0 | 1 | 0 | 0 | 0 | 1 | 1 | 1 | 1 | 0 | 2 | 0 | 0 | 0 | 1 | 3 | 2 | 1 | 1 |
| Mac | 0 | 0 | 0 | 0 | 0 | 1 | 0 | 0 | 0 | 0 | 0 | 0 | 0 | 0 | 0 | 0 | 0 | 0 | 0 | 0 | 0 | 0 | 0 | 0 | 0 | 0 | 0 | 0 | 0 | 1 | 0 | 0 | 0 | 0 | 0 | 0 | 0 | 0 | 1 | 0 | 0 | 0 | 0 | 0 | 0 | 0 |
| Linux | 1 | 2 | 0 | 2 | 1 | 0 | 0 | 1 | 1 | 1 | 1 | 0 | 0 | 1 | 0 | 0 | 1 | 1 | 0 | 0 | 0 | 0 | 1 | 1 | 0 | 1 | 1 | 0 | 1 | 0 | 0 | 0 | 1 | 0 | 1 | 0 | 0 | 1 | 3 | 1 | 3 | 0 | 1 | 1 | 1 | 0 |
Readme
Source
Zeal for Sublime Text 2/3
Zeal package for Sublime Text using Zeal documentation browser which is similar with Dash.
Tested in Windows/Linux.
Screen-shots
Multiple results for PHP mapping.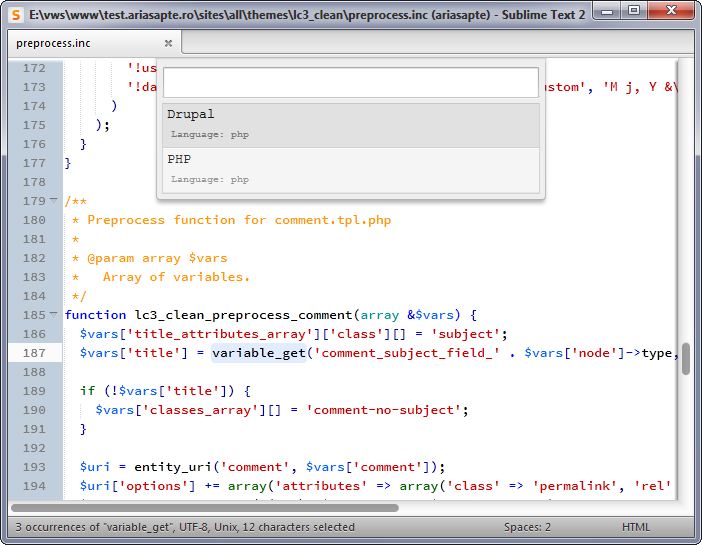 Custom search in Zeal docsets.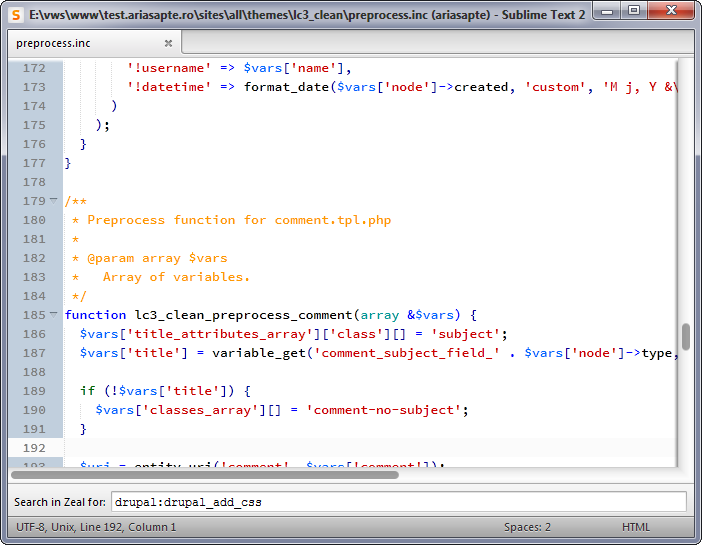 Installation
Easiest way to install the plugin is to use Package Control.
Alternatively you can clone with git directly into Packages directory in the Sublime Text 2 application settings area. The directory name must be Zeal.
Using Git
Go to your Sublime Text 2 Packages directory and clone the repository using the command below:
git clone https://github.com/vaanwd/Zeal "Zeal"

Download Manually
Download the files using the GitHub .zip download option
Unzip the files and rename the folder to Zeal
Copy the folder to your Sublime Text 2 Packages directory
Usage
F1 - Open Zeal documentation for current/selected word.
Shift + F1 - Open Zeal search bar.
Mapping example
To map other language for Zeal docset you need to edit User\Zeal.sublime-settings:
{
  /**
   *  Zeal executable path.
   *  For Linux: /usr/bin/zeal
   *  For Windows: c:\\Program Files\\Zeal\\zeal.exe
   */
  "zeal_command": "/usr/bin/zeal",

  /**
   * Language mapping examples.
   */
  "language_mapping": {
    "HTML": {"lang": "html", "zeal_lang": "html"},
    "JavaScript": {"lang": "javascript", "zeal_lang": "javascript"},
    "CSS": {"lang": "css", "zeal_lang": "css"},
    "CSS MSN": {"lang": "css", "zeal_lang": "msdn"},
    "PHP": {"lang": "php", "zeal_lang": "php"},
    "Drupal": {"lang": "php", "zeal_lang": "drupal"},
    "Python": {"lang": "python", "zeal_lang" : "python"},
    "Django": {"lang": "python", "zeal_lang" : "django"}
  }
}