Browse
Ansible
Syntax highlighting for Ansible
Details
23.09.1

1.0.0

2 months ago

1 hour ago

9 years ago
Installs
Total

37K

Win

9K

Mac

16K

Linux

12K
| | | | | | | | | | | | | | | | | | | | | | | | | | | | | | | | | | | | | | | | | | | | | | | |
| --- | --- | --- | --- | --- | --- | --- | --- | --- | --- | --- | --- | --- | --- | --- | --- | --- | --- | --- | --- | --- | --- | --- | --- | --- | --- | --- | --- | --- | --- | --- | --- | --- | --- | --- | --- | --- | --- | --- | --- | --- | --- | --- | --- | --- | --- | --- |
| | Dec 7 | Dec 6 | Dec 5 | Dec 4 | Dec 3 | Dec 2 | Dec 1 | Nov 30 | Nov 29 | Nov 28 | Nov 27 | Nov 26 | Nov 25 | Nov 24 | Nov 23 | Nov 22 | Nov 21 | Nov 20 | Nov 19 | Nov 18 | Nov 17 | Nov 16 | Nov 15 | Nov 14 | Nov 13 | Nov 12 | Nov 11 | Nov 10 | Nov 9 | Nov 8 | Nov 7 | Nov 6 | Nov 5 | Nov 4 | Nov 3 | Nov 2 | Nov 1 | Oct 31 | Oct 30 | Oct 29 | Oct 28 | Oct 27 | Oct 26 | Oct 25 | Oct 24 | Oct 23 |
| Windows | 1 | 1 | 2 | 3 | 2 | 2 | 2 | 0 | 2 | 1 | 1 | 4 | 0 | 4 | 0 | 2 | 2 | 0 | 0 | 1 | 3 | 2 | 2 | 2 | 2 | 2 | 2 | 1 | 3 | 1 | 1 | 4 | 0 | 2 | 1 | 1 | 1 | 3 | 0 | 1 | 1 | 3 | 1 | 1 | 0 | 0 |
| Mac | 1 | 1 | 5 | 6 | 1 | 1 | 2 | 0 | 2 | 0 | 3 | 0 | 0 | 0 | 3 | 2 | 0 | 2 | 0 | 0 | 5 | 2 | 4 | 2 | 5 | 2 | 2 | 0 | 0 | 4 | 6 | 2 | 1 | 3 | 1 | 1 | 2 | 1 | 5 | 3 | 1 | 3 | 1 | 2 | 3 | 1 |
| Linux | 0 | 1 | 0 | 2 | 2 | 1 | 0 | 2 | 1 | 2 | 2 | 0 | 1 | 1 | 6 | 3 | 0 | 0 | 0 | 0 | 2 | 3 | 1 | 2 | 1 | 2 | 2 | 2 | 3 | 1 | 3 | 2 | 1 | 1 | 3 | 3 | 3 | 1 | 1 | 2 | 2 | 1 | 3 | 1 | 2 | 4 |
Readme
Source
Syntax highlighting for Ansible files
Screenshot
With color scheme Monokai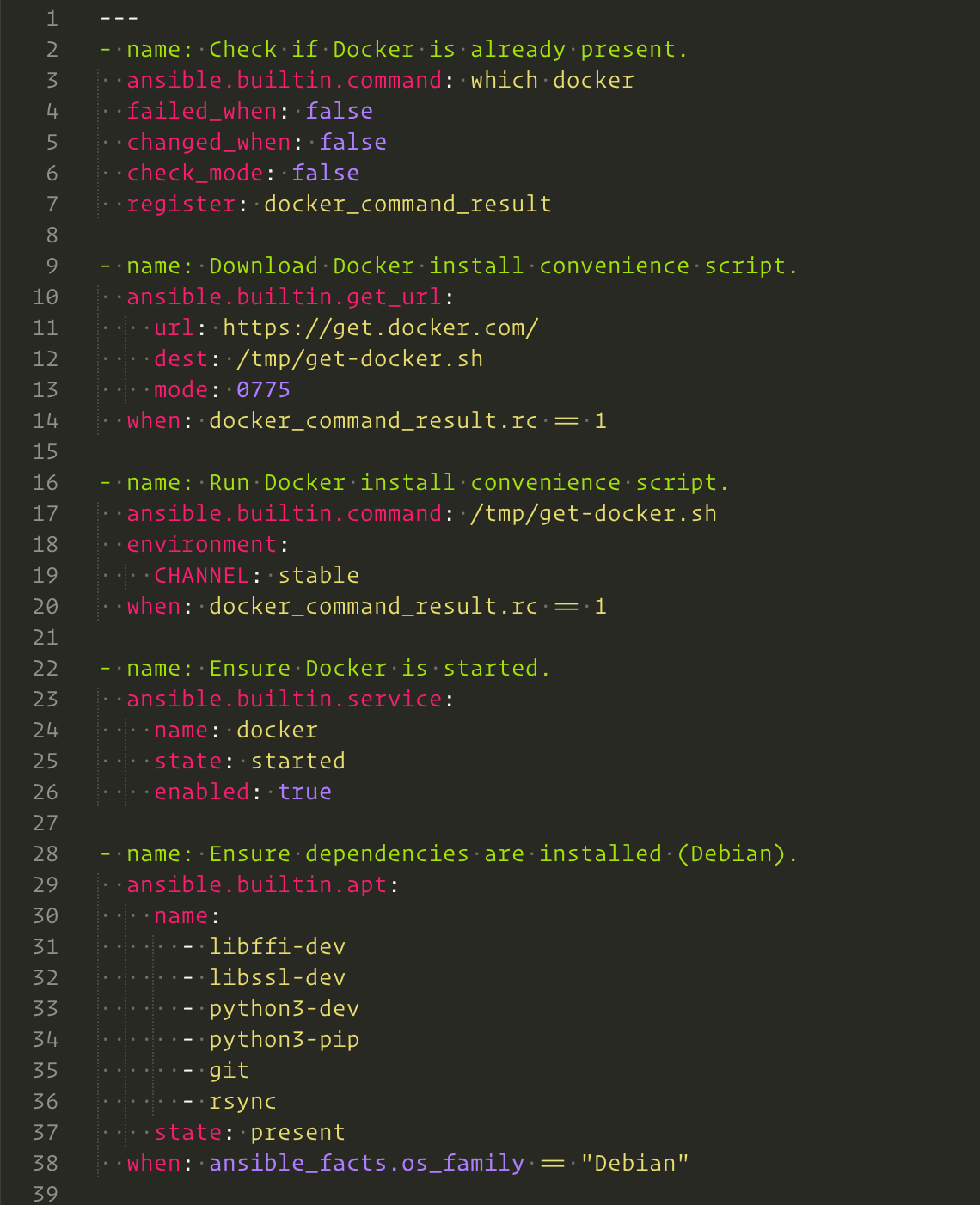 Installation
I recommend install another package along with this one, "Apply Syntax" package since this syntax does not take ownership of yml nor yaml files.
Package Manager
First, install the Package Control plugin, instructions here: http://wbond.net/sublime_packages/package_control.
Once you install Package Control, restart Sublime Text and bring up the Command Palette (Command+Shift+P on OS X, Control+Shift+P on Linux/Windows).
Select "Package Control: Install Package", wait while Package Control fetches the latest package list, then select "Ansible" when the list appears.
The advantage of using this method is that Package Control will automatically keep this package up to date with the latest version.
Manual
Clone the repository in your Sublime Text "Packages" directory:
git clone https://github.com/clifford-github/sublime-ansible.git Ansible

The "Packages" directory is located at:
OS X: ~/Library/Application Support/Sublime Text 2/Packages/
Linux: ~/.Sublime Text 2/Packages/
Windows: %APPDATA%/Sublime Text 2/Packages/