Browse
CCL Tools
No description provided
Details
2.0.5

4 years ago

4 years ago

7 years ago
Installs
Total

183

Win

137

Mac

34

Linux

12
| | | | | | | | | | | | | | | | | | | | | | | | | | | | | | | | | | | | | | | | | | | | | | |
| --- | --- | --- | --- | --- | --- | --- | --- | --- | --- | --- | --- | --- | --- | --- | --- | --- | --- | --- | --- | --- | --- | --- | --- | --- | --- | --- | --- | --- | --- | --- | --- | --- | --- | --- | --- | --- | --- | --- | --- | --- | --- | --- | --- | --- | --- |
| | Sep 24 | Sep 23 | Sep 22 | Sep 21 | Sep 20 | Sep 19 | Sep 18 | Sep 17 | Sep 16 | Sep 15 | Sep 14 | Sep 13 | Sep 12 | Sep 11 | Sep 10 | Sep 9 | Sep 8 | Sep 7 | Sep 6 | Sep 5 | Sep 4 | Sep 3 | Sep 2 | Sep 1 | Aug 31 | Aug 30 | Aug 29 | Aug 28 | Aug 27 | Aug 26 | Aug 25 | Aug 24 | Aug 23 | Aug 22 | Aug 21 | Aug 20 | Aug 19 | Aug 18 | Aug 17 | Aug 16 | Aug 15 | Aug 14 | Aug 13 | Aug 12 | Aug 11 |
| Windows | 0 | 0 | 0 | 0 | 0 | 0 | 0 | 0 | 0 | 0 | 0 | 0 | 0 | 0 | 0 | 0 | 0 | 0 | 0 | 0 | 0 | 0 | 0 | 0 | 0 | 0 | 0 | 0 | 0 | 0 | 0 | 0 | 0 | 0 | 0 | 0 | 0 | 0 | 0 | 0 | 0 | 0 | 0 | 0 | 0 |
| Mac | 0 | 0 | 0 | 0 | 0 | 0 | 0 | 0 | 0 | 0 | 0 | 0 | 0 | 0 | 0 | 0 | 0 | 0 | 0 | 0 | 0 | 0 | 0 | 0 | 0 | 0 | 0 | 0 | 0 | 0 | 0 | 0 | 0 | 0 | 0 | 0 | 0 | 0 | 0 | 0 | 0 | 0 | 0 | 0 | 0 |
| Linux | 0 | 0 | 0 | 0 | 0 | 0 | 0 | 0 | 0 | 0 | 0 | 0 | 0 | 0 | 0 | 0 | 0 | 0 | 0 | 0 | 0 | 0 | 0 | 0 | 0 | 0 | 0 | 0 | 0 | 0 | 0 | 0 | 0 | 0 | 0 | 0 | 0 | 0 | 0 | 0 | 0 | 0 | 0 | 0 | 0 |
Readme
Source
CCL Tools for Sublime Text
Installation :
For all Sublime Text 2/3 users we recommend install via Package Control.
Install Package Control if you haven't yet.
Use cmd+shift+P then Package Control: Install Package
Look for CCL Tools and install it.
Manual Install
Click the Preferences > Browse Packages… menu
Browse up a folder and then into the Installed Packages/ folder
Download [zip package][12] rename it to CCL Tools.sublime-package and copy it into the Installed Packages/ directory
Restart Sublime Text
Features
Syntax Highlighting :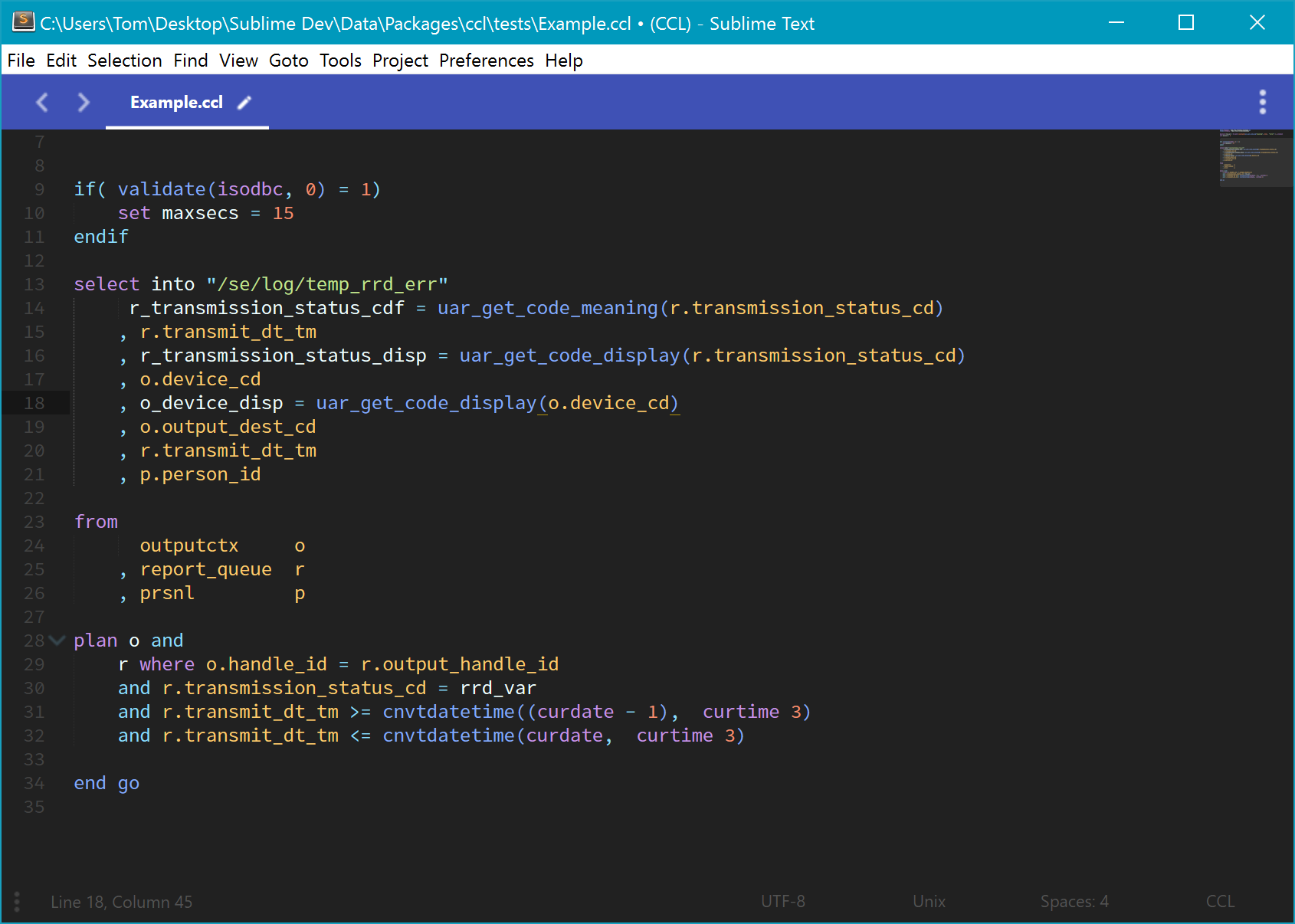 Autocompletions :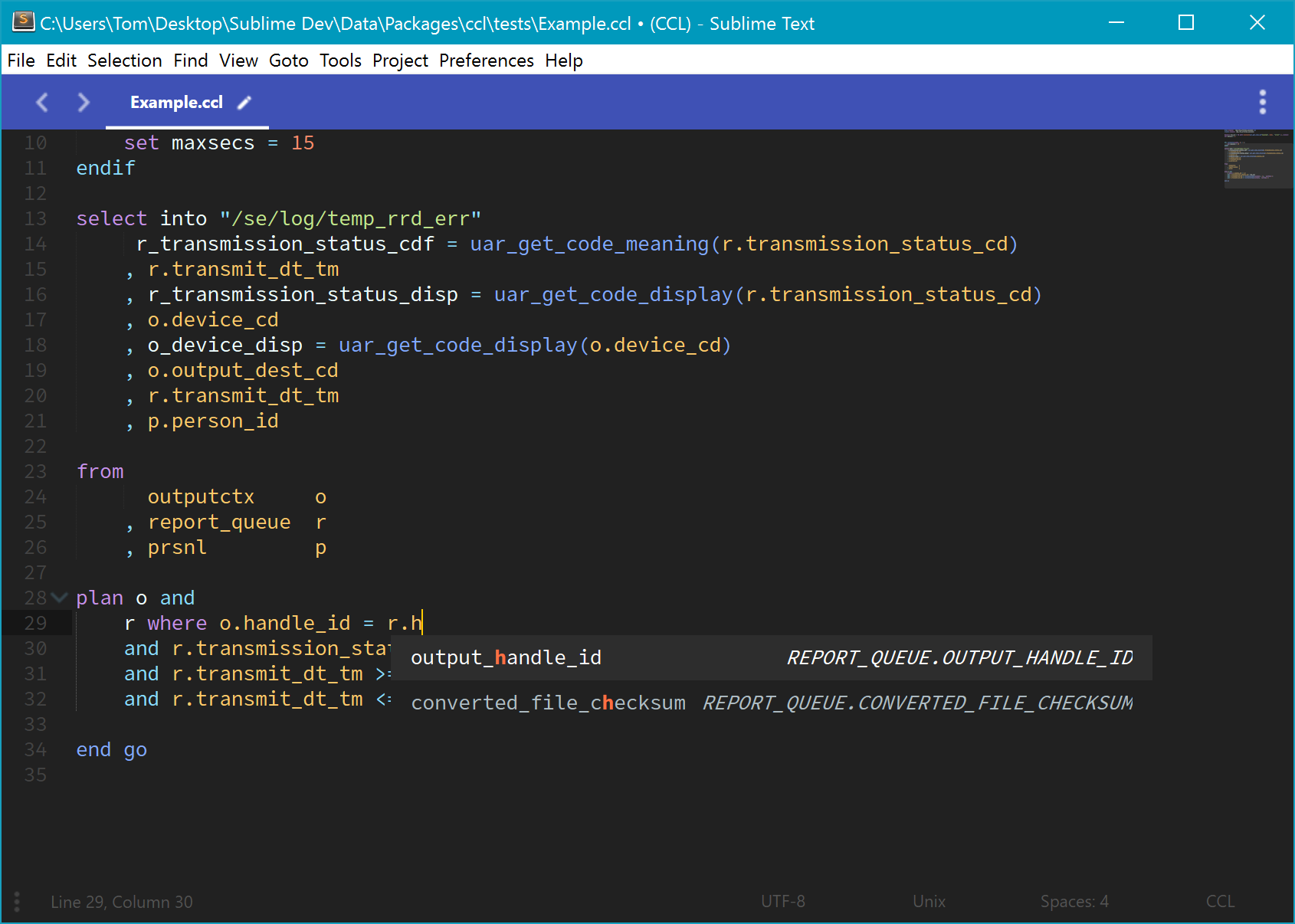 It suggests columns for the table you're looking at.
Variable Assignments :
In the example above, it knows that r. is really report_queue. because we said so in the where clause.
Hover hinting :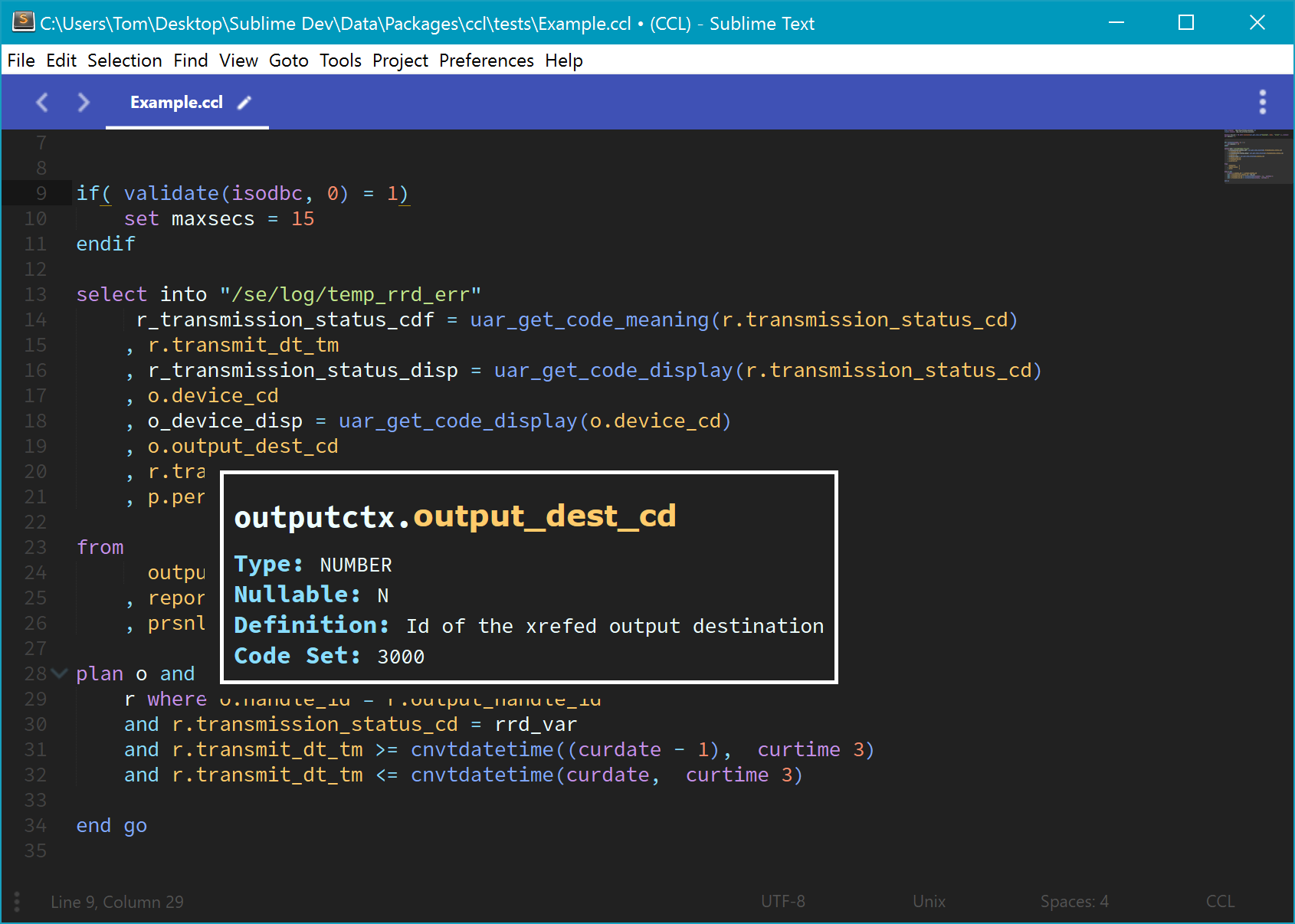 Hovering over items will display a description.
Available Settings :
{


    

"enable_table_completions"

:

 

true

,


    

"enable_column_completions"

:

 

true

,


    

"enable_function_completions"

:

 

true

,


    

"enable_hints"

:

 

true

,

 
    

"hide_on_mouse_move"

:

 

false

,

 
    

"hint_width"

:

 

600

,

 
    

"hint_height"

:

 

1000

,

 


}