Browse
Color Scheme - Sleeplessmind
Sleeplessmind (Dark) Color Theme for Sublime Text 2/3/4
Details
2013.03.23.08.00.00

11 years ago

2 hours ago

11 years ago
Installs
Total

41K

Win

29K

Mac

6K

Linux

6K
| | | | | | | | | | | | | | | | | | | | | | | | | | | | | | | | | | | | | | | | | | | | | | | |
| --- | --- | --- | --- | --- | --- | --- | --- | --- | --- | --- | --- | --- | --- | --- | --- | --- | --- | --- | --- | --- | --- | --- | --- | --- | --- | --- | --- | --- | --- | --- | --- | --- | --- | --- | --- | --- | --- | --- | --- | --- | --- | --- | --- | --- | --- | --- |
| | Dec 5 | Dec 4 | Dec 3 | Dec 2 | Dec 1 | Nov 30 | Nov 29 | Nov 28 | Nov 27 | Nov 26 | Nov 25 | Nov 24 | Nov 23 | Nov 22 | Nov 21 | Nov 20 | Nov 19 | Nov 18 | Nov 17 | Nov 16 | Nov 15 | Nov 14 | Nov 13 | Nov 12 | Nov 11 | Nov 10 | Nov 9 | Nov 8 | Nov 7 | Nov 6 | Nov 5 | Nov 4 | Nov 3 | Nov 2 | Nov 1 | Oct 31 | Oct 30 | Oct 29 | Oct 28 | Oct 27 | Oct 26 | Oct 25 | Oct 24 | Oct 23 | Oct 22 | Oct 21 |
| Windows | 0 | 2 | 3 | 3 | 5 | 8 | 3 | 2 | 3 | 2 | 2 | 1 | 3 | 5 | 2 | 3 | 7 | 3 | 4 | 3 | 1 | 3 | 4 | 0 | 2 | 1 | 9 | 10 | 5 | 5 | 3 | 4 | 1 | 3 | 2 | 3 | 2 | 2 | 4 | 2 | 8 | 6 | 4 | 7 | 0 | 2 |
| Mac | 0 | 2 | 0 | 1 | 1 | 1 | 0 | 0 | 1 | 0 | 0 | 1 | 1 | 0 | 0 | 1 | 0 | 0 | 0 | 0 | 0 | 0 | 0 | 0 | 0 | 2 | 0 | 0 | 1 | 1 | 0 | 0 | 0 | 1 | 1 | 1 | 0 | 0 | 1 | 0 | 0 | 1 | 0 | 0 | 0 | 0 |
| Linux | 1 | 1 | 0 | 0 | 0 | 1 | 0 | 1 | 0 | 2 | 1 | 1 | 1 | 1 | 0 | 0 | 2 | 0 | 3 | 1 | 1 | 0 | 1 | 1 | 1 | 0 | 1 | 0 | 0 | 1 | 0 | 0 | 1 | 1 | 0 | 1 | 0 | 0 | 1 | 0 | 0 | 1 | 1 | 0 | 0 | 1 |
Readme
Source
Sleeplessmind Color Scheme for Sublime Text 2/¾
The scheme spreads some love to variables, comments and all the things you'll need to code in HTML, CSS, PHP, Javascript, Ruby, etc…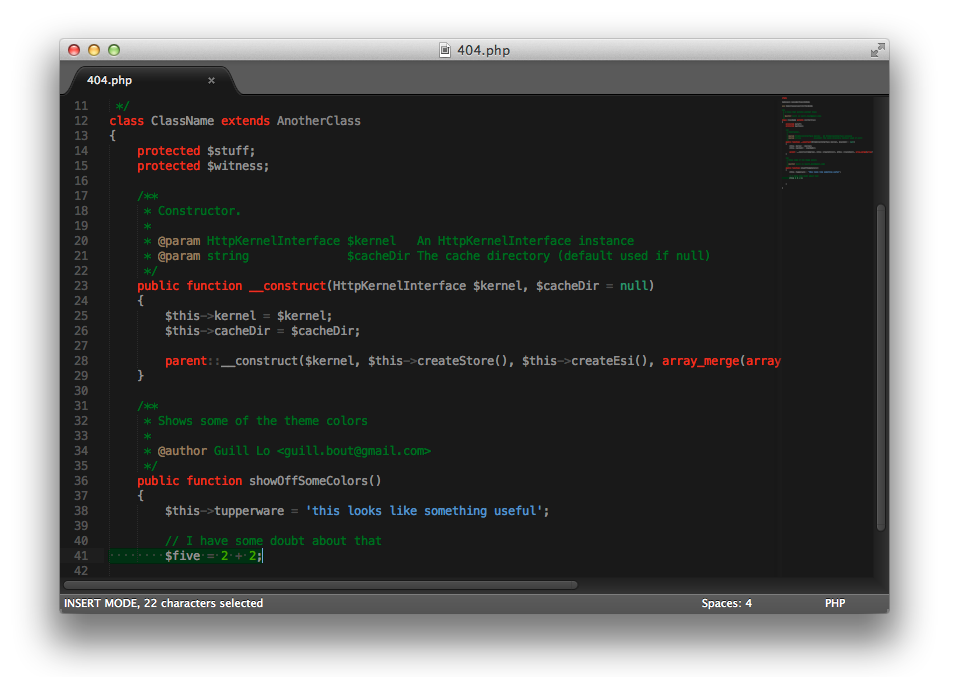 Color Scheme, not UI Theme
This is a Color Scheme, not a UI Theme, so it doesn't change the tabs or the sidebar. But it mixes pretty well with the Soda Dark UI Theme if you need that.
Who did I steal that from
The scheme is almost entirely based on Clouds Midnight from Fred LeBlanc. But my comments and highlights are better, his suck.