Browse
Colorsublime
Plugin for Color Sublime
Details
2.0.2

3 years ago

56 minutes ago

3 years ago
Installs
Total

196K

Win

94K

OS X

66K

Linux

35K
| | | | | | | | | | | | | | | | | | | | | | | | | | | | | | | | | | | | | | | | | | | | | | | |
| --- | --- | --- | --- | --- | --- | --- | --- | --- | --- | --- | --- | --- | --- | --- | --- | --- | --- | --- | --- | --- | --- | --- | --- | --- | --- | --- | --- | --- | --- | --- | --- | --- | --- | --- | --- | --- | --- | --- | --- | --- | --- | --- | --- | --- | --- | --- |
| | Jul 21 | Jul 20 | Jul 19 | Jul 18 | Jul 17 | Jul 16 | Jul 15 | Jul 14 | Jul 13 | Jul 12 | Jul 11 | Jul 10 | Jul 9 | Jul 8 | Jul 7 | Jul 6 | Jul 5 | Jul 4 | Jul 3 | Jul 2 | Jul 1 | Jun 30 | Jun 29 | Jun 28 | Jun 27 | Jun 26 | Jun 25 | Jun 24 | Jun 23 | Jun 22 | Jun 21 | Jun 20 | Jun 19 | Jun 18 | Jun 17 | Jun 16 | Jun 15 | Jun 14 | Jun 13 | Jun 12 | Jun 11 | Jun 10 | Jun 9 | Jun 8 | Jun 7 | Jun 6 |
| Windows | 110 | 147 | 142 | 129 | 106 | 95 | 99 | 144 | 123 | 155 | 150 | 143 | 93 | 91 | 124 | 137 | 150 | 121 | 138 | 79 | 108 | 119 | 139 | 126 | 133 | 138 | 75 | 94 | 105 | 141 | 138 | 123 | 130 | 70 | 84 | 124 | 151 | 125 | 155 | 149 | 107 | 103 | 123 | 145 | 148 | 158 |
| OS X | 58 | 63 | 49 | 77 | 58 | 44 | 53 | 65 | 69 | 67 | 94 | 65 | 43 | 50 | 62 | 57 | 77 | 69 | 64 | 36 | 49 | 77 | 85 | 77 | 70 | 82 | 33 | 45 | 79 | 62 | 54 | 72 | 74 | 35 | 56 | 74 | 75 | 65 | 80 | 60 | 42 | 40 | 60 | 69 | 90 | 87 |
| Linux | 39 | 41 | 45 | 47 | 46 | 22 | 24 | 34 | 54 | 37 | 31 | 49 | 37 | 36 | 37 | 55 | 59 | 40 | 48 | 31 | 33 | 41 | 53 | 49 | 44 | 48 | 37 | 38 | 48 | 45 | 45 | 42 | 34 | 32 | 25 | 52 | 39 | 42 | 48 | 42 | 42 | 32 | 51 | 38 | 51 | 43 |
Readme
Source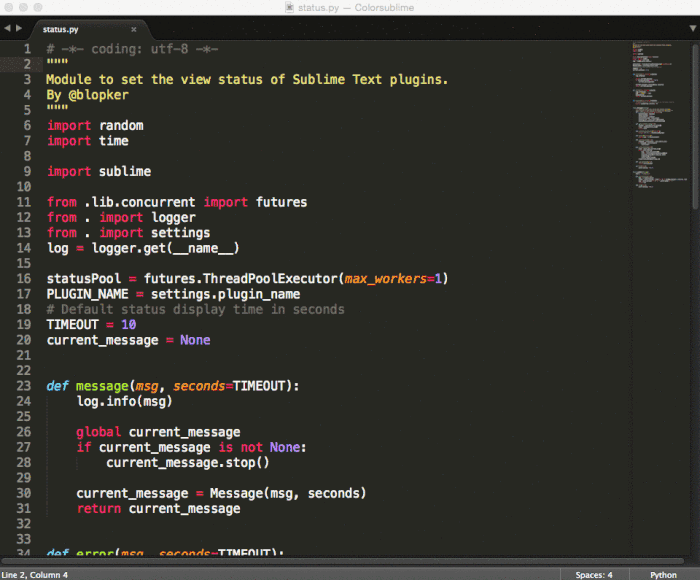 Change themes quickly and easily, right from Sublime Text.
Official Colorsublime plugin and a Top 100 Sublime Text plugin.
Dedicated to Kim :heart:
Requirements
Sublime Text 3 (recent build)
Installing
With Package Control (recommended)
Install Package Control
Run "Package Control: Install Package" command
Find and install the Colorsublime plugin.
Restart Sublime Text if there are issues.
Manually
Clone the repository in your Sublime Text "Packages" directory:
git clone https://github.com/Colorsublime/Colorsublime-Plugin.git

The "Packages" directory is located at:
OS X: ~/Library/Application Support/Sublime Text 3/Packages/

Linux: ~/.config/sublime-text-3/Packages/

Windows: %APPDATA%\Sublime Text 3\Packages\
Usage
Press ctl+shift+p (Windows/Linux) or ⇧+⌘+p (OSX) to open up Sublime Text's command menu
Select Colorsublime: Install Theme
Use the arrow keys to run through the themes and see your current tab change in realtime!
Functions
Install: Installs/Previews themes from the Colorsublime repository.
Browse: Takes you to Colorsublime.com
Windows Proxy Support
In order to use a proxy in Windows set the environment variable https_proxy to yourproxy.com:9999.