Browse
Colorsublime
Plugin for Color Sublime
Details
2.1.1

10 months ago

1 hour ago

10 years ago
Installs
Total

394K

Win

217K

Mac

107K

Linux

69K
| | | | | | | | | | | | | | | | | | | | | | | | | | | | | | | | | | | | | | | | | | | | | | | |
| --- | --- | --- | --- | --- | --- | --- | --- | --- | --- | --- | --- | --- | --- | --- | --- | --- | --- | --- | --- | --- | --- | --- | --- | --- | --- | --- | --- | --- | --- | --- | --- | --- | --- | --- | --- | --- | --- | --- | --- | --- | --- | --- | --- | --- | --- | --- |
| | Oct 3 | Oct 2 | Oct 1 | Sep 30 | Sep 29 | Sep 28 | Sep 27 | Sep 26 | Sep 25 | Sep 24 | Sep 23 | Sep 22 | Sep 21 | Sep 20 | Sep 19 | Sep 18 | Sep 17 | Sep 16 | Sep 15 | Sep 14 | Sep 13 | Sep 12 | Sep 11 | Sep 10 | Sep 9 | Sep 8 | Sep 7 | Sep 6 | Sep 5 | Sep 4 | Sep 3 | Sep 2 | Sep 1 | Aug 31 | Aug 30 | Aug 29 | Aug 28 | Aug 27 | Aug 26 | Aug 25 | Aug 24 | Aug 23 | Aug 22 | Aug 21 | Aug 20 | Aug 19 |
| Windows | 4 | 26 | 14 | 18 | 27 | 17 | 27 | 14 | 21 | 9 | 31 | 16 | 20 | 29 | 32 | 26 | 24 | 15 | 19 | 18 | 31 | 21 | 23 | 18 | 22 | 24 | 35 | 46 | 24 | 19 | 13 | 23 | 18 | 30 | 27 | 21 | 12 | 22 | 16 | 18 | 18 | 20 | 26 | 25 | 14 | 14 |
| Mac | 1 | 5 | 6 | 3 | 8 | 15 | 9 | 5 | 12 | 4 | 1 | 6 | 4 | 6 | 9 | 7 | 3 | 5 | 7 | 8 | 10 | 4 | 9 | 7 | 6 | 7 | 7 | 4 | 8 | 5 | 0 | 4 | 7 | 6 | 4 | 12 | 7 | 2 | 9 | 7 | 8 | 12 | 10 | 5 | 3 | 6 |
| Linux | 1 | 8 | 6 | 10 | 6 | 6 | 8 | 9 | 8 | 6 | 8 | 4 | 15 | 9 | 8 | 3 | 7 | 6 | 8 | 3 | 11 | 4 | 5 | 2 | 6 | 5 | 4 | 11 | 5 | 3 | 8 | 13 | 7 | 8 | 2 | 7 | 9 | 5 | 7 | 11 | 5 | 5 | 8 | 11 | 9 | 3 |
Readme
Source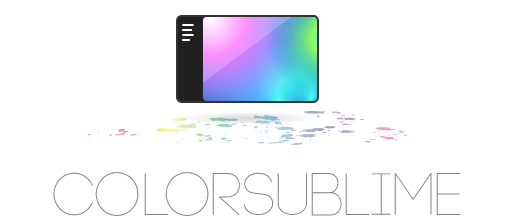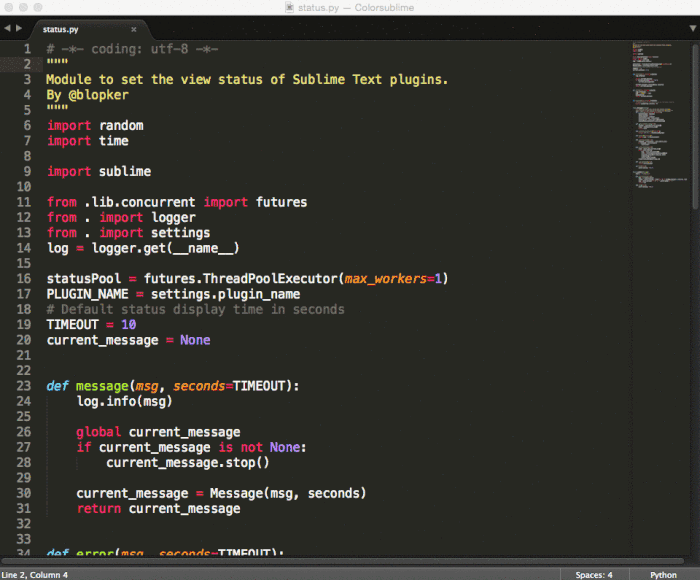 Change themes** quickly and easily, right from Sublime Text.
Official Colorsublime plugin and a Top 100 Sublime Text plugin.
** Please note: All references to "Theme" in our instructions actually refer to what are now called "Color Schemes". This means that you are changing the color scheme of your coding windows within Sublime Text, not the user interface of the entire Sublime Text editor.
Requirements
Sublime Text 3 (recent build)
Installing
With Package Control (recommended)
Install Package Control
Run "Package Control: Install Package" command
Find and install the Colorsublime plugin.
Restart Sublime Text if there are issues.
Manually
Clone the repository in your Sublime Text "Packages" directory:
git clone https://github.com/Colorsublime/Colorsublime-Plugin.git

The "Packages" directory is located at:
OS X: ~/Library/Application Support/Sublime Text 3/Packages/

Linux: ~/.config/sublime-text-3/Packages/

Windows: %APPDATA%\Sublime Text 3\Packages\
Usage
Press ctl+shift+p (Windows/Linux) or ⇧+⌘+p (OSX) to open up Sublime Text's command menu
Select Colorsublime: Install Theme
Use the arrow keys to run through the themes ("color schemes") and see your current tab change in realtime!
Functions
Install: Installs/Previews themes ("color schemes") from the Colorsublime repository.
Browse: Takes you to https://colorsublime.github.io/
Uninstall: Removes themes from the installed theme directory. Does not change your current theme.
Windows Proxy Support
In order to use a proxy in Windows set the environment variable https_proxy to yourproxy.com:9999.