Browse
Compadre Ipsum Snippet
Compadre Ipsum Sublime Snippet
Details
2014.04.23.20.47.26

10 years ago

26 minutes ago

10 years ago
Installs
Total

2K

Win

882

Mac

462

Linux

163
| | | | | | | | | | | | | | | | | | | | | | | | | | | | | | | | | | | | | | | | | | | | | | | |
| --- | --- | --- | --- | --- | --- | --- | --- | --- | --- | --- | --- | --- | --- | --- | --- | --- | --- | --- | --- | --- | --- | --- | --- | --- | --- | --- | --- | --- | --- | --- | --- | --- | --- | --- | --- | --- | --- | --- | --- | --- | --- | --- | --- | --- | --- | --- |
| | Nov 29 | Nov 28 | Nov 27 | Nov 26 | Nov 25 | Nov 24 | Nov 23 | Nov 22 | Nov 21 | Nov 20 | Nov 19 | Nov 18 | Nov 17 | Nov 16 | Nov 15 | Nov 14 | Nov 13 | Nov 12 | Nov 11 | Nov 10 | Nov 9 | Nov 8 | Nov 7 | Nov 6 | Nov 5 | Nov 4 | Nov 3 | Nov 2 | Nov 1 | Oct 31 | Oct 30 | Oct 29 | Oct 28 | Oct 27 | Oct 26 | Oct 25 | Oct 24 | Oct 23 | Oct 22 | Oct 21 | Oct 20 | Oct 19 | Oct 18 | Oct 17 | Oct 16 | Oct 15 |
| Windows | 1 | 0 | 0 | 1 | 0 | 0 | 0 | 0 | 0 | 3 | 1 | 3 | 0 | 0 | 0 | 1 | 1 | 0 | 0 | 0 | 1 | 0 | 1 | 0 | 0 | 0 | 0 | 0 | 0 | 1 | 1 | 0 | 0 | 1 | 1 | 2 | 1 | 0 | 1 | 0 | 1 | 1 | 0 | 0 | 1 | 1 |
| Mac | 0 | 0 | 1 | 0 | 0 | 0 | 0 | 0 | 0 | 0 | 0 | 0 | 0 | 1 | 1 | 0 | 0 | 0 | 1 | 0 | 0 | 0 | 0 | 0 | 0 | 0 | 0 | 1 | 0 | 0 | 1 | 0 | 0 | 1 | 0 | 0 | 0 | 0 | 0 | 0 | 0 | 1 | 0 | 0 | 0 | 0 |
| Linux | 0 | 0 | 0 | 0 | 0 | 0 | 0 | 0 | 0 | 0 | 0 | 0 | 1 | 0 | 0 | 0 | 0 | 0 | 0 | 0 | 0 | 0 | 1 | 0 | 0 | 0 | 0 | 0 | 1 | 0 | 0 | 0 | 0 | 0 | 0 | 0 | 1 | 0 | 0 | 0 | 0 | 0 | 0 | 0 | 0 | 0 |
Readme
Source
Compadre Ipsum Snippet
---
Install
To install through Package Control, find for Compadre Ipsum Snippet.
To install manually, click here to download the snippets and extract file inside your Packages folder.
Usage
Type compadre, press control + space and choose the number of paragraphs.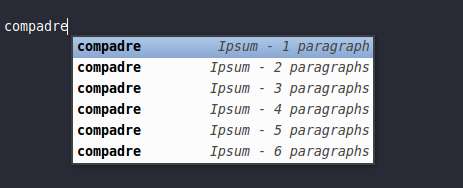 Type compadre and press TAB to generate one paragraph.
Or type compadre*n and press TAB. n is a value between 1 and 6, to generate a specific number of paragraph.
Contributing
Fork it!
Create your feature branch: git checkout -b my-new-feature
Commit your changes: git commit -m 'Add some feature'
Push to the branch: git push origin my-new-feature
Submit a pull request :D
History
For detailed changelog, check Releases.