Browse
Dart
Dart Package for Sublime Text 3 (releases only)
Details
1.5.1

7 years ago

2 hours ago

11 years ago
Installs
Total

50K

Win

22K

Mac

18K

Linux

11K
| | | | | | | | | | | | | | | | | | | | | | | | | | | | | | | | | | | | | | | | | | | | | | | |
| --- | --- | --- | --- | --- | --- | --- | --- | --- | --- | --- | --- | --- | --- | --- | --- | --- | --- | --- | --- | --- | --- | --- | --- | --- | --- | --- | --- | --- | --- | --- | --- | --- | --- | --- | --- | --- | --- | --- | --- | --- | --- | --- | --- | --- | --- | --- |
| | Dec 1 | Nov 30 | Nov 29 | Nov 28 | Nov 27 | Nov 26 | Nov 25 | Nov 24 | Nov 23 | Nov 22 | Nov 21 | Nov 20 | Nov 19 | Nov 18 | Nov 17 | Nov 16 | Nov 15 | Nov 14 | Nov 13 | Nov 12 | Nov 11 | Nov 10 | Nov 9 | Nov 8 | Nov 7 | Nov 6 | Nov 5 | Nov 4 | Nov 3 | Nov 2 | Nov 1 | Oct 31 | Oct 30 | Oct 29 | Oct 28 | Oct 27 | Oct 26 | Oct 25 | Oct 24 | Oct 23 | Oct 22 | Oct 21 | Oct 20 | Oct 19 | Oct 18 | Oct 17 |
| Windows | 4 | 8 | 2 | 9 | 7 | 10 | 10 | 10 | 12 | 9 | 11 | 9 | 10 | 3 | 8 | 11 | 6 | 8 | 10 | 12 | 9 | 12 | 8 | 7 | 5 | 10 | 2 | 4 | 11 | 9 | 11 | 11 | 5 | 9 | 1 | 8 | 12 | 4 | 10 | 9 | 8 | 13 | 9 | 6 | 15 | 4 |
| Mac | 11 | 8 | 5 | 6 | 2 | 2 | 4 | 9 | 3 | 6 | 9 | 3 | 4 | 10 | 5 | 4 | 9 | 3 | 5 | 6 | 4 | 6 | 12 | 6 | 12 | 7 | 2 | 2 | 4 | 2 | 6 | 2 | 3 | 2 | 9 | 9 | 5 | 6 | 3 | 4 | 4 | 4 | 4 | 9 | 12 | 3 |
| Linux | 2 | 5 | 7 | 7 | 2 | 3 | 2 | 2 | 2 | 4 | 4 | 4 | 1 | 3 | 4 | 2 | 5 | 1 | 2 | 1 | 4 | 1 | 6 | 6 | 7 | 4 | 3 | 6 | 4 | 3 | 1 | 2 | 4 | 3 | 2 | 3 | 6 | 7 | 1 | 2 | 2 | 1 | 5 | 8 | 4 | 4 |
Readme
Source
Dart plugin for Sublime Text 3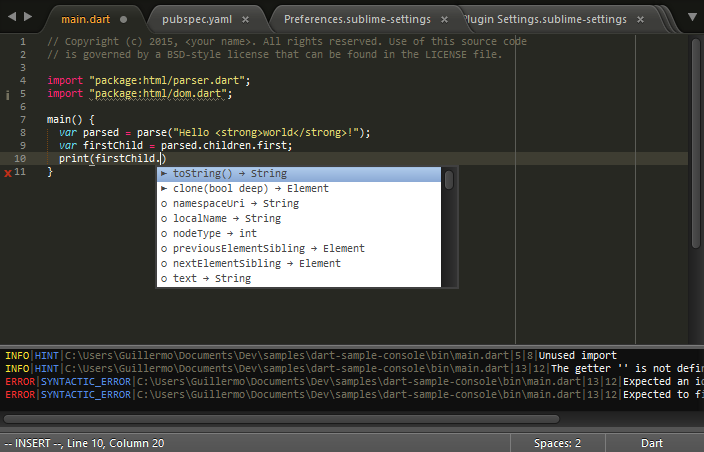 Features
Syntax highlighting
Live code analysis powered by the Dart Analysis Server
Integrated package management via pub
Multiple editing features: snippets, comment/uncomment, etc.
Integrated source code formatter
Run server apps in the console
Run web apps in Dartium
Run web apps in any browser
Run apps through Observatory
Generate new projects from templates using Stagehand
Much more!
Most features are only enabled in files with a .dart extension.
Documentation
Check our wiki for full documentation on how to install and use this package.
License
See LICENSE.