Browse
Django Syntax
Syntax definitions of Django templates for Sublime Text
Details
1.0.1

1 year ago

2 hours ago

2 years ago
Installs
Total

8K

Win

4K

Mac

1K

Linux

2K
| | | | | | | | | | | | | | | | | | | | | | | | | | | | | | | | | | | | | | | | | | | | | | | |
| --- | --- | --- | --- | --- | --- | --- | --- | --- | --- | --- | --- | --- | --- | --- | --- | --- | --- | --- | --- | --- | --- | --- | --- | --- | --- | --- | --- | --- | --- | --- | --- | --- | --- | --- | --- | --- | --- | --- | --- | --- | --- | --- | --- | --- | --- | --- |
| | Jul 4 | Jul 3 | Jul 2 | Jul 1 | Jun 30 | Jun 29 | Jun 28 | Jun 27 | Jun 26 | Jun 25 | Jun 24 | Jun 23 | Jun 22 | Jun 21 | Jun 20 | Jun 19 | Jun 18 | Jun 17 | Jun 16 | Jun 15 | Jun 14 | Jun 13 | Jun 12 | Jun 11 | Jun 10 | Jun 9 | Jun 8 | Jun 7 | Jun 6 | Jun 5 | Jun 4 | Jun 3 | Jun 2 | Jun 1 | May 31 | May 30 | May 29 | May 28 | May 27 | May 26 | May 25 | May 24 | May 23 | May 22 | May 21 | May 20 |
| Windows | 2 | 0 | 1 | 2 | 2 | 1 | 1 | 3 | 2 | 1 | 5 | 3 | 3 | 5 | 3 | 0 | 0 | 1 | 1 | 5 | 2 | 3 | 0 | 3 | 1 | 0 | 1 | 3 | 3 | 3 | 5 | 4 | 7 | 2 | 7 | 4 | 3 | 4 | 4 | 4 | 5 | 5 | 5 | 1 | 5 | 0 |
| Mac | 0 | 2 | 0 | 1 | 2 | 1 | 0 | 0 | 1 | 0 | 0 | 3 | 1 | 1 | 0 | 1 | 0 | 1 | 4 | 0 | 1 | 3 | 0 | 0 | 1 | 1 | 4 | 1 | 2 | 1 | 0 | 1 | 0 | 2 | 0 | 0 | 2 | 0 | 3 | 1 | 0 | 1 | 1 | 1 | 0 | 4 |
| Linux | 0 | 1 | 2 | 1 | 2 | 2 | 1 | 2 | 1 | 2 | 1 | 1 | 2 | 3 | 1 | 2 | 1 | 0 | 1 | 2 | 1 | 1 | 3 | 3 | 1 | 2 | 1 | 2 | 2 | 3 | 1 | 1 | 0 | 1 | 2 | 1 | 3 | 0 | 0 | 0 | 1 | 1 | 3 | 1 | 1 | 1 |
Readme
Source
Django Syntax
Syntax highlighting of Django templates for Sublime Text using the .sublime-syntax format.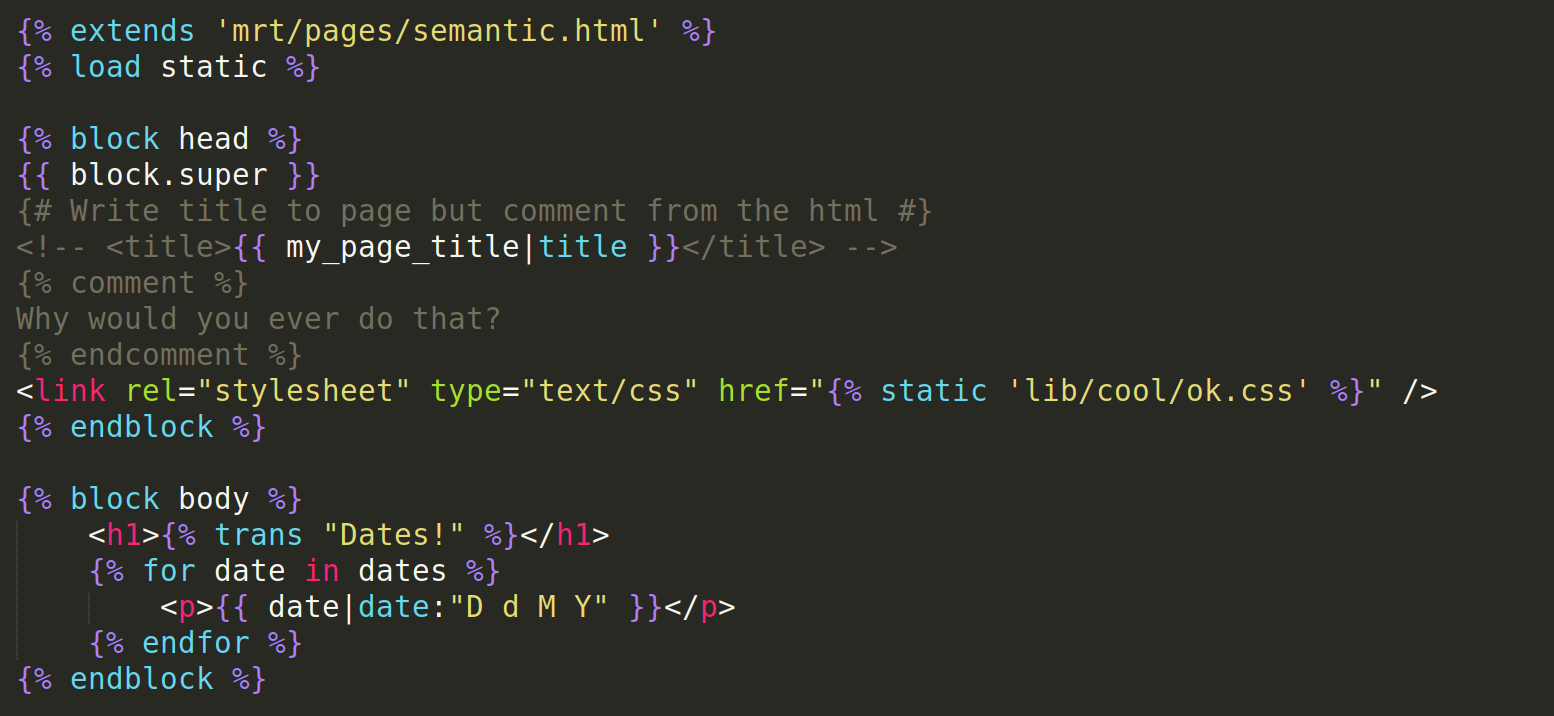 Installing
You can install from Package Control, or manually using the Development instructions below.
Development
To install for development clone this repo (or symlink it) to ~/.config/sublime-text-3/Packages/Django Syntax on linux. For other operating systems use Preferences -> Browse Packages to find the location of the Packages folder.
Once symlinked, when editing the syntax definition any loaded files using that definition should update automatically.
Edit only Django HTML.sublime-syntax and then run build.py to generate the CSS and XML variants before committing changes.