Browse
Doc​PHPManualer
DocPHPManualer: Show PHP documentation in Sublime Text 3
Details
0.1.26

4 years ago

1 hour ago

6 years ago
Installs
Total

37K

Win

29K

Mac

2K

Linux

6K
| | | | | | | | | | | | | | | | | | | | | | | | | | | | | | | | | | | | | | | | | | | | | | | |
| --- | --- | --- | --- | --- | --- | --- | --- | --- | --- | --- | --- | --- | --- | --- | --- | --- | --- | --- | --- | --- | --- | --- | --- | --- | --- | --- | --- | --- | --- | --- | --- | --- | --- | --- | --- | --- | --- | --- | --- | --- | --- | --- | --- | --- | --- | --- |
| | Jul 4 | Jul 3 | Jul 2 | Jul 1 | Jun 30 | Jun 29 | Jun 28 | Jun 27 | Jun 26 | Jun 25 | Jun 24 | Jun 23 | Jun 22 | Jun 21 | Jun 20 | Jun 19 | Jun 18 | Jun 17 | Jun 16 | Jun 15 | Jun 14 | Jun 13 | Jun 12 | Jun 11 | Jun 10 | Jun 9 | Jun 8 | Jun 7 | Jun 6 | Jun 5 | Jun 4 | Jun 3 | Jun 2 | Jun 1 | May 31 | May 30 | May 29 | May 28 | May 27 | May 26 | May 25 | May 24 | May 23 | May 22 | May 21 | May 20 |
| Windows | 0 | 2 | 2 | 1 | 5 | 2 | 3 | 1 | 2 | 4 | 2 | 1 | 2 | 2 | 4 | 0 | 1 | 4 | 4 | 0 | 1 | 2 | 0 | 3 | 2 | 4 | 2 | 1 | 3 | 1 | 1 | 3 | 2 | 3 | 4 | 2 | 1 | 1 | 1 | 1 | 4 | 3 | 1 | 5 | 0 | 3 |
| Mac | 0 | 0 | 0 | 0 | 0 | 0 | 1 | 1 | 1 | 0 | 0 | 0 | 0 | 0 | 0 | 0 | 0 | 0 | 0 | 0 | 0 | 0 | 0 | 0 | 1 | 0 | 0 | 0 | 1 | 0 | 0 | 1 | 0 | 1 | 1 | 0 | 1 | 0 | 0 | 2 | 1 | 0 | 0 | 0 | 0 | 0 |
| Linux | 0 | 0 | 0 | 0 | 1 | 0 | 0 | 1 | 0 | 0 | 2 | 0 | 2 | 0 | 0 | 0 | 1 | 2 | 2 | 1 | 0 | 0 | 0 | 0 | 1 | 1 | 0 | 2 | 0 | 1 | 0 | 0 | 0 | 1 | 0 | 0 | 3 | 0 | 0 | 0 | 0 | 2 | 0 | 0 | 0 | 0 |
Readme
Source
DocPHPManualer for Sublime Text 3
show the document of current function on Sublime Text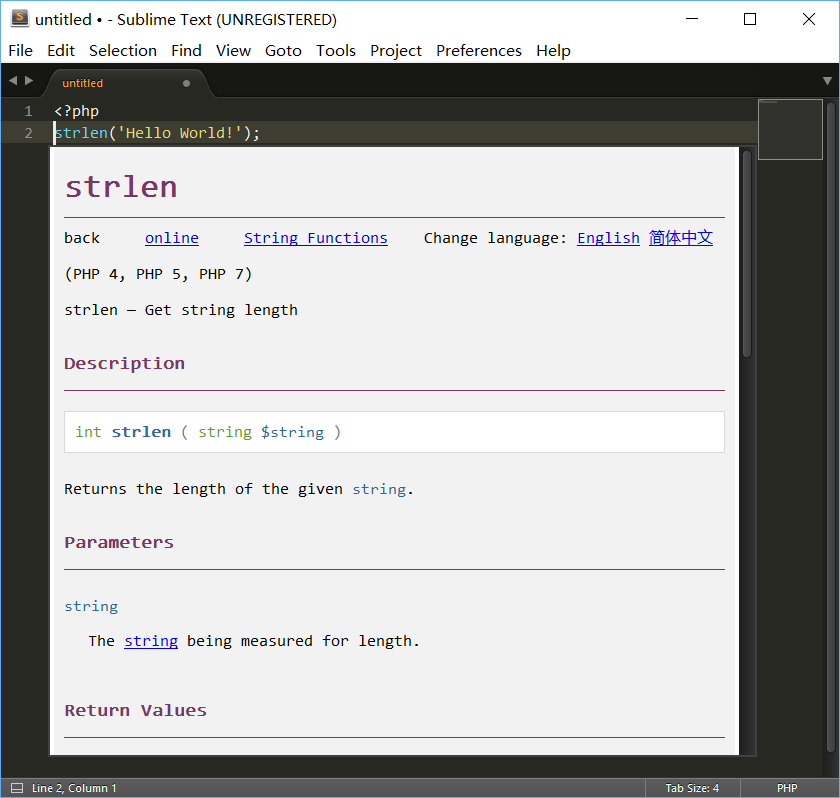 Usage
This package will show a list of available languages after installed, which you may select the one you are using from it. If you want you change language pack later, please use the DocPHP: checkout language command. All these operations will take a few minutes depends on your Internet connection.
The default hotkeys are ctrl + alt + d for Show Definition and ctrl + alt + s for Search Manual
Note:
DocPHPManualer will generate cache files, which usually located at SUBLIME_PATH/Data/Cache/DocPHPManualer. These cache files should be removed automatically when removing the package.
Settings
{


    

// Show manual automatically


    

"auto"

:

 

false

,



    

// Delay after cursor finish moving, in microseconds


    

"auto_delay"

:

 

500

,



    

// Debug mode


    

"debug"

:

 

false

,



    

// Select language


    

"language"

:

 

false

,



    

// Select fallback language


    

"language_fallback"

:

 

false

,



    

// Available languages


    

"languages"

:

 

{},



    

// Max height and width of popup


    

"popup_max_height"

:

 

1080

,


    

"popup_max_width"

:

 

1280

,



    

// Prompt "not found" when symbol not found


    

// default false because new ST3 version has user-defined symbols prompt


    

"prompt_when_not_found"

:

 

false

,



    

// Use the panel on the bottom instead of popup


    

"use_panel"

:

 

false




}



Commands
[


    

{

"caption"

:

 

"DocPHP: Show Definition"

,

 

"command"

:

 

"docphp_show_definition"

},


    

{

"caption"

:

 

"DocPHP: Checkout Language"

,

 

"command"

:

 

"docphp_checkout_language"

},


    

{

"caption"

:

 

"DocPHP: Select Language"

,

 

"command"

:

 

"docphp_select_language"

},


    

{

"caption"

:

 

"DocPHP: Open Manual Index Page"

,

 

"command"

:

 

"docphp_open_manual_index"

},


    

{

"caption"

:

 

"DocPHP: Search Manual"

,

 

"command"

:

 

"docphp_search"

},




]



Hotkeys
[


    

{

 

"keys"

:

 

[

"ctrl+alt+d"

],

 

"command"

:

 

"docphp_show_definition"

},


    

{

 

"keys"

:

 

[

"ctrl+alt+s"

],

 

"command"

:

 

"docphp_search"

},




]