Browse
Freya
Loose adaptation of Georg Dahn's Freya for Sublime Text / TextMate
Details
0.1.0

7 years ago

16 minutes ago

7 years ago
Installs
Total

53

Win

22

Mac

17

Linux

14
| | | | | | | | | | | | | | | | | | | | | | | | | | | | | | | | | | | | | | | | | | | | | | |
| --- | --- | --- | --- | --- | --- | --- | --- | --- | --- | --- | --- | --- | --- | --- | --- | --- | --- | --- | --- | --- | --- | --- | --- | --- | --- | --- | --- | --- | --- | --- | --- | --- | --- | --- | --- | --- | --- | --- | --- | --- | --- | --- | --- | --- | --- |
| | Aug 19 | Aug 18 | Aug 17 | Aug 16 | Aug 15 | Aug 14 | Aug 13 | Aug 12 | Aug 11 | Aug 10 | Aug 9 | Aug 8 | Aug 7 | Aug 6 | Aug 5 | Aug 4 | Aug 3 | Aug 2 | Aug 1 | Jul 31 | Jul 30 | Jul 29 | Jul 28 | Jul 27 | Jul 26 | Jul 25 | Jul 24 | Jul 23 | Jul 22 | Jul 21 | Jul 20 | Jul 19 | Jul 18 | Jul 17 | Jul 16 | Jul 15 | Jul 14 | Jul 13 | Jul 12 | Jul 11 | Jul 10 | Jul 9 | Jul 8 | Jul 7 | Jul 6 |
| Windows | 0 | 0 | 0 | 0 | 0 | 0 | 0 | 0 | 0 | 0 | 0 | 0 | 0 | 0 | 0 | 0 | 0 | 0 | 0 | 0 | 0 | 0 | 0 | 0 | 0 | 0 | 0 | 0 | 0 | 0 | 0 | 0 | 0 | 0 | 0 | 0 | 0 | 0 | 0 | 0 | 0 | 0 | 0 | 0 | 0 |
| Mac | 0 | 0 | 0 | 0 | 0 | 0 | 0 | 0 | 0 | 0 | 0 | 0 | 0 | 0 | 0 | 0 | 0 | 0 | 0 | 0 | 0 | 0 | 0 | 0 | 0 | 0 | 0 | 0 | 0 | 0 | 0 | 0 | 0 | 0 | 0 | 0 | 0 | 0 | 0 | 0 | 0 | 0 | 0 | 0 | 0 |
| Linux | 0 | 0 | 0 | 0 | 0 | 0 | 0 | 0 | 0 | 0 | 0 | 0 | 0 | 0 | 0 | 0 | 0 | 0 | 0 | 0 | 0 | 0 | 0 | 0 | 0 | 0 | 0 | 0 | 0 | 0 | 0 | 0 | 0 | 0 | 0 | 0 | 0 | 0 | 0 | 0 | 0 | 0 | 0 | 0 | 0 |
Readme
Source
Freya
Sublime Text / TextMate color scheme adapted from Freya, my favourite vim colour scheme. It's a lovely dark scheme with warm, low-contrast colours that looks like this: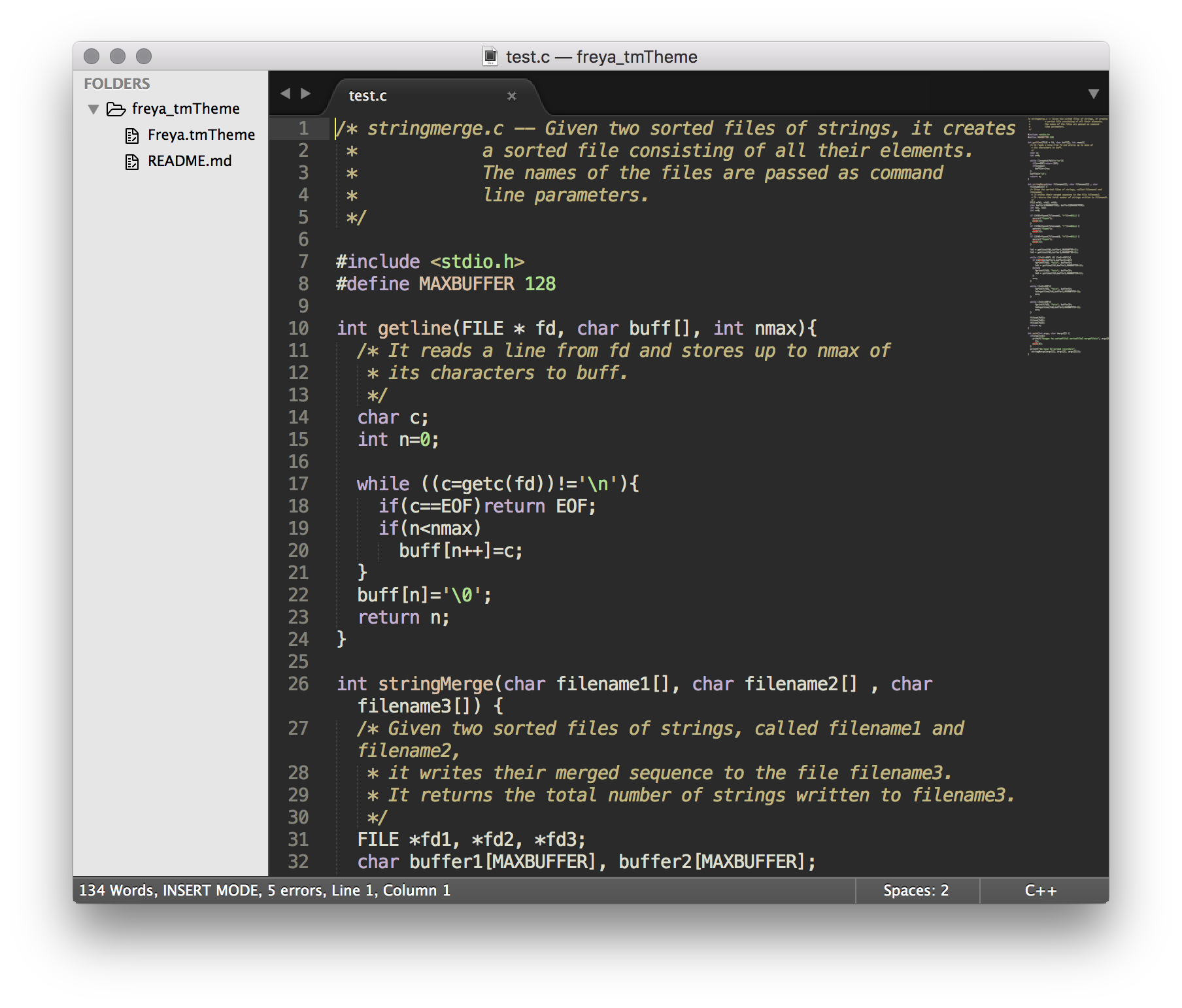 Installation (using Package Control)
Open the command palette. (cmd+shift+P on Mac OS X, ctrl+shift+P on other OSs)
Type Install Package and press enter.
Search for Freya and press enter.
After installation
Activate the theme by adding the following key to your settings:
"color_scheme": "Packages/Freya/Freya.tmTheme"
Credits
Freya is originally by Georg Dahn.