Browse
Git​Open​Changed​Files
A Sublime Text 3 plugin to quickly open files changed in your current branch
Details
1.0.2

8 years ago

2 hours ago

8 years ago
Installs
Total

10K

Win

5K

Mac

2K

Linux

2K
| | | | | | | | | | | | | | | | | | | | | | | | | | | | | | | | | | | | | | | | | | | | | | | |
| --- | --- | --- | --- | --- | --- | --- | --- | --- | --- | --- | --- | --- | --- | --- | --- | --- | --- | --- | --- | --- | --- | --- | --- | --- | --- | --- | --- | --- | --- | --- | --- | --- | --- | --- | --- | --- | --- | --- | --- | --- | --- | --- | --- | --- | --- | --- |
| | Oct 5 | Oct 4 | Oct 3 | Oct 2 | Oct 1 | Sep 30 | Sep 29 | Sep 28 | Sep 27 | Sep 26 | Sep 25 | Sep 24 | Sep 23 | Sep 22 | Sep 21 | Sep 20 | Sep 19 | Sep 18 | Sep 17 | Sep 16 | Sep 15 | Sep 14 | Sep 13 | Sep 12 | Sep 11 | Sep 10 | Sep 9 | Sep 8 | Sep 7 | Sep 6 | Sep 5 | Sep 4 | Sep 3 | Sep 2 | Sep 1 | Aug 31 | Aug 30 | Aug 29 | Aug 28 | Aug 27 | Aug 26 | Aug 25 | Aug 24 | Aug 23 | Aug 22 | Aug 21 |
| Windows | 0 | 1 | 2 | 2 | 0 | 0 | 1 | 4 | 1 | 1 | 0 | 3 | 8 | 1 | 0 | 2 | 3 | 1 | 0 | 0 | 0 | 2 | 1 | 1 | 0 | 0 | 1 | 1 | 1 | 4 | 2 | 3 | 1 | 0 | 2 | 0 | 1 | 3 | 1 | 0 | 2 | 2 | 1 | 0 | 5 | 1 |
| Mac | 0 | 0 | 1 | 0 | 1 | 0 | 0 | 0 | 0 | 0 | 1 | 0 | 0 | 0 | 0 | 0 | 0 | 0 | 0 | 0 | 0 | 0 | 0 | 0 | 0 | 0 | 0 | 0 | 0 | 0 | 0 | 0 | 0 | 0 | 0 | 0 | 0 | 0 | 0 | 0 | 0 | 0 | 1 | 0 | 0 | 2 |
| Linux | 1 | 0 | 0 | 0 | 0 | 1 | 0 | 0 | 0 | 0 | 0 | 0 | 0 | 0 | 0 | 0 | 3 | 1 | 0 | 0 | 1 | 0 | 1 | 0 | 0 | 0 | 1 | 0 | 0 | 0 | 0 | 0 | 0 | 0 | 0 | 0 | 0 | 0 | 0 | 0 | 2 | 0 | 1 | 0 | 2 | 1 |
Readme
Source
sublime3-gitopenchangedfiles
A Sublime Text 3 plugin to quickly open files changed in your current branch
Demo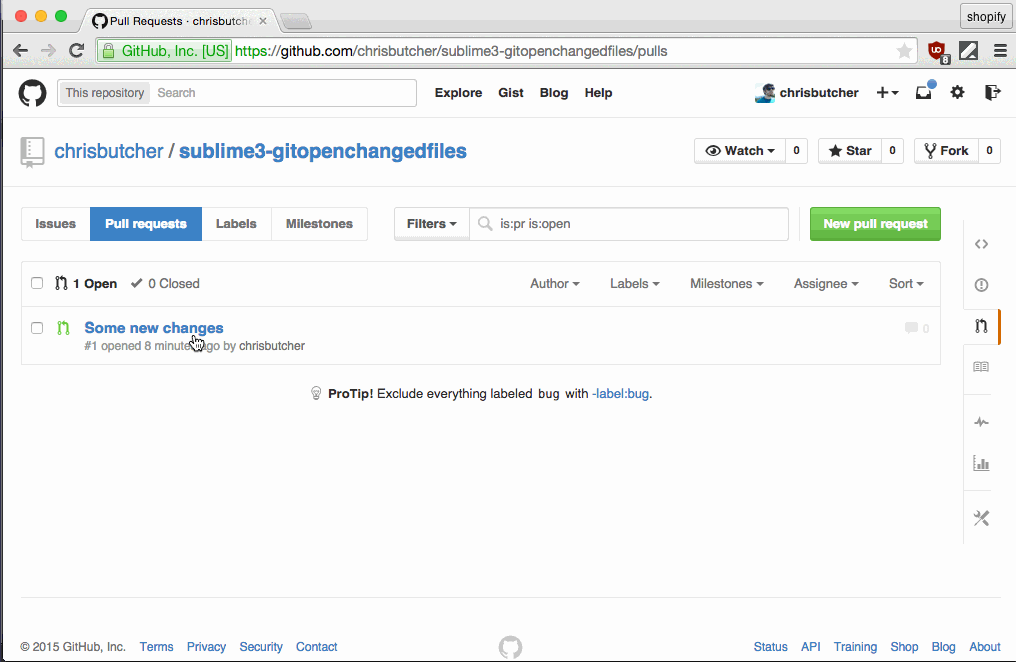 (GIF recorded with LICEcap)
Installation
Search for GitOpenChangedFiles and install.
Manually:
Clone this repo into your Sublime Text 3/Packages folder.
cd

 ~/Library/Application

\ 

Support/Sublime

\ 

Text

\ 

3/Packages/
git clone git@github.com:chrisbutcher/sublime3-gitopenchangedfiles.git

Default keyboard shortcuts
Mac OS X: Command + Shift + O
Linux:    Control + Shift + O
Windows:  Control + Shift + O

License
This project is released under the MIT License.