Browse
HTMLEntity Snippets
HTML Entity Snippets for Sublime Text
Details
1.0.2

8 years ago

3 minutes ago

9 years ago
Installs
Total

20K

Win

14K

Mac

3K

Linux

3K
| | | | | | | | | | | | | | | | | | | | | | | | | | | | | | | | | | | | | | | | | | | | | | | |
| --- | --- | --- | --- | --- | --- | --- | --- | --- | --- | --- | --- | --- | --- | --- | --- | --- | --- | --- | --- | --- | --- | --- | --- | --- | --- | --- | --- | --- | --- | --- | --- | --- | --- | --- | --- | --- | --- | --- | --- | --- | --- | --- | --- | --- | --- | --- |
| | Dec 8 | Dec 7 | Dec 6 | Dec 5 | Dec 4 | Dec 3 | Dec 2 | Dec 1 | Nov 30 | Nov 29 | Nov 28 | Nov 27 | Nov 26 | Nov 25 | Nov 24 | Nov 23 | Nov 22 | Nov 21 | Nov 20 | Nov 19 | Nov 18 | Nov 17 | Nov 16 | Nov 15 | Nov 14 | Nov 13 | Nov 12 | Nov 11 | Nov 10 | Nov 9 | Nov 8 | Nov 7 | Nov 6 | Nov 5 | Nov 4 | Nov 3 | Nov 2 | Nov 1 | Oct 31 | Oct 30 | Oct 29 | Oct 28 | Oct 27 | Oct 26 | Oct 25 | Oct 24 |
| Windows | 0 | 2 | 1 | 1 | 2 | 1 | 0 | 2 | 1 | 0 | 1 | 0 | 1 | 0 | 0 | 1 | 2 | 0 | 0 | 0 | 1 | 0 | 0 | 0 | 0 | 0 | 1 | 1 | 0 | 1 | 2 | 2 | 1 | 4 | 0 | 0 | 1 | 1 | 1 | 3 | 0 | 0 | 1 | 2 | 1 | 1 |
| Mac | 2 | 0 | 1 | 0 | 2 | 0 | 0 | 0 | 0 | 0 | 1 | 0 | 0 | 0 | 0 | 0 | 0 | 0 | 0 | 0 | 0 | 0 | 0 | 0 | 0 | 1 | 0 | 0 | 0 | 0 | 0 | 0 | 0 | 0 | 0 | 0 | 0 | 0 | 0 | 0 | 0 | 0 | 0 | 1 | 1 | 0 |
| Linux | 0 | 0 | 0 | 0 | 0 | 0 | 0 | 0 | 1 | 0 | 0 | 0 | 1 | 0 | 0 | 0 | 0 | 0 | 0 | 0 | 0 | 0 | 1 | 0 | 0 | 1 | 0 | 0 | 0 | 1 | 0 | 0 | 0 | 0 | 0 | 0 | 0 | 0 | 0 | 1 | 0 | 0 | 1 | 0 | 0 | 0 |
Readme
Source
HTML Entity Snippets for Sublime Text
Blaze through the most common HTML entities without giving them a second thought. The syntax is simple: a colon : followed by the first character or two of the entity name.
Install via Sublime Text Package Control.
reference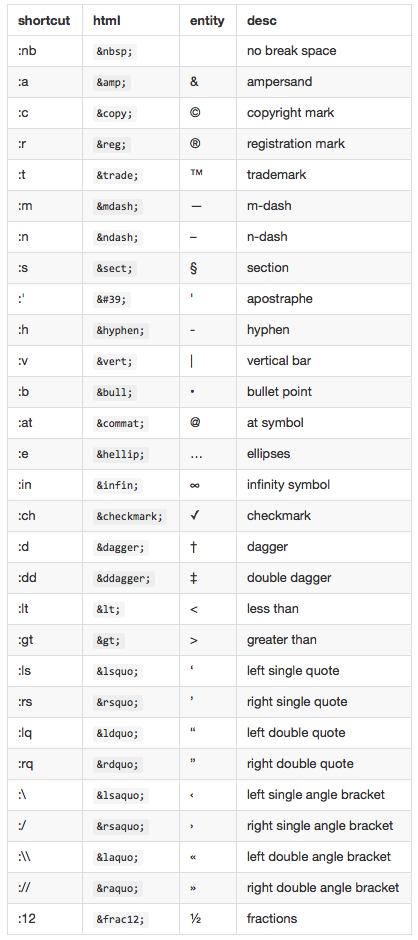 entity fractions
Create any fraction entity by altering the last two digits of ½. The last two digits are a snippet placeholder, you can quickly tab-edit the numbers.
fractions example
Using :12 yields ½ which is ½ . If you then change it to ¼ it will yield ¼ .
thanks to W3C for their entity reference chart