Browse
JUnit Completions
A sublime text completion package for Java Unit testing.(JUnit)
Details
1.0.0

8 years ago

57 minutes ago

8 years ago
Installs
Total

999

Win

532

Mac

294

Linux

173
| | | | | | | | | | | | | | | | | | | | | | | | | | | | | | | | | | | | | | | | | | | | | | |
| --- | --- | --- | --- | --- | --- | --- | --- | --- | --- | --- | --- | --- | --- | --- | --- | --- | --- | --- | --- | --- | --- | --- | --- | --- | --- | --- | --- | --- | --- | --- | --- | --- | --- | --- | --- | --- | --- | --- | --- | --- | --- | --- | --- | --- | --- |
| | Sep 28 | Sep 27 | Sep 26 | Sep 25 | Sep 24 | Sep 23 | Sep 22 | Sep 21 | Sep 20 | Sep 19 | Sep 18 | Sep 17 | Sep 16 | Sep 15 | Sep 14 | Sep 13 | Sep 12 | Sep 11 | Sep 10 | Sep 9 | Sep 8 | Sep 7 | Sep 6 | Sep 5 | Sep 4 | Sep 3 | Sep 2 | Sep 1 | Aug 31 | Aug 30 | Aug 29 | Aug 28 | Aug 27 | Aug 26 | Aug 25 | Aug 24 | Aug 23 | Aug 22 | Aug 21 | Aug 20 | Aug 19 | Aug 18 | Aug 17 | Aug 16 | Aug 15 |
| Windows | 0 | 0 | 0 | 0 | 0 | 0 | 0 | 0 | 0 | 0 | 0 | 0 | 0 | 0 | 0 | 0 | 0 | 0 | 0 | 0 | 0 | 0 | 0 | 0 | 0 | 0 | 0 | 0 | 0 | 0 | 0 | 0 | 0 | 0 | 0 | 0 | 0 | 0 | 1 | 0 | 0 | 0 | 0 | 0 | 0 |
| Mac | 0 | 0 | 0 | 0 | 0 | 0 | 0 | 0 | 0 | 0 | 0 | 0 | 1 | 0 | 0 | 0 | 0 | 0 | 0 | 0 | 0 | 0 | 0 | 0 | 0 | 0 | 0 | 0 | 0 | 0 | 0 | 0 | 0 | 0 | 0 | 0 | 0 | 0 | 0 | 0 | 0 | 0 | 0 | 0 | 0 |
| Linux | 0 | 1 | 0 | 0 | 0 | 0 | 0 | 0 | 0 | 0 | 0 | 0 | 0 | 0 | 0 | 0 | 0 | 0 | 0 | 0 | 0 | 0 | 0 | 0 | 0 | 0 | 0 | 0 | 0 | 0 | 0 | 0 | 0 | 0 | 0 | 0 | 0 | 0 | 0 | 0 | 0 | 0 | 0 | 0 | 0 |
Readme
Source
JUnit Completions
About
A sublime text completion package for JUnit
Screenshot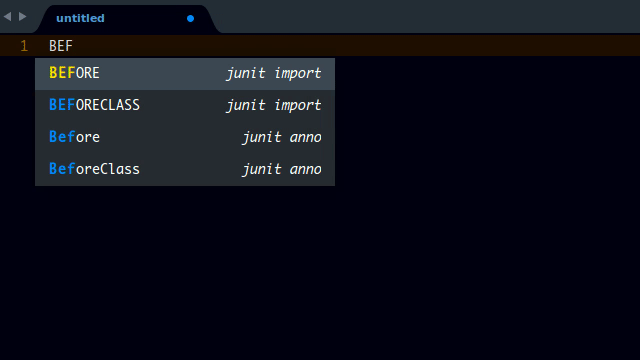 How to Use
Example
Import
Note you can also press ENTER rather than TAB
Type the JUnit class name in (uppercase). Suggestions should already be popping up then press TAB to select. The package will be automatically imported.
Methods, Interfaces etc.
completions pop up by default as you type so you can just press TAB or ENTER.
Note: For a cleaner interface, disable JUnit when not needed.
Installation
Important: You need to have Package Control installed first on your sublime text which can be found at The Package Contol Website
Using Package Control's Repository
Go to Preferences –> Package Control –> Add Repository –> then type into the textbox https://github.com/tushortz/JUnit-Completions
After doing this, then go to: Preferences –> Package Control –> Install Package –> then search JUnit Completions and click it.
The package will be installed and ready for use.
Download Manually
Download the files using the GitHub .zip download option
Unzip the files
Copy the folder to your Sublime Text Packages directory
Contributing
All contributions are welcome. fork it on Github and create a pull request. Any suggestions or bugs, please let me know.
License
© 2016 Taiwo Kareem | taiwo.kareem36@gmail.com.
Read license.txt
Acknowledgements
I'd first like to say a very big thank you to God my creator. Without him, this wouldn't be possible.