Browse
Kotlin
Sublime Text 2 Package for Kotlin Programming Language
Details
2018.08.11.18.44.18

5 years ago

2 hours ago

11 years ago
Installs
Total

50K

Win

20K

Mac

20K

Linux

10K
| | | | | | | | | | | | | | | | | | | | | | | | | | | | | | | | | | | | | | | | | | | | | | | |
| --- | --- | --- | --- | --- | --- | --- | --- | --- | --- | --- | --- | --- | --- | --- | --- | --- | --- | --- | --- | --- | --- | --- | --- | --- | --- | --- | --- | --- | --- | --- | --- | --- | --- | --- | --- | --- | --- | --- | --- | --- | --- | --- | --- | --- | --- | --- |
| | Sep 28 | Sep 27 | Sep 26 | Sep 25 | Sep 24 | Sep 23 | Sep 22 | Sep 21 | Sep 20 | Sep 19 | Sep 18 | Sep 17 | Sep 16 | Sep 15 | Sep 14 | Sep 13 | Sep 12 | Sep 11 | Sep 10 | Sep 9 | Sep 8 | Sep 7 | Sep 6 | Sep 5 | Sep 4 | Sep 3 | Sep 2 | Sep 1 | Aug 31 | Aug 30 | Aug 29 | Aug 28 | Aug 27 | Aug 26 | Aug 25 | Aug 24 | Aug 23 | Aug 22 | Aug 21 | Aug 20 | Aug 19 | Aug 18 | Aug 17 | Aug 16 | Aug 15 | Aug 14 |
| Windows | 1 | 7 | 10 | 3 | 8 | 7 | 2 | 12 | 7 | 7 | 10 | 5 | 4 | 4 | 7 | 12 | 10 | 14 | 3 | 6 | 4 | 3 | 4 | 9 | 6 | 5 | 5 | 9 | 8 | 7 | 7 | 8 | 3 | 3 | 4 | 5 | 8 | 5 | 10 | 6 | 4 | 6 | 3 | 9 | 2 | 2 |
| Mac | 3 | 8 | 7 | 7 | 1 | 5 | 2 | 4 | 8 | 8 | 3 | 1 | 1 | 7 | 3 | 4 | 12 | 15 | 1 | 3 | 5 | 7 | 4 | 10 | 4 | 2 | 5 | 6 | 9 | 7 | 5 | 7 | 2 | 5 | 9 | 10 | 7 | 8 | 3 | 0 | 0 | 6 | 6 | 8 | 7 | 7 |
| Linux | 0 | 0 | 5 | 1 | 3 | 3 | 3 | 1 | 5 | 5 | 3 | 0 | 4 | 2 | 4 | 2 | 1 | 2 | 0 | 2 | 2 | 0 | 0 | 4 | 3 | 2 | 1 | 2 | 3 | 4 | 2 | 1 | 3 | 0 | 6 | 1 | 4 | 5 | 2 | 6 | 2 | 1 | 9 | 3 | 4 | 4 |
Readme
Source
Kotlin Sublime Text Package
This is Sublime Text package for Kotlin programming language.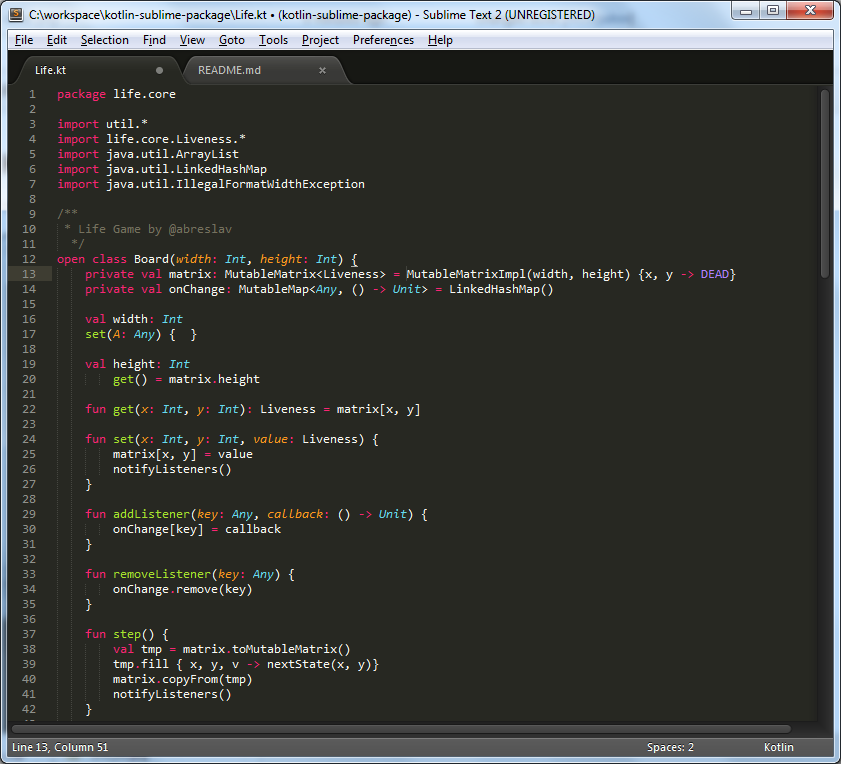 Overview
The following modules already implemented:
Kotlin Syntax Defenition Kotlin.tmLanguage
Download
Installation
There are three ways to install Kotlin Sublime Package:
Using archived package (kotlin.sublime-package)
Using version control system (GitHub)
Using raw files (Kotlin.tmLanguage) from repository tree
There is an instruction with detailed steps for any type of installation.
Contribution
If you want to contribute to this project, first of all you need to download the latest version of AAAPackageDev - useful tool for Sublime Text Packages developing. Then you can follow the tutorials:
There is also a full documentation of Sublime Text extending.
The best way to contribute is to send pull-requests though GitHub interface.
Links
---
by Vladimir Kostyukov, 2017