Browse
Network Tech
Cisco config syntax and snippets for Sublime Text
Details
2.22.0

1 month ago

4 minutes ago

2 years ago
Installs
Total

3K

Win

2K

OS X

636

Linux

227
| | | | | | | | | | | | | | | | | | | | | | | | | | | | | | | | | | | | | | | | | | | | | | | |
| --- | --- | --- | --- | --- | --- | --- | --- | --- | --- | --- | --- | --- | --- | --- | --- | --- | --- | --- | --- | --- | --- | --- | --- | --- | --- | --- | --- | --- | --- | --- | --- | --- | --- | --- | --- | --- | --- | --- | --- | --- | --- | --- | --- | --- | --- | --- |
| | Feb 18 | Feb 17 | Feb 16 | Feb 15 | Feb 14 | Feb 13 | Feb 12 | Feb 11 | Feb 10 | Feb 9 | Feb 8 | Feb 7 | Feb 6 | Feb 5 | Feb 4 | Feb 3 | Feb 2 | Feb 1 | Jan 31 | Jan 30 | Jan 29 | Jan 28 | Jan 27 | Jan 26 | Jan 25 | Jan 24 | Jan 23 | Jan 22 | Jan 21 | Jan 20 | Jan 19 | Jan 18 | Jan 17 | Jan 16 | Jan 15 | Jan 14 | Jan 13 | Jan 12 | Jan 11 | Jan 10 | Jan 9 | Jan 8 | Jan 7 | Jan 6 | Jan 5 | Jan 4 |
| Windows | 1 | 2 | 4 | 3 | 15 | 11 | 6 | 11 | 1 | 4 | 5 | 6 | 6 | 11 | 9 | 3 | 2 | 7 | 10 | 4 | 11 | 9 | 1 | 0 | 6 | 6 | 5 | 7 | 7 | 2 | 2 | 7 | 4 | 12 | 3 | 16 | 1 | 0 | 0 | 14 | 13 | 6 | 3 | 3 | 6 | 7 |
| OS X | 0 | 0 | 0 | 2 | 5 | 1 | 3 | 1 | 2 | 0 | 1 | 5 | 2 | 3 | 2 | 2 | 0 | 4 | 3 | 2 | 1 | 1 | 1 | 0 | 1 | 2 | 4 | 2 | 0 | 0 | 0 | 4 | 1 | 7 | 0 | 1 | 0 | 0 | 0 | 4 | 1 | 1 | 11 | 4 | 8 | 1 |
| Linux | 0 | 1 | 2 | 1 | 1 | 0 | 0 | 0 | 1 | 2 | 0 | 1 | 2 | 2 | 5 | 0 | 0 | 1 | 1 | 0 | 1 | 0 | 0 | 1 | 0 | 1 | 0 | 0 | 1 | 1 | 0 | 0 | 0 | 2 | 1 | 1 | 0 | 0 | 0 | 0 | 0 | 2 | 0 | 0 | 2 | 0 |
Readme
Source
Network Tech
Cisco syntax highlighting and completions for Sublime Text 3.

😎
Features
Supported Syntax
Cisco ACE
Cisco IOS
Cisco NXOS
Cisco ASA
Subnetting
Mouse over a subnet and get the network, broadcast, prefix, mask and wildcard information.

Subnet aware search
Password Decryption
Configuration Jumping
All commands that change the configuration mode are defined as symbols and can be quickly jumped to.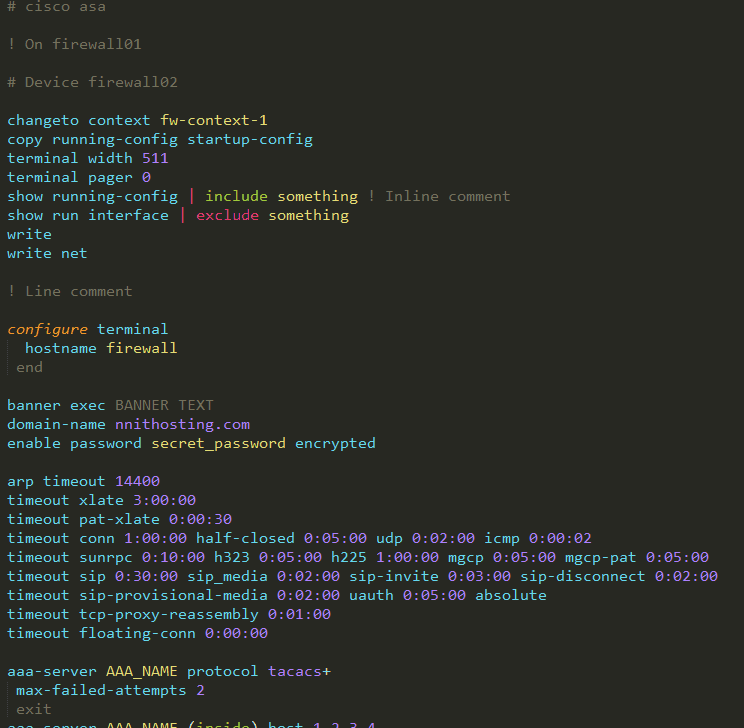 Sublime Text 2 is not supported
Feature Requests and Bug Reporting