Browse
Phix Color Scheme
A Sublime Text 2 colour scheme built around earthy colours
Details
2016.08.12.11.11.06

7 years ago

2 hours ago

12 years ago
Installs
Total

17K

Win

9K

Mac

5K

Linux

3K
| | | | | | | | | | | | | | | | | | | | | | | | | | | | | | | | | | | | | | | | | | | | | | |
| --- | --- | --- | --- | --- | --- | --- | --- | --- | --- | --- | --- | --- | --- | --- | --- | --- | --- | --- | --- | --- | --- | --- | --- | --- | --- | --- | --- | --- | --- | --- | --- | --- | --- | --- | --- | --- | --- | --- | --- | --- | --- | --- | --- | --- | --- |
| | Nov 29 | Nov 28 | Nov 27 | Nov 26 | Nov 25 | Nov 24 | Nov 23 | Nov 22 | Nov 21 | Nov 20 | Nov 19 | Nov 18 | Nov 17 | Nov 16 | Nov 15 | Nov 14 | Nov 13 | Nov 12 | Nov 11 | Nov 10 | Nov 9 | Nov 8 | Nov 7 | Nov 6 | Nov 5 | Nov 4 | Nov 3 | Nov 2 | Nov 1 | Oct 31 | Oct 30 | Oct 29 | Oct 28 | Oct 27 | Oct 26 | Oct 25 | Oct 24 | Oct 23 | Oct 22 | Oct 21 | Oct 20 | Oct 19 | Oct 18 | Oct 17 | Oct 16 |
| Windows | 0 | 1 | 0 | 0 | 0 | 0 | 0 | 1 | 0 | 0 | 0 | 0 | 0 | 0 | 0 | 0 | 0 | 0 | 0 | 1 | 0 | 0 | 0 | 0 | 0 | 0 | 0 | 0 | 0 | 0 | 1 | 0 | 0 | 0 | 0 | 0 | 0 | 0 | 0 | 0 | 0 | 1 | 0 | 0 | 0 |
| Mac | 0 | 0 | 0 | 0 | 0 | 0 | 0 | 0 | 1 | 0 | 0 | 0 | 0 | 0 | 0 | 0 | 0 | 0 | 0 | 0 | 0 | 0 | 0 | 0 | 0 | 0 | 0 | 0 | 0 | 0 | 0 | 0 | 0 | 0 | 0 | 0 | 0 | 0 | 0 | 0 | 0 | 0 | 0 | 0 | 0 |
| Linux | 0 | 0 | 0 | 0 | 0 | 0 | 0 | 0 | 0 | 0 | 1 | 0 | 0 | 0 | 0 | 0 | 0 | 0 | 0 | 0 | 0 | 0 | 0 | 0 | 1 | 0 | 0 | 0 | 0 | 0 | 0 | 0 | 0 | 0 | 0 | 0 | 0 | 0 | 0 | 0 | 0 | 0 | 0 | 0 | 0 |
Readme
Source
Phix Colour Scheme For Sublime Text 2
This is a syntax highlighting colour scheme for Sublime Text 2, built around earthy colours.
Example Screenshot
Inside Sublime Text 2 on Ubuntu 12.10: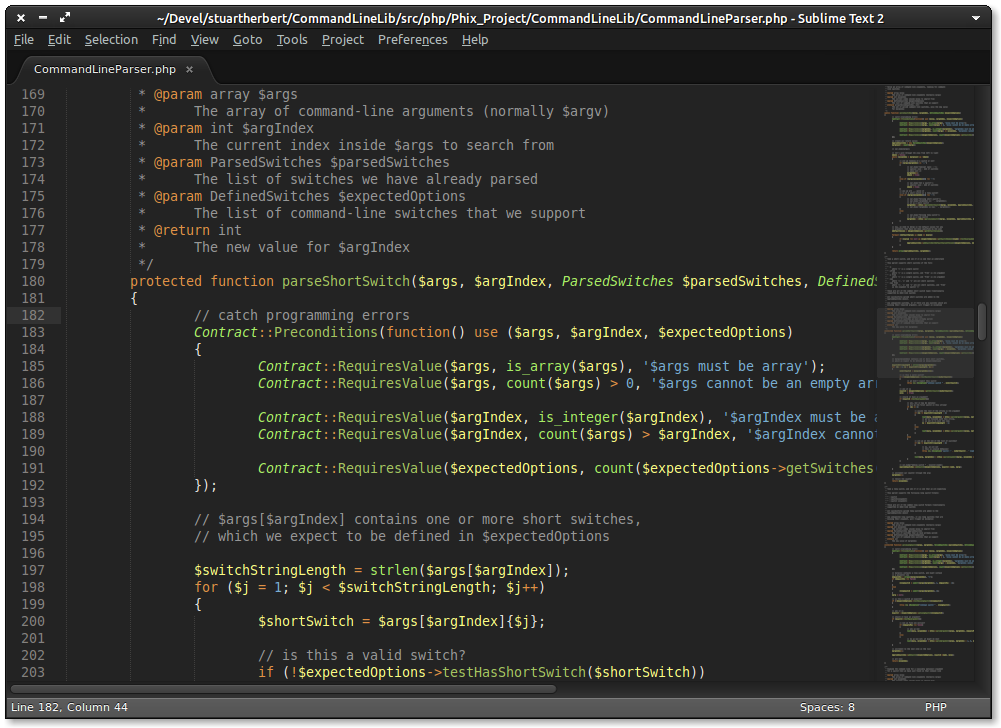 Installation
Clone the repo into your Packages/ folder. Then, in Sublime Text 2, goto:
Preferences > Color Scheme > sublime-phix-color-scheme > Phix Dark
to activate the Phix Dark colour scheme.
Feedback, Pull Requests Welcome
I spend most of my time programming in PHP, so this scheme probably needs some tweaks to look really good in other languages. Please do send me feedback on how it looks for you, and if you send me a pull request, please remember to tell me which syntax you were looking at when you tweaked it!