Browse
Simple JSX
Simple Sublime Text 3 JSX implementation
Details
1.0.2

5 years ago

33 minutes ago

6 years ago
Installs
Total

36K

Win

16K

Mac

14K

Linux

7K
| | | | | | | | | | | | | | | | | | | | | | | | | | | | | | | | | | | | | | | | | | | | | | | |
| --- | --- | --- | --- | --- | --- | --- | --- | --- | --- | --- | --- | --- | --- | --- | --- | --- | --- | --- | --- | --- | --- | --- | --- | --- | --- | --- | --- | --- | --- | --- | --- | --- | --- | --- | --- | --- | --- | --- | --- | --- | --- | --- | --- | --- | --- | --- |
| | Sep 26 | Sep 25 | Sep 24 | Sep 23 | Sep 22 | Sep 21 | Sep 20 | Sep 19 | Sep 18 | Sep 17 | Sep 16 | Sep 15 | Sep 14 | Sep 13 | Sep 12 | Sep 11 | Sep 10 | Sep 9 | Sep 8 | Sep 7 | Sep 6 | Sep 5 | Sep 4 | Sep 3 | Sep 2 | Sep 1 | Aug 31 | Aug 30 | Aug 29 | Aug 28 | Aug 27 | Aug 26 | Aug 25 | Aug 24 | Aug 23 | Aug 22 | Aug 21 | Aug 20 | Aug 19 | Aug 18 | Aug 17 | Aug 16 | Aug 15 | Aug 14 | Aug 13 | Aug 12 |
| Windows | 0 | 1 | 1 | 2 | 1 | 1 | 2 | 1 | 1 | 0 | 1 | 0 | 2 | 2 | 2 | 2 | 1 | 1 | 2 | 1 | 5 | 1 | 2 | 0 | 2 | 1 | 1 | 0 | 0 | 3 | 0 | 1 | 0 | 2 | 4 | 0 | 2 | 0 | 0 | 0 | 0 | 0 | 0 | 2 | 0 | 0 |
| Mac | 0 | 0 | 0 | 0 | 0 | 1 | 1 | 1 | 2 | 1 | 0 | 1 | 2 | 0 | 2 | 0 | 0 | 0 | 0 | 0 | 0 | 2 | 0 | 0 | 1 | 0 | 0 | 1 | 0 | 2 | 0 | 0 | 1 | 0 | 0 | 2 | 0 | 0 | 0 | 1 | 2 | 0 | 3 | 1 | 2 | 0 |
| Linux | 0 | 0 | 2 | 0 | 1 | 1 | 0 | 0 | 1 | 0 | 0 | 1 | 0 | 0 | 1 | 1 | 0 | 0 | 0 | 0 | 0 | 1 | 0 | 0 | 1 | 0 | 0 | 2 | 0 | 1 | 0 | 0 | 1 | 1 | 1 | 1 | 0 | 0 | 1 | 0 | 0 | 1 | 0 | 0 | 0 | 1 |
Readme
Source
Sublime JSX
This is a simple (and crude) implementation of JSX syntax highlighting for Sublime Text 3 that extends the default JavaScript patterns.
Currently all of the JSX syntax highlighting packages depend on the ES6 highlighting from Babel and/or JavaScriptNext packages which do not use the correct scopes for highlighting JavaScript files.
See here for more information:
Installation
If you are using Sublime Package Control you can press command+shift+p. Then select Package Control: Install Package and choose Simple JSX.
Usage
Highlighting should be enabled by default for files that end with a .jsx extension.
To turn on JSX highlighting for other files, open a JavaScript file containing JSX then press command+shift+p and select Set Syntax: JSX.
You can also select View -> Syntax -> Open all with current extension as… and select JSX from the top nav to enable highlighting for all files with a certain extension (.js, .jsx, etc).
Screenshots
Before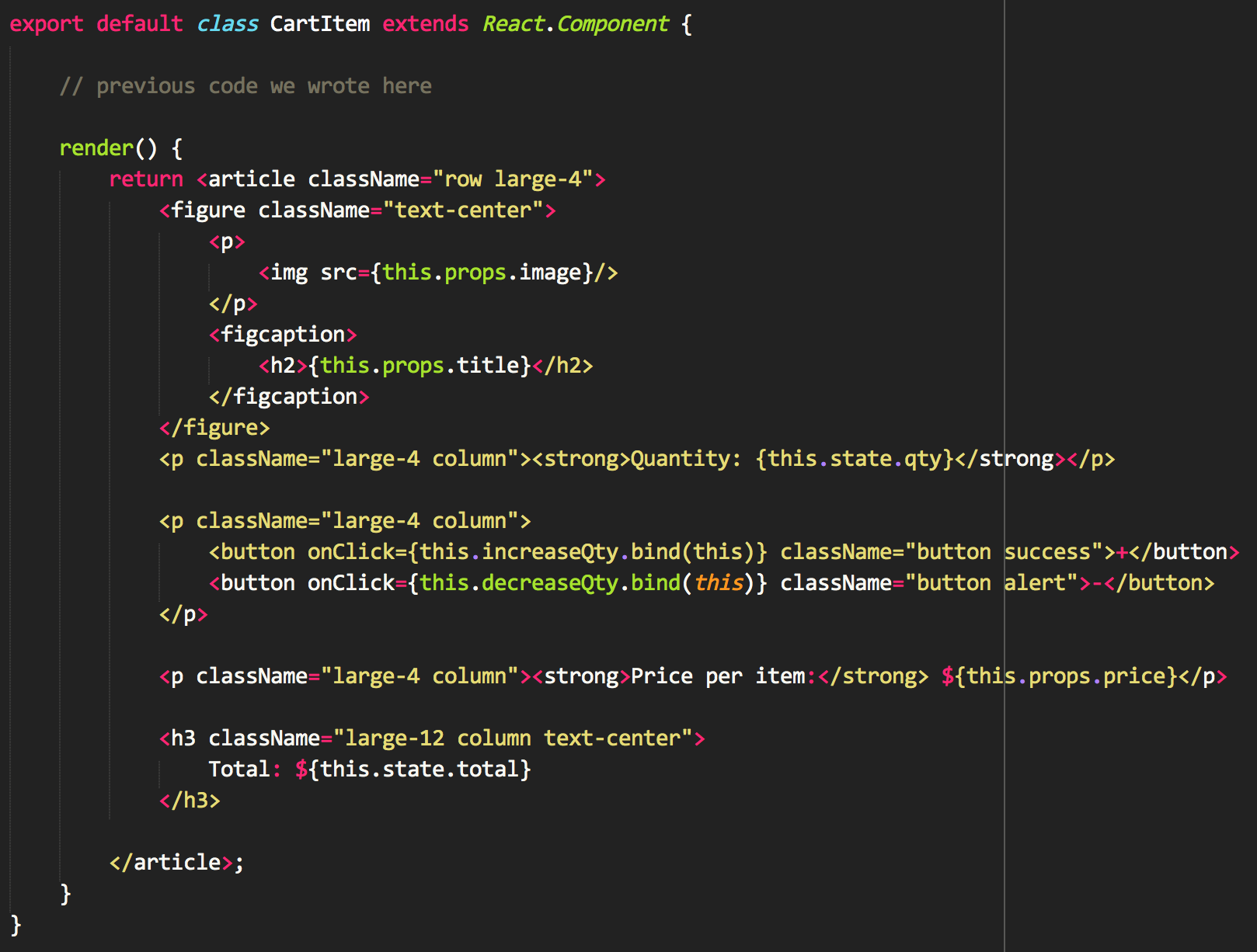 After