Browse
Visual Studio Dark
Dark Visual Studio color scheme for Sublime Text
Details
2023.04.07.01.04.28

6 months ago

2 hours ago

10 years ago
Installs
Total

45K

Win

30K

Mac

7K

Linux

8K
| | | | | | | | | | | | | | | | | | | | | | | | | | | | | | | | | | | | | | | | | | | | | | | |
| --- | --- | --- | --- | --- | --- | --- | --- | --- | --- | --- | --- | --- | --- | --- | --- | --- | --- | --- | --- | --- | --- | --- | --- | --- | --- | --- | --- | --- | --- | --- | --- | --- | --- | --- | --- | --- | --- | --- | --- | --- | --- | --- | --- | --- | --- | --- |
| | Sep 27 | Sep 26 | Sep 25 | Sep 24 | Sep 23 | Sep 22 | Sep 21 | Sep 20 | Sep 19 | Sep 18 | Sep 17 | Sep 16 | Sep 15 | Sep 14 | Sep 13 | Sep 12 | Sep 11 | Sep 10 | Sep 9 | Sep 8 | Sep 7 | Sep 6 | Sep 5 | Sep 4 | Sep 3 | Sep 2 | Sep 1 | Aug 31 | Aug 30 | Aug 29 | Aug 28 | Aug 27 | Aug 26 | Aug 25 | Aug 24 | Aug 23 | Aug 22 | Aug 21 | Aug 20 | Aug 19 | Aug 18 | Aug 17 | Aug 16 | Aug 15 | Aug 14 | Aug 13 |
| Windows | 6 | 6 | 5 | 1 | 3 | 5 | 8 | 2 | 1 | 8 | 4 | 4 | 3 | 4 | 5 | 4 | 4 | 5 | 3 | 4 | 6 | 3 | 3 | 4 | 1 | 7 | 4 | 11 | 3 | 3 | 4 | 6 | 6 | 4 | 4 | 9 | 6 | 5 | 7 | 5 | 10 | 6 | 3 | 5 | 7 | 2 |
| Mac | 0 | 2 | 2 | 0 | 0 | 0 | 1 | 1 | 1 | 0 | 1 | 3 | 1 | 1 | 0 | 1 | 0 | 2 | 0 | 1 | 0 | 0 | 3 | 2 | 0 | 1 | 1 | 1 | 1 | 1 | 0 | 1 | 0 | 1 | 2 | 1 | 1 | 1 | 1 | 0 | 2 | 3 | 2 | 1 | 0 | 2 |
| Linux | 0 | 2 | 3 | 3 | 2 | 3 | 1 | 0 | 2 | 1 | 1 | 1 | 1 | 3 | 2 | 1 | 3 | 1 | 0 | 2 | 1 | 0 | 2 | 0 | 1 | 0 | 1 | 0 | 1 | 0 | 1 | 0 | 1 | 4 | 1 | 3 | 1 | 0 | 0 | 1 | 2 | 1 | 1 | 1 | 1 | 2 |
Readme
Source
Dark Visual Studio color scheme for Sublime Text
For those who used Visual Studio and switched to Sublime Text, here is something good for your eyes. This theme is based on mihaifm's light Visual Studio theme.
Screenshot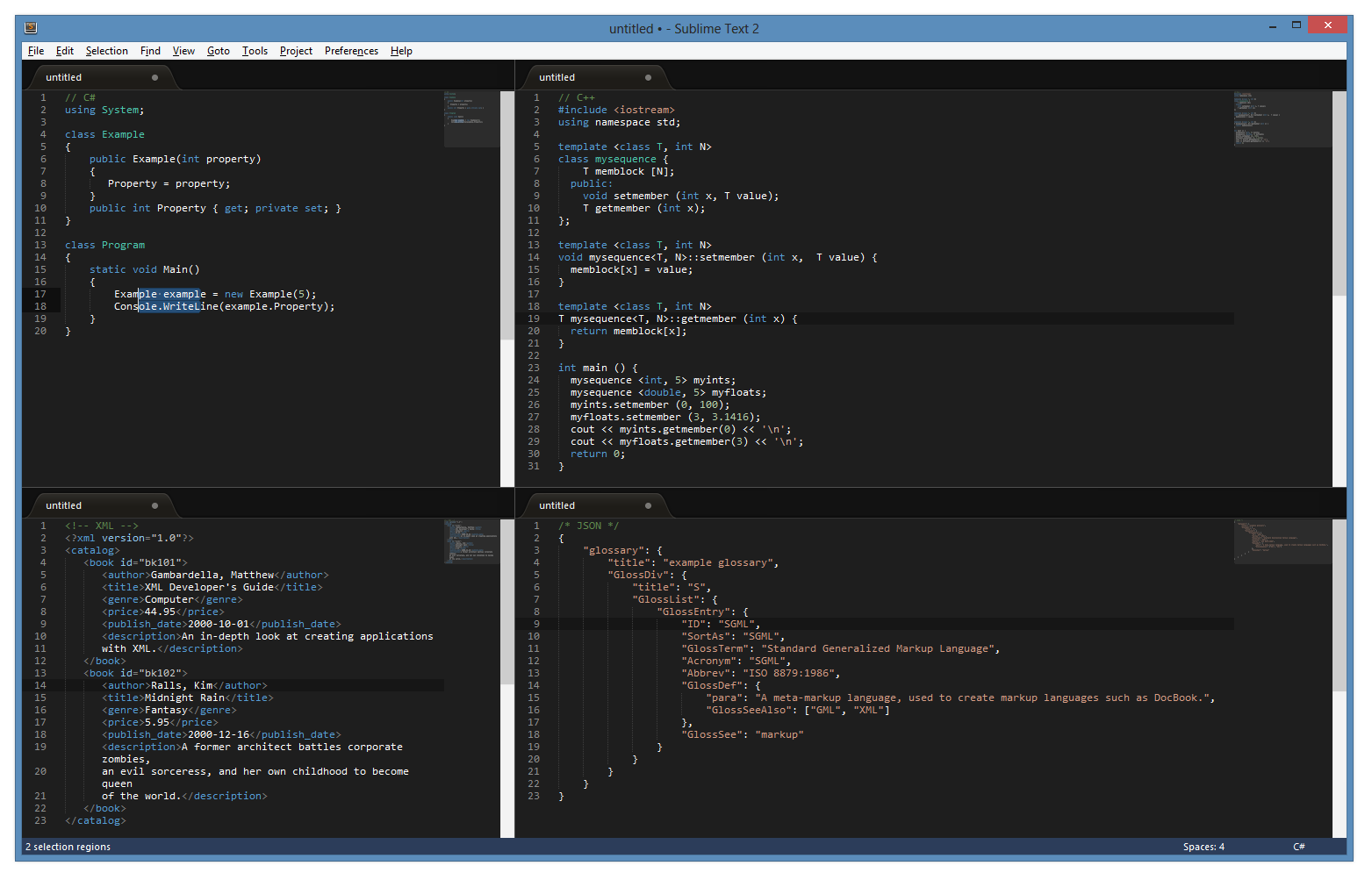 Installation
Via Package Manager
This color theme is also available as a package using the sublime package manager. The package is called Visual Studio Dark (online listing)
Cloning the Repository
Open a Git bash in your Packages directory.
Clone this repository
git clone https://github.com/nikeee/Visual-Studio-Dark Visual-Studio

This is it.
This may also work with Textmate - I did not test it, because I am not using Texmate. But you may do the following: Drop Visual Studio Dark.tmTheme file in: ~/Library/Application Support/TextMate/Themes/