Browse
WRAMPAssembly​Language
An assembly language created by the University of Waikato, for educational purposes. This contains files to allow Sublime to syntax highlight and code complete
Details
1.1.1

7 years ago

2 hours ago

7 years ago
Installs
Total

353

Win

240

Mac

55

Linux

58
| | | | | | | | | | | | | | | | | | | | | | | | | | | | | | | | | | | | | | | | | | | | | | |
| --- | --- | --- | --- | --- | --- | --- | --- | --- | --- | --- | --- | --- | --- | --- | --- | --- | --- | --- | --- | --- | --- | --- | --- | --- | --- | --- | --- | --- | --- | --- | --- | --- | --- | --- | --- | --- | --- | --- | --- | --- | --- | --- | --- | --- | --- |
| | Jun 9 | Jun 8 | Jun 7 | Jun 6 | Jun 5 | Jun 4 | Jun 3 | Jun 2 | Jun 1 | May 31 | May 30 | May 29 | May 28 | May 27 | May 26 | May 25 | May 24 | May 23 | May 22 | May 21 | May 20 | May 19 | May 18 | May 17 | May 16 | May 15 | May 14 | May 13 | May 12 | May 11 | May 10 | May 9 | May 8 | May 7 | May 6 | May 5 | May 4 | May 3 | May 2 | May 1 | Apr 30 | Apr 29 | Apr 28 | Apr 27 | Apr 26 |
| Windows | 0 | 0 | 0 | 0 | 0 | 0 | 0 | 0 | 0 | 0 | 0 | 1 | 0 | 0 | 0 | 0 | 0 | 0 | 0 | 0 | 0 | 0 | 0 | 0 | 0 | 0 | 0 | 0 | 0 | 0 | 0 | 0 | 0 | 0 | 0 | 0 | 0 | 0 | 1 | 0 | 0 | 0 | 0 | 0 | 0 |
| Mac | 0 | 0 | 0 | 0 | 0 | 0 | 0 | 0 | 0 | 0 | 0 | 0 | 0 | 0 | 0 | 0 | 0 | 0 | 0 | 0 | 0 | 0 | 0 | 0 | 0 | 0 | 0 | 0 | 0 | 0 | 0 | 0 | 0 | 0 | 0 | 0 | 0 | 0 | 0 | 0 | 0 | 0 | 1 | 0 | 0 |
| Linux | 0 | 0 | 0 | 0 | 0 | 0 | 0 | 0 | 0 | 0 | 0 | 0 | 0 | 0 | 0 | 0 | 0 | 0 | 0 | 0 | 0 | 0 | 0 | 0 | 0 | 0 | 0 | 0 | 0 | 0 | 0 | 0 | 0 | 0 | 0 | 0 | 0 | 0 | 0 | 0 | 0 | 0 | 0 | 0 | 0 |
Readme
Source
WRAMP Assembly Language
Description
WRAMP is a language created by the University of Waikato to enable it's students to learn about assembly programming. This package attempts to help these students by providing them with code highlighting and completion.
Screenshots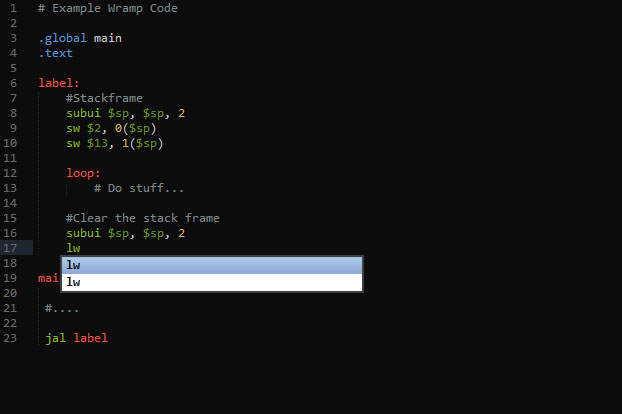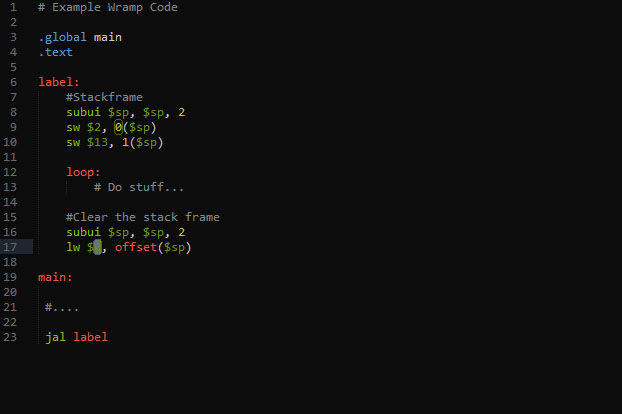 Installation
Go to Package Control and follow the install instructions for the package manager.

Then inside Sublime, Open the command palette, and type pc: install

Then press enter, and type wramp

Press enter again, and you are finished!
NOTE: This was not created by the staff of the University of Waikato, only by a curious student.