Browse
APL Highlighting
SublimeText highlighter (and TextMate I think?) for "A Programming Language" (APL)
Details
2014.07.27.06.50.53

9 years ago

2 hours ago

9 years ago
Installs
Total

1K

Win

842

Mac

202

Linux

202
| | | | | | | | | | | | | | | | | | | | | | | | | | | | | | | | | | | | | | | | | | | | | | |
| --- | --- | --- | --- | --- | --- | --- | --- | --- | --- | --- | --- | --- | --- | --- | --- | --- | --- | --- | --- | --- | --- | --- | --- | --- | --- | --- | --- | --- | --- | --- | --- | --- | --- | --- | --- | --- | --- | --- | --- | --- | --- | --- | --- | --- | --- |
| | Sep 30 | Sep 29 | Sep 28 | Sep 27 | Sep 26 | Sep 25 | Sep 24 | Sep 23 | Sep 22 | Sep 21 | Sep 20 | Sep 19 | Sep 18 | Sep 17 | Sep 16 | Sep 15 | Sep 14 | Sep 13 | Sep 12 | Sep 11 | Sep 10 | Sep 9 | Sep 8 | Sep 7 | Sep 6 | Sep 5 | Sep 4 | Sep 3 | Sep 2 | Sep 1 | Aug 31 | Aug 30 | Aug 29 | Aug 28 | Aug 27 | Aug 26 | Aug 25 | Aug 24 | Aug 23 | Aug 22 | Aug 21 | Aug 20 | Aug 19 | Aug 18 | Aug 17 |
| Windows | 0 | 1 | 0 | 1 | 0 | 0 | 1 | 0 | 0 | 0 | 0 | 0 | 0 | 0 | 1 | 0 | 1 | 0 | 0 | 0 | 0 | 0 | 0 | 0 | 0 | 0 | 0 | 0 | 0 | 0 | 1 | 0 | 0 | 0 | 0 | 0 | 0 | 0 | 3 | 0 | 0 | 0 | 0 | 0 | 0 |
| Mac | 1 | 0 | 0 | 0 | 0 | 0 | 0 | 0 | 0 | 0 | 0 | 0 | 0 | 0 | 0 | 0 | 0 | 0 | 0 | 0 | 0 | 0 | 0 | 0 | 0 | 0 | 0 | 0 | 0 | 0 | 0 | 0 | 1 | 0 | 0 | 0 | 0 | 0 | 1 | 0 | 0 | 0 | 0 | 0 | 0 |
| Linux | 1 | 0 | 0 | 0 | 0 | 0 | 0 | 0 | 0 | 0 | 0 | 0 | 0 | 0 | 0 | 0 | 0 | 0 | 0 | 0 | 0 | 0 | 0 | 0 | 0 | 0 | 0 | 0 | 0 | 0 | 0 | 0 | 0 | 0 | 0 | 0 | 0 | 0 | 0 | 0 | 0 | 0 | 1 | 0 | 0 |
Readme
Source
sublime-apl
SublimeText highlighter for "A Programming Language" (APL)
Show me!
| Go from | To |
| --- | --- |
| | |
Is it thorough?
Sublime-APL covers the complete APL language with a well balanced coloring scheme, including Dyalog and APL2 extensions.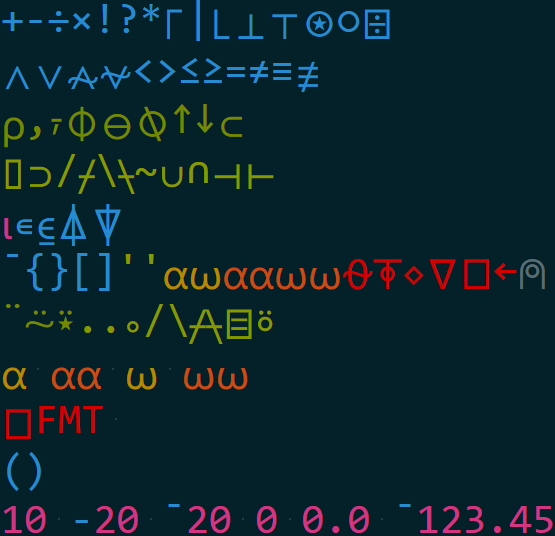 Plugin installation
Package Control is the easiest way to install this highlighter, and will manage version changes over time.
To install through Package Control:
Bring up the command list (ctrl-shift-P) and type install package, which should bring up Package Control: Install Package. Package Control will pause briefly to fetch the list of available plugins.

If you don't see Package Control: Install Package, you need to install Package Control first.

When the plugin list appears, type apl. When you see this package, choose it.
Current Library Status: Usable
This library is considered to be ready and usable, and is available in Package Control.
Improvements will be gladly accepted.
A keyboard IME is coming soon.
Author
Copyright
Copyright © 2014 John Haugeland. All rights reserved.
Thanks
Thanks to:
Polemic :neckbeard:
sublime-apl is MIT licensed, because viral licenses and newspeak language modification are evil. Free is only free when it's free for everyone.