Browse
C11
ISO C11 standard based syntax highlighter language definition
Details
1.0.1

6 years ago

2 hours ago

8 years ago
Installs
Total

13K

Win

7K

Mac

2K

Linux

5K
| | | | | | | | | | | | | | | | | | | | | | | | | | | | | | | | | | | | | | | | | | | | | | | |
| --- | --- | --- | --- | --- | --- | --- | --- | --- | --- | --- | --- | --- | --- | --- | --- | --- | --- | --- | --- | --- | --- | --- | --- | --- | --- | --- | --- | --- | --- | --- | --- | --- | --- | --- | --- | --- | --- | --- | --- | --- | --- | --- | --- | --- | --- | --- |
| | Oct 1 | Sep 30 | Sep 29 | Sep 28 | Sep 27 | Sep 26 | Sep 25 | Sep 24 | Sep 23 | Sep 22 | Sep 21 | Sep 20 | Sep 19 | Sep 18 | Sep 17 | Sep 16 | Sep 15 | Sep 14 | Sep 13 | Sep 12 | Sep 11 | Sep 10 | Sep 9 | Sep 8 | Sep 7 | Sep 6 | Sep 5 | Sep 4 | Sep 3 | Sep 2 | Sep 1 | Aug 31 | Aug 30 | Aug 29 | Aug 28 | Aug 27 | Aug 26 | Aug 25 | Aug 24 | Aug 23 | Aug 22 | Aug 21 | Aug 20 | Aug 19 | Aug 18 | Aug 17 |
| Windows | 1 | 1 | 1 | 2 | 2 | 1 | 0 | 2 | 1 | 3 | 4 | 0 | 2 | 1 | 1 | 1 | 4 | 1 | 0 | 2 | 1 | 3 | 3 | 2 | 1 | 2 | 2 | 2 | 0 | 0 | 1 | 1 | 1 | 3 | 2 | 1 | 5 | 3 | 1 | 1 | 1 | 1 | 3 | 1 | 3 | 0 |
| Mac | 1 | 0 | 0 | 0 | 0 | 0 | 0 | 0 | 0 | 0 | 0 | 0 | 0 | 0 | 0 | 0 | 0 | 0 | 0 | 1 | 0 | 0 | 1 | 0 | 0 | 0 | 0 | 0 | 1 | 0 | 0 | 0 | 0 | 2 | 0 | 0 | 0 | 0 | 0 | 0 | 0 | 1 | 0 | 0 | 0 | 0 |
| Linux | 0 | 1 | 0 | 0 | 1 | 1 | 2 | 2 | 1 | 1 | 0 | 0 | 0 | 2 | 3 | 0 | 0 | 0 | 1 | 0 | 0 | 1 | 0 | 2 | 0 | 0 | 0 | 2 | 0 | 0 | 1 | 0 | 1 | 2 | 0 | 0 | 0 | 0 | 2 | 0 | 0 | 0 | 3 | 0 | 0 | 1 |
Readme
Source
---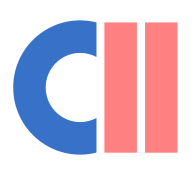 Modern, strictly C11 compatible syntax highlighter for SublimeText 3 and above, and all other text editors using the .tmLanguage file type to describe language syntaxes.
Example: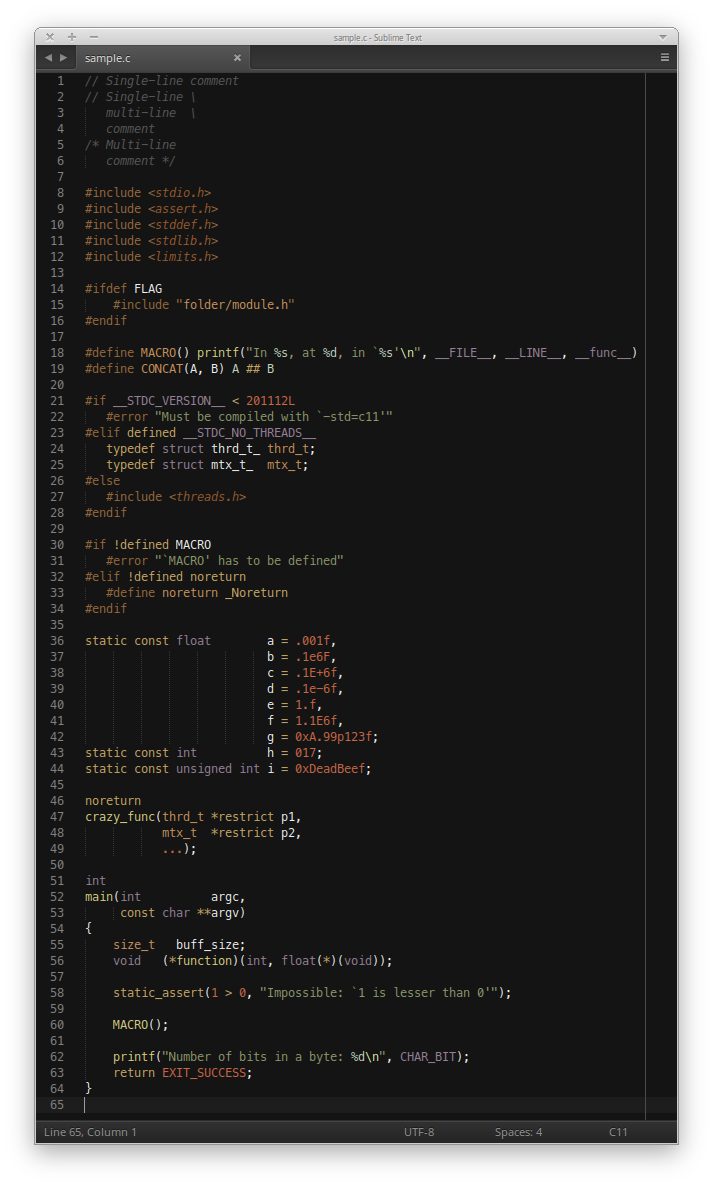 License
Copyright © 2016 Peter Varo
This program is free software: you can redistribute it and/or modify it under the terms of the GNU General Public License as published by the Free Software Foundation, either version 3 of the License, or (at your option) any later version.
This program is distributed in the hope that it will be useful, but WITHOUT ANY WARRANTY; without even the implied warranty of MERCHANTABILITY or FITNESS FOR A PARTICULAR PURPOSE. See the GNU General Public License for more details.
You should have received a copy of the GNU General Public License along with this program, most likely a file in the root directory, called 'LICENSE'. If not, see http://www.gnu.org/licenses.
---

"ISO C11 LOGO" by Peter Varo is licensed under Creative Commons Attribution-ShareAlike 4.0 International License