Browse
EML (E-Mail)
Email syntax highlighting for Text Mate editor made by @mariozaizar
Details
0.1.3

7 years ago

56 minutes ago

7 years ago
Installs
Total

9K

Win

7K

Mac

2K

Linux

616
| | | | | | | | | | | | | | | | | | | | | | | | | | | | | | | | | | | | | | | | | | | | | | |
| --- | --- | --- | --- | --- | --- | --- | --- | --- | --- | --- | --- | --- | --- | --- | --- | --- | --- | --- | --- | --- | --- | --- | --- | --- | --- | --- | --- | --- | --- | --- | --- | --- | --- | --- | --- | --- | --- | --- | --- | --- | --- | --- | --- | --- | --- |
| | Dec 5 | Dec 4 | Dec 3 | Dec 2 | Dec 1 | Nov 30 | Nov 29 | Nov 28 | Nov 27 | Nov 26 | Nov 25 | Nov 24 | Nov 23 | Nov 22 | Nov 21 | Nov 20 | Nov 19 | Nov 18 | Nov 17 | Nov 16 | Nov 15 | Nov 14 | Nov 13 | Nov 12 | Nov 11 | Nov 10 | Nov 9 | Nov 8 | Nov 7 | Nov 6 | Nov 5 | Nov 4 | Nov 3 | Nov 2 | Nov 1 | Oct 31 | Oct 30 | Oct 29 | Oct 28 | Oct 27 | Oct 26 | Oct 25 | Oct 24 | Oct 23 | Oct 22 |
| Windows | 0 | 1 | 0 | 0 | 0 | 2 | 1 | 0 | 1 | 0 | 1 | 0 | 1 | 3 | 0 | 1 | 0 | 1 | 0 | 1 | 1 | 1 | 2 | 1 | 0 | 0 | 2 | 1 | 1 | 1 | 0 | 1 | 0 | 0 | 2 | 3 | 0 | 0 | 2 | 0 | 1 | 2 | 0 | 0 | 1 |
| Mac | 0 | 2 | 0 | 0 | 0 | 0 | 0 | 0 | 0 | 0 | 0 | 0 | 0 | 0 | 0 | 0 | 0 | 0 | 1 | 1 | 0 | 1 | 0 | 0 | 0 | 1 | 0 | 1 | 0 | 0 | 0 | 0 | 0 | 1 | 1 | 0 | 1 | 0 | 0 | 0 | 1 | 1 | 1 | 0 | 1 |
| Linux | 0 | 1 | 1 | 1 | 0 | 0 | 0 | 0 | 0 | 0 | 0 | 0 | 0 | 0 | 0 | 0 | 0 | 0 | 0 | 0 | 0 | 0 | 0 | 0 | 0 | 1 | 0 | 1 | 1 | 0 | 0 | 0 | 0 | 0 | 0 | 0 | 0 | 0 | 0 | 0 | 1 | 0 | 0 | 0 | 1 |
Readme
Source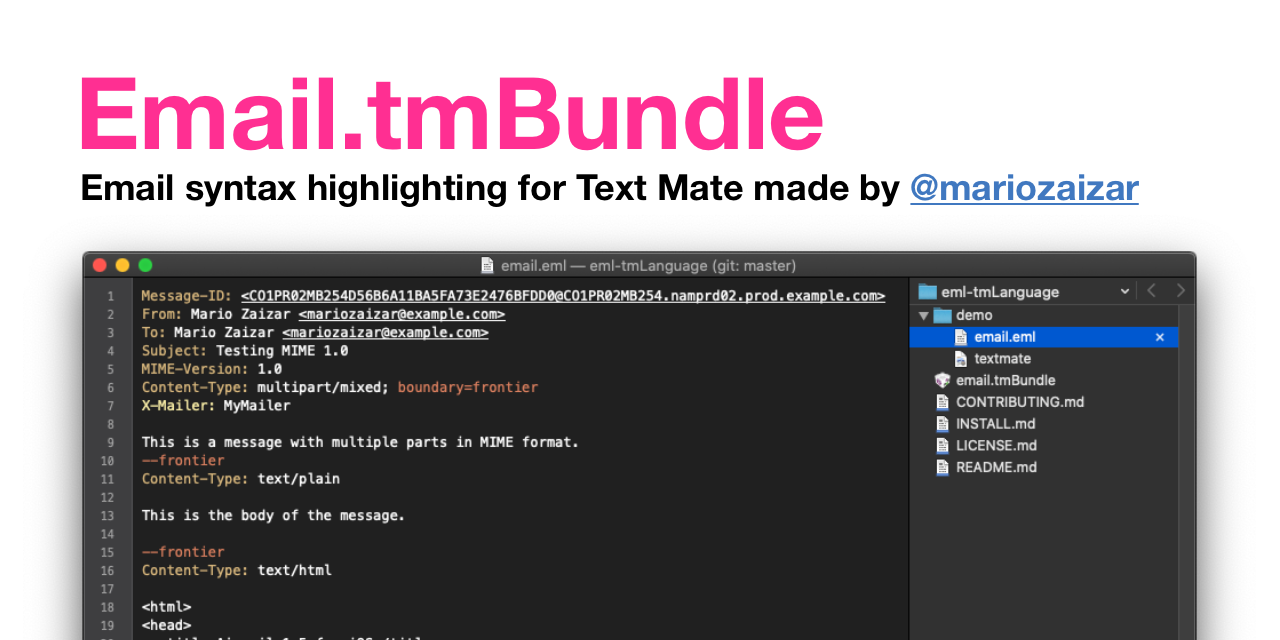 Email.tmBundle
Email syntax highlighting for ~Sublime Text~ Text Mate editor made by @mariozaizar. Also known as eml.tmLanguage.
Demo
:mouse: Using Text Mate (mate 2.13.1 (Dec 28 2019))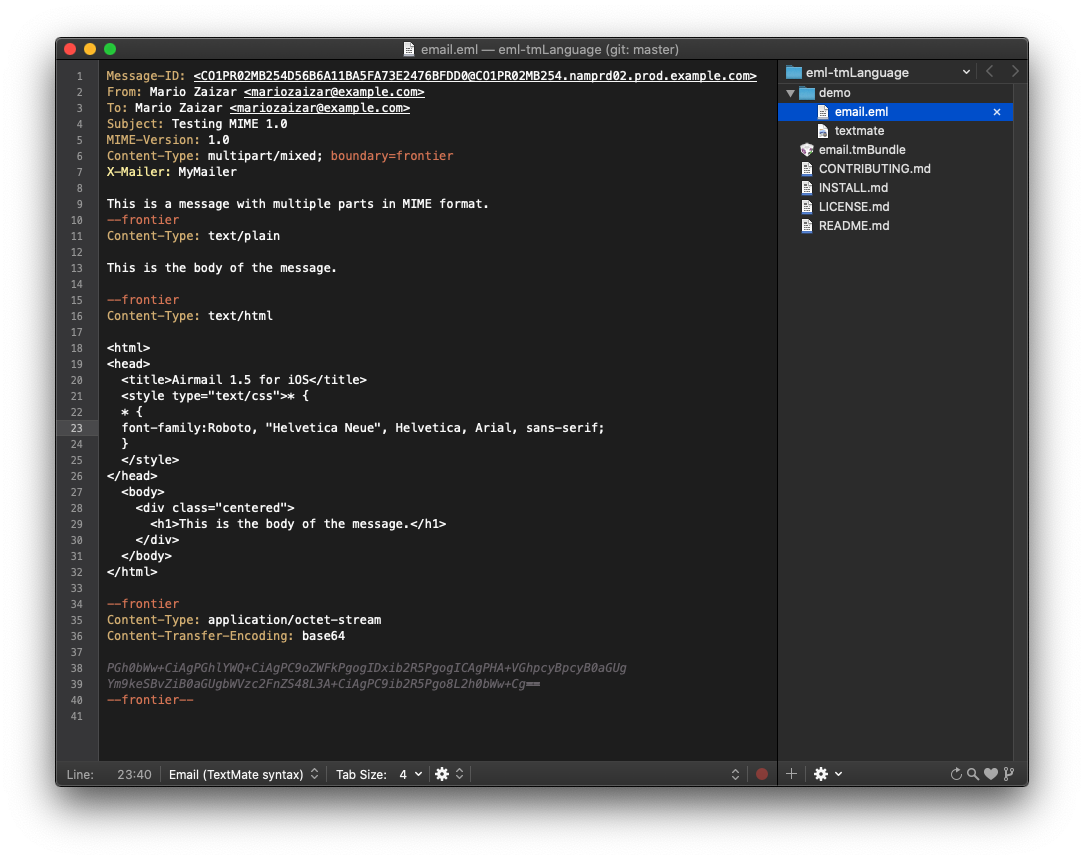 Links
Sublime Text users
For a while, this email grammar was available for Sublime Text users under EML (E-Mail)) package, but it was hard to maintain. As for now, the project has been split into two repositories:
:warning: While this code still works on Sublime Text, the support of it from this repository is no longer maintained. I strongly recommend switching to the new repository (or package) to get the latest updates.
I'm trying my best to keep (and probably rename) the EML (E-Mail)) package so everyone can keep getting updates from the new repository. Thanks again for your downloads and support!