Browse
Golang
An opinionated plugin for Go
Details
0.1.4

3 years ago

2 hours ago

4 years ago
Installs
Total

25K

Win

10K

Mac

9K

Linux

7K
| | | | | | | | | | | | | | | | | | | | | | | | | | | | | | | | | | | | | | | | | | | | | | | |
| --- | --- | --- | --- | --- | --- | --- | --- | --- | --- | --- | --- | --- | --- | --- | --- | --- | --- | --- | --- | --- | --- | --- | --- | --- | --- | --- | --- | --- | --- | --- | --- | --- | --- | --- | --- | --- | --- | --- | --- | --- | --- | --- | --- | --- | --- | --- |
| | Jun 8 | Jun 7 | Jun 6 | Jun 5 | Jun 4 | Jun 3 | Jun 2 | Jun 1 | May 31 | May 30 | May 29 | May 28 | May 27 | May 26 | May 25 | May 24 | May 23 | May 22 | May 21 | May 20 | May 19 | May 18 | May 17 | May 16 | May 15 | May 14 | May 13 | May 12 | May 11 | May 10 | May 9 | May 8 | May 7 | May 6 | May 5 | May 4 | May 3 | May 2 | May 1 | Apr 30 | Apr 29 | Apr 28 | Apr 27 | Apr 26 | Apr 25 | Apr 24 |
| Windows | 1 | 5 | 4 | 3 | 1 | 3 | 6 | 0 | 5 | 5 | 3 | 6 | 1 | 5 | 6 | 7 | 7 | 3 | 2 | 2 | 5 | 5 | 2 | 3 | 6 | 4 | 2 | 5 | 6 | 5 | 5 | 6 | 3 | 4 | 6 | 1 | 8 | 4 | 2 | 2 | 5 | 4 | 8 | 6 | 4 | 8 |
| Mac | 0 | 5 | 5 | 4 | 4 | 4 | 2 | 4 | 3 | 4 | 4 | 2 | 2 | 5 | 2 | 1 | 10 | 2 | 1 | 4 | 6 | 2 | 3 | 6 | 4 | 3 | 2 | 3 | 4 | 2 | 2 | 3 | 0 | 4 | 3 | 0 | 5 | 4 | 0 | 4 | 3 | 5 | 4 | 5 | 5 | 2 |
| Linux | 0 | 6 | 8 | 1 | 3 | 1 | 4 | 4 | 3 | 2 | 1 | 2 | 1 | 4 | 1 | 6 | 5 | 9 | 3 | 2 | 2 | 2 | 5 | 3 | 5 | 3 | 1 | 5 | 1 | 3 | 3 | 3 | 2 | 5 | 3 | 5 | 1 | 1 | 1 | 1 | 1 | 2 | 7 | 4 | 4 | 3 |
Readme
Source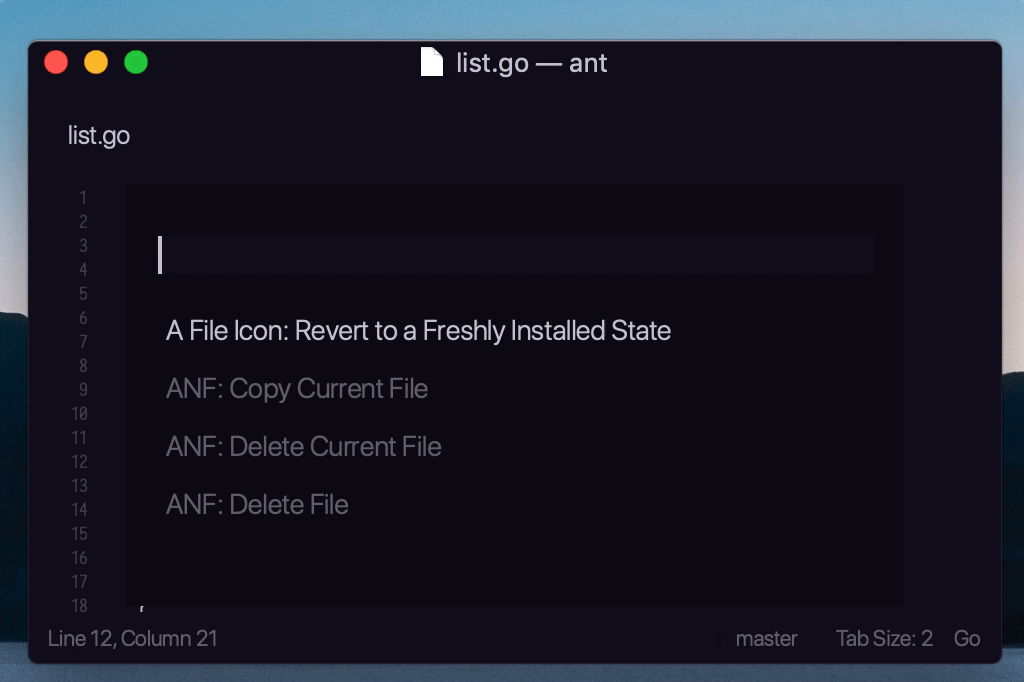 An IDE experience for minimalists.
Features
Format and import on pre-save.
Vet and Lint on post-save.
Auto-complete.
Goto source.
Struct tags.
Escape analysis.
Testing.
Coverage.
Installation
Search and install Golang via package-control.
Note that you'll have to install the following dependencies for the plugin to work:
Contributing
Any contribution, be it bug report or code would be awesome, if you want to add a feature or make a bigger change make sure to open an issue to discuss it.
License
MIT