Browse
MDX Syntax Highlighting
Syntax highlighting for MDX, JSX in Markdown
Details
0.1.0

4 years ago

2 hours ago

4 years ago
Installs
Total

2K

Win

480

Mac

2K

Linux

377
| | | | | | | | | | | | | | | | | | | | | | | | | | | | | | | | | | | | | | | | | | | | | | | |
| --- | --- | --- | --- | --- | --- | --- | --- | --- | --- | --- | --- | --- | --- | --- | --- | --- | --- | --- | --- | --- | --- | --- | --- | --- | --- | --- | --- | --- | --- | --- | --- | --- | --- | --- | --- | --- | --- | --- | --- | --- | --- | --- | --- | --- | --- | --- |
| | Feb 8 | Feb 7 | Feb 6 | Feb 5 | Feb 4 | Feb 3 | Feb 2 | Feb 1 | Jan 31 | Jan 30 | Jan 29 | Jan 28 | Jan 27 | Jan 26 | Jan 25 | Jan 24 | Jan 23 | Jan 22 | Jan 21 | Jan 20 | Jan 19 | Jan 18 | Jan 17 | Jan 16 | Jan 15 | Jan 14 | Jan 13 | Jan 12 | Jan 11 | Jan 10 | Jan 9 | Jan 8 | Jan 7 | Jan 6 | Jan 5 | Jan 4 | Jan 3 | Jan 2 | Jan 1 | Dec 31 | Dec 30 | Dec 29 | Dec 28 | Dec 27 | Dec 26 | Dec 25 |
| Windows | 0 | 1 | 0 | 0 | 0 | 0 | 2 | 0 | 1 | 2 | 0 | 2 | 1 | 0 | 0 | 0 | 0 | 0 | 0 | 1 | 0 | 1 | 0 | 0 | 0 | 0 | 1 | 0 | 3 | 0 | 0 | 0 | 1 | 0 | 0 | 1 | 0 | 0 | 1 | 0 | 0 | 0 | 2 | 0 | 0 | 0 |
| Mac | 0 | 1 | 3 | 0 | 1 | 1 | 1 | 6 | 1 | 3 | 1 | 1 | 3 | 1 | 0 | 2 | 4 | 0 | 1 | 0 | 2 | 0 | 1 | 1 | 0 | 0 | 0 | 1 | 2 | 1 | 1 | 0 | 0 | 0 | 0 | 2 | 1 | 0 | 18 | 0 | 1 | 4 | 0 | 1 | 0 | 1 |
| Linux | 0 | 0 | 4 | 0 | 0 | 0 | 0 | 0 | 2 | 0 | 2 | 0 | 2 | 0 | 0 | 0 | 0 | 0 | 2 | 0 | 0 | 1 | 0 | 0 | 0 | 0 | 0 | 0 | 0 | 1 | 0 | 0 | 0 | 0 | 0 | 0 | 0 | 0 | 0 | 0 | 0 | 0 | 0 | 1 | 0 | 0 |
Readme
Source
MDX for Sublime
MDX syntax highlighting support for .mdx files in Sublime Text 3.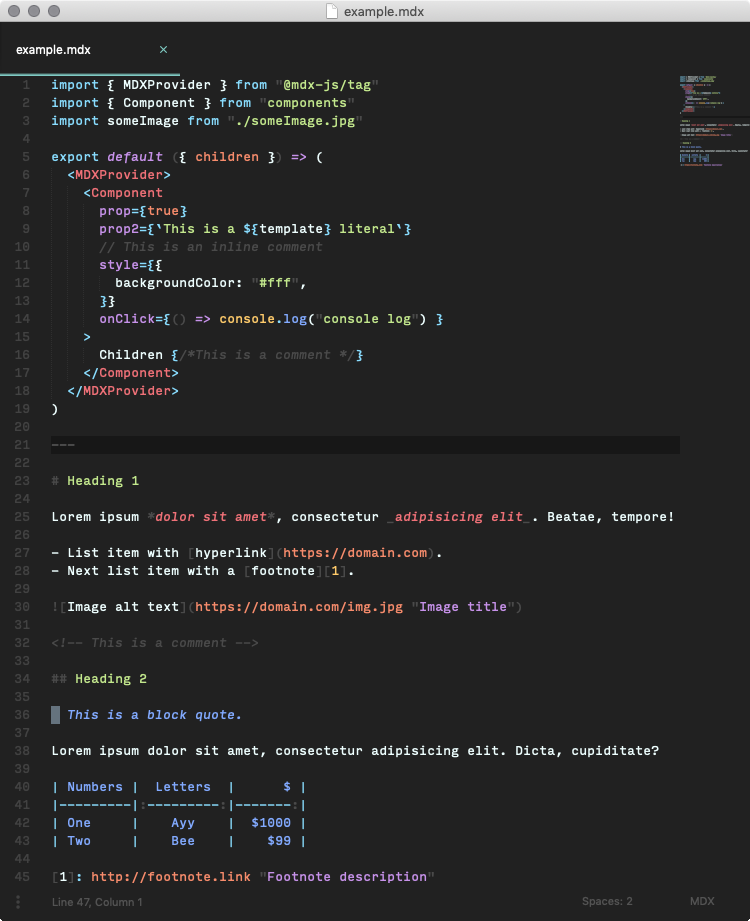 Notes
It works but isn't perfect. I have no idea what I'm doing; and I could use and would appreciate help improving it.
mdx.sublime-syntax was adapted from babel-sublime.
Installation
Download the latest release and extract the ZIP.
Move the directory to Sublime's Packages directory (Preferences > Browse Packages...).
This package will soon be available through Package Control, #7312.
Usage
Open an .mdx file
Select View > Syntax > MDX