Browse
Predawn Twilight Theme
A modified twilight Sublime Text 3 Theme/Color Scheme for Predawn
Details
1.0.0

9 years ago

2 hours ago

9 years ago
Installs
Total

35K

Win

20K

Mac

10K

Linux

5K
| | | | | | | | | | | | | | | | | | | | | | | | | | | | | | | | | | | | | | | | | | | | | | | |
| --- | --- | --- | --- | --- | --- | --- | --- | --- | --- | --- | --- | --- | --- | --- | --- | --- | --- | --- | --- | --- | --- | --- | --- | --- | --- | --- | --- | --- | --- | --- | --- | --- | --- | --- | --- | --- | --- | --- | --- | --- | --- | --- | --- | --- | --- | --- |
| | Sep 28 | Sep 27 | Sep 26 | Sep 25 | Sep 24 | Sep 23 | Sep 22 | Sep 21 | Sep 20 | Sep 19 | Sep 18 | Sep 17 | Sep 16 | Sep 15 | Sep 14 | Sep 13 | Sep 12 | Sep 11 | Sep 10 | Sep 9 | Sep 8 | Sep 7 | Sep 6 | Sep 5 | Sep 4 | Sep 3 | Sep 2 | Sep 1 | Aug 31 | Aug 30 | Aug 29 | Aug 28 | Aug 27 | Aug 26 | Aug 25 | Aug 24 | Aug 23 | Aug 22 | Aug 21 | Aug 20 | Aug 19 | Aug 18 | Aug 17 | Aug 16 | Aug 15 | Aug 14 |
| Windows | 2 | 1 | 1 | 4 | 3 | 0 | 1 | 2 | 4 | 1 | 2 | 5 | 2 | 5 | 1 | 2 | 2 | 2 | 1 | 4 | 2 | 5 | 1 | 0 | 1 | 4 | 3 | 2 | 4 | 2 | 1 | 3 | 1 | 1 | 1 | 5 | 2 | 2 | 2 | 0 | 1 | 2 | 4 | 3 | 2 | 1 |
| Mac | 0 | 0 | 0 | 1 | 0 | 0 | 0 | 1 | 2 | 0 | 0 | 0 | 0 | 0 | 0 | 0 | 0 | 1 | 0 | 0 | 3 | 1 | 0 | 1 | 0 | 0 | 0 | 2 | 0 | 2 | 1 | 0 | 0 | 0 | 0 | 1 | 1 | 1 | 0 | 0 | 0 | 0 | 2 | 2 | 0 | 0 |
| Linux | 0 | 2 | 0 | 0 | 1 | 0 | 1 | 1 | 0 | 1 | 1 | 1 | 0 | 1 | 0 | 1 | 0 | 1 | 0 | 0 | 1 | 0 | 0 | 1 | 1 | 0 | 0 | 0 | 0 | 3 | 1 | 0 | 1 | 0 | 0 | 0 | 0 | 0 | 1 | 0 | 0 | 0 | 1 | 0 | 0 | 1 |
Readme
Source
Predawn Twilight Sublime Text Theme
A modified twilight Sublime Text 3 Theme/Color Scheme for use with the Predawn interface mod. I also added GitGutter coloring.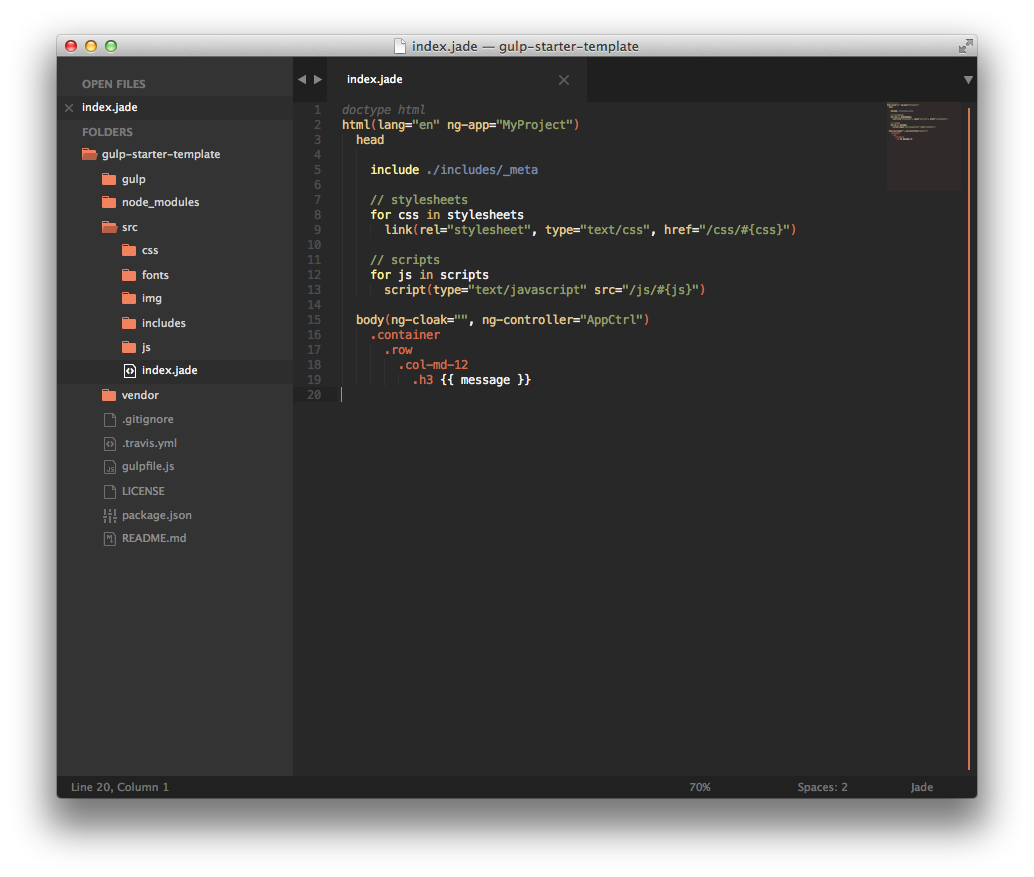 Installation
Package Install
Install the Sublime Package Control and search for package Predawn Twilight Theme.
Manual Installation
Copy the file Predawn Twilight.tmTheme to Sublime Text 3's User directory or create a separate Predawn Twilight Theme directory.
Activating the color theme
Preferences -> Color Scheme -> Predawn Twilight Theme -> Predawn Twilight.
License