Browse
Solarized Color Scheme
Solarized color scheme for Sublime Text
Details
2.7.5

2 months ago

1 hour ago

11 years ago
Installs
Total

134K

Win

50K

Mac

54K

Linux

30K
| | | | | | | | | | | | | | | | | | | | | | | | | | | | | | | | | | | | | | | | | | | | | | | |
| --- | --- | --- | --- | --- | --- | --- | --- | --- | --- | --- | --- | --- | --- | --- | --- | --- | --- | --- | --- | --- | --- | --- | --- | --- | --- | --- | --- | --- | --- | --- | --- | --- | --- | --- | --- | --- | --- | --- | --- | --- | --- | --- | --- | --- | --- | --- |
| | Dec 7 | Dec 6 | Dec 5 | Dec 4 | Dec 3 | Dec 2 | Dec 1 | Nov 30 | Nov 29 | Nov 28 | Nov 27 | Nov 26 | Nov 25 | Nov 24 | Nov 23 | Nov 22 | Nov 21 | Nov 20 | Nov 19 | Nov 18 | Nov 17 | Nov 16 | Nov 15 | Nov 14 | Nov 13 | Nov 12 | Nov 11 | Nov 10 | Nov 9 | Nov 8 | Nov 7 | Nov 6 | Nov 5 | Nov 4 | Nov 3 | Nov 2 | Nov 1 | Oct 31 | Oct 30 | Oct 29 | Oct 28 | Oct 27 | Oct 26 | Oct 25 | Oct 24 | Oct 23 |
| Windows | 0 | 12 | 10 | 8 | 1 | 3 | 4 | 4 | 7 | 9 | 14 | 3 | 3 | 3 | 10 | 4 | 6 | 6 | 7 | 3 | 5 | 9 | 3 | 9 | 6 | 1 | 2 | 4 | 7 | 4 | 6 | 4 | 6 | 2 | 4 | 6 | 3 | 7 | 9 | 2 | 8 | 8 | 4 | 0 | 5 | 5 |
| Mac | 0 | 4 | 5 | 5 | 4 | 2 | 5 | 6 | 4 | 7 | 10 | 1 | 1 | 1 | 3 | 3 | 5 | 5 | 4 | 6 | 6 | 3 | 6 | 4 | 2 | 5 | 9 | 8 | 3 | 9 | 5 | 4 | 3 | 2 | 3 | 1 | 2 | 4 | 3 | 2 | 0 | 3 | 4 | 6 | 1 | 10 |
| Linux | 0 | 2 | 4 | 0 | 1 | 5 | 3 | 7 | 7 | 3 | 3 | 3 | 6 | 7 | 1 | 6 | 4 | 6 | 1 | 5 | 3 | 1 | 0 | 3 | 4 | 3 | 1 | 4 | 4 | 3 | 6 | 1 | 3 | 6 | 5 | 8 | 4 | 2 | 4 | 6 | 4 | 1 | 3 | 6 | 1 | 5 |
Readme
Source
Solarized
Solarized is a color scheme created by Ethan Schoonover. There are versions for pretty much every editor out there, this is the one to get for Sublime Text.
Solarized for Sublime Text
This color scheme is created for Sublime Text.
To install it, use Package Control.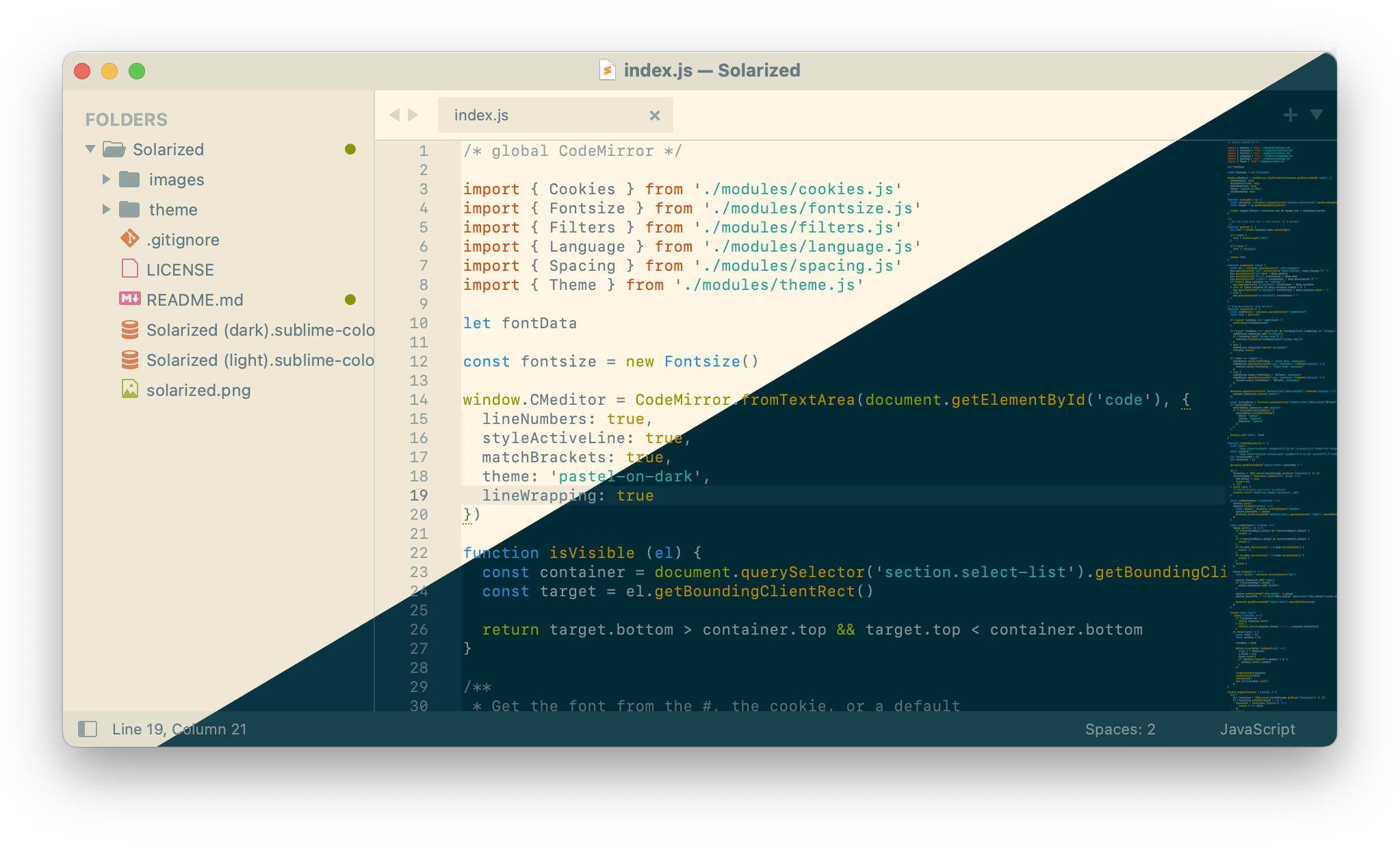 Installation
After installation select either Light or Dark from the Select Color Scheme entry in the command palette.
Buy me a coffee
☕️👌🏻
If you enjoy this package, feel free to make a little donation via PayPal towards the coffee that keeps this project running. It's much appreciated!