Browse
Sublime​Linter
The code linting framework for Sublime Text 3
Details
4.18.0

1.8.0

8 months ago

3 hours ago

11 years ago
Installs
Total

2.20M

Win

1.16M

Mac

632K

Linux

408K
| | | | | | | | | | | | | | | | | | | | | | | | | | | | | | | | | | | | | | | | | | | | | | | |
| --- | --- | --- | --- | --- | --- | --- | --- | --- | --- | --- | --- | --- | --- | --- | --- | --- | --- | --- | --- | --- | --- | --- | --- | --- | --- | --- | --- | --- | --- | --- | --- | --- | --- | --- | --- | --- | --- | --- | --- | --- | --- | --- | --- | --- | --- | --- |
| | Aug 17 | Aug 16 | Aug 15 | Aug 14 | Aug 13 | Aug 12 | Aug 11 | Aug 10 | Aug 9 | Aug 8 | Aug 7 | Aug 6 | Aug 5 | Aug 4 | Aug 3 | Aug 2 | Aug 1 | Jul 31 | Jul 30 | Jul 29 | Jul 28 | Jul 27 | Jul 26 | Jul 25 | Jul 24 | Jul 23 | Jul 22 | Jul 21 | Jul 20 | Jul 19 | Jul 18 | Jul 17 | Jul 16 | Jul 15 | Jul 14 | Jul 13 | Jul 12 | Jul 11 | Jul 10 | Jul 9 | Jul 8 | Jul 7 | Jul 6 | Jul 5 | Jul 4 | Jul 3 |
| Windows | 101 | 116 | 99 | 67 | 79 | 123 | 138 | 137 | 147 | 112 | 77 | 53 | 100 | 105 | 116 | 123 | 127 | 57 | 96 | 116 | 129 | 130 | 100 | 105 | 70 | 82 | 101 | 109 | 126 | 132 | 120 | 72 | 95 | 116 | 142 | 121 | 115 | 107 | 76 | 72 | 119 | 143 | 136 | 165 | 122 | 83 |
| Mac | 49 | 59 | 45 | 37 | 26 | 52 | 48 | 58 | 73 | 56 | 34 | 29 | 55 | 56 | 60 | 59 | 64 | 28 | 29 | 41 | 68 | 70 | 66 | 45 | 26 | 33 | 68 | 61 | 58 | 55 | 57 | 32 | 34 | 59 | 50 | 43 | 76 | 55 | 38 | 40 | 69 | 58 | 63 | 58 | 41 | 42 |
| Linux | 44 | 47 | 43 | 33 | 37 | 31 | 45 | 33 | 44 | 50 | 25 | 23 | 36 | 58 | 52 | 50 | 38 | 28 | 22 | 34 | 60 | 50 | 44 | 37 | 32 | 30 | 35 | 55 | 55 | 46 | 40 | 30 | 29 | 39 | 45 | 43 | 42 | 43 | 35 | 36 | 38 | 51 | 37 | 37 | 45 | 27 |
Readme
Source
SublimeLinter
The code linting framework for Sublime Text. No linters included: get them via Package Control.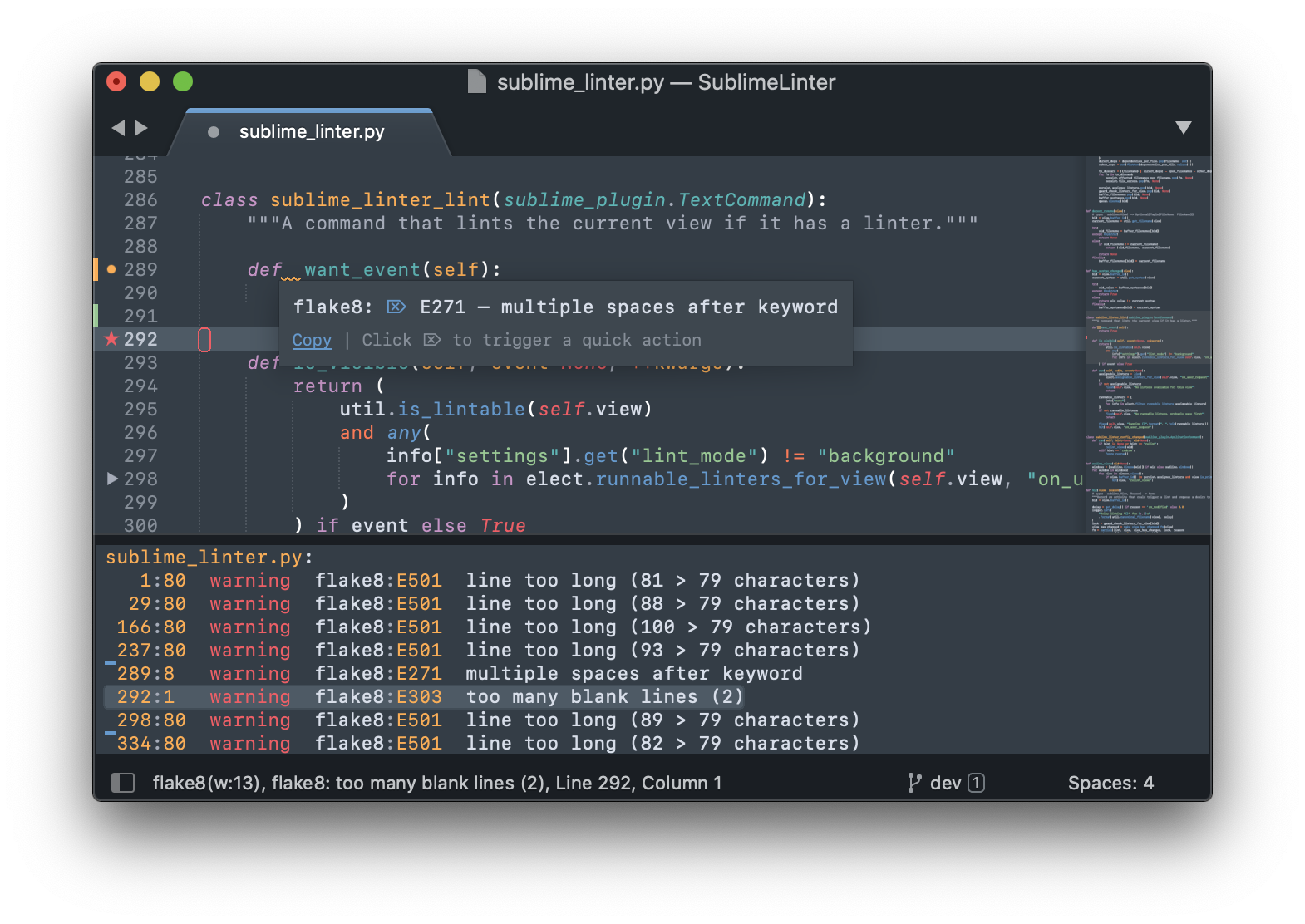 Installation
Install SublimeLinter and linters via Package Control.
Settings
Settings are mostly documented in the default settings. When you open the SublimeLinter settings you'll see them on the left.
Additional information is in our docs at sublimelinter.com.
Read about all the changes between 3 and 4 here.
Quick Actions (beta)
We're building a new feature called Quick Actions, that will allow you to quickly ignore specific error messages. At first SublimeLinter will ship actions for eslint, stylelint, flake8, mypy and phpcs.
Want to see actions for your favourite linter? Please open a PR with your addition to quick_fix.py. We have some tests you can add to as well.
Eventually, as this feature becomes more stable, we will expose it as an API so that plugins can add their own actions.
Key Bindings
SublimeLinter comes with some pre-defined keyboard shortcuts. You can customize these via the Package Settings menu.
| Command | Linux & Windows | MacOS |
| --- | --- | --- |
| Lint this view | CTRL + K, L | CTRL + CMD + L |
| Show all errors | CTRL + K, A | CTRL + CMD + A |
| Goto next error | CTRL + K, N | CTRL + CMD + E |
| Goto prev error | CTRL + K, P | CTRL + CMD + SHIFT + E |
Support & Bugs
Please use the debug mode and include all console output, and your settings in your bug report. If your issue is specific to a particular linter, please report it on that linter's repository instead.
Creating a linter plugin
Fork the template to get started on your plugin. It contains a howto with all the information you need.