Browse
Sublime​Linter
The code linting framework for Sublime Text 3
Details
3 days ago

2 hours ago

6 years ago
Installs
Total

1.47M

Win

744K

OS X

455K

Linux

273K
| | | | | | | | | | | | | | | | | | | | | | | | | | | | | | | | | | | | | | | | | | | | | | | |
| --- | --- | --- | --- | --- | --- | --- | --- | --- | --- | --- | --- | --- | --- | --- | --- | --- | --- | --- | --- | --- | --- | --- | --- | --- | --- | --- | --- | --- | --- | --- | --- | --- | --- | --- | --- | --- | --- | --- | --- | --- | --- | --- | --- | --- | --- | --- |
| | Jan 18 | Jan 17 | Jan 16 | Jan 15 | Jan 14 | Jan 13 | Jan 12 | Jan 11 | Jan 10 | Jan 9 | Jan 8 | Jan 7 | Jan 6 | Jan 5 | Jan 4 | Jan 3 | Jan 2 | Jan 1 | Dec 31 | Dec 30 | Dec 29 | Dec 28 | Dec 27 | Dec 26 | Dec 25 | Dec 24 | Dec 23 | Dec 22 | Dec 21 | Dec 20 | Dec 19 | Dec 18 | Dec 17 | Dec 16 | Dec 15 | Dec 14 | Dec 13 | Dec 12 | Dec 11 | Dec 10 | Dec 9 | Dec 8 | Dec 7 | Dec 6 | Dec 5 | Dec 4 |
| Windows | 643 | 703 | 771 | 492 | 399 | 476 | 703 | 737 | 778 | 787 | 682 | 401 | 472 | 597 | 650 | 631 | 622 | 351 | 277 | 385 | 524 | 609 | 655 | 556 | 499 | 346 | 365 | 559 | 638 | 698 | 663 | 609 | 422 | 425 | 648 | 710 | 663 | 738 | 717 | 444 | 423 | 630 | 706 | 738 | 717 | 766 |
| OS X | 276 | 413 | 401 | 240 | 194 | 234 | 337 | 347 | 412 | 409 | 343 | 186 | 225 | 334 | 368 | 320 | 311 | 139 | 114 | 133 | 207 | 251 | 264 | 216 | 176 | 156 | 148 | 255 | 264 | 366 | 324 | 292 | 179 | 203 | 275 | 311 | 369 | 337 | 339 | 180 | 222 | 344 | 347 | 350 | 342 | 354 |
| Linux | 185 | 223 | 225 | 189 | 133 | 165 | 226 | 219 | 196 | 214 | 211 | 139 | 155 | 196 | 190 | 213 | 185 | 104 | 93 | 121 | 146 | 165 | 165 | 217 | 107 | 105 | 121 | 167 | 182 | 209 | 205 | 201 | 142 | 143 | 201 | 214 | 193 | 200 | 221 | 153 | 134 | 179 | 248 | 251 | 234 | 248 |
Readme
Source
SublimeLinter
A framework for interactive code linting in Sublime Text 3.
SublimeLinter 4 beta
We're making big improvements to how SublimeLinter works. You can read more about it here.
Participate in the beta right now by editing your Package Control preferences and adding SublimeLinter to the "install_prereleases" key:
"install_prereleases"

:




[


  

"SublimeLinter"




]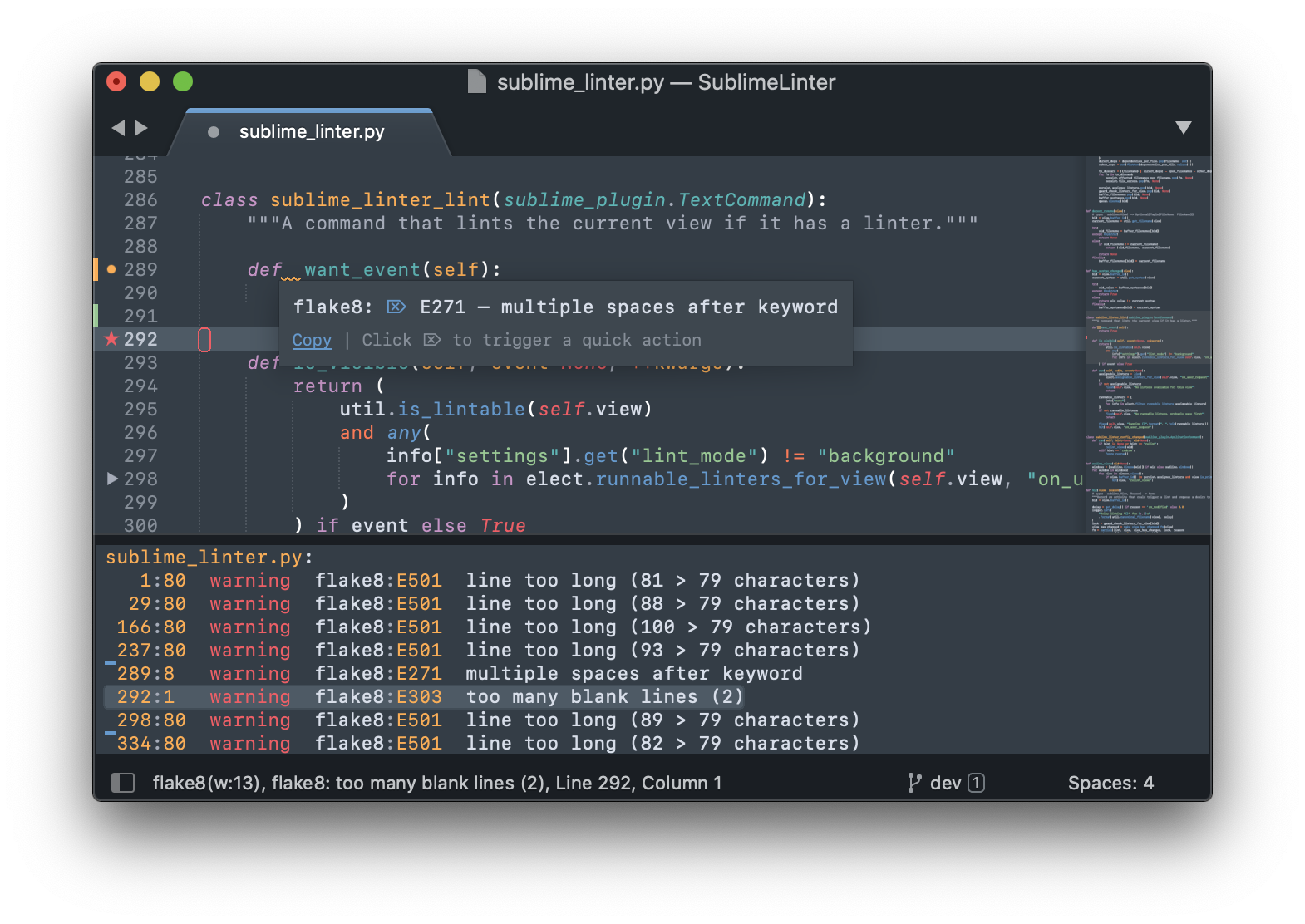 Key Bindings
SublimeLinter comes with some pre-defined keyboard shortcuts. You can customize these via the Package Settings menu.
| Command | Linux & Windows | MacOS |
| --- | --- | --- |
| Lint this view | CTRL + K, L | CTRL + CMD + L |
| Show all errors | CTRL + K, A | CTRL + CMD + A |
| Goto next error | CTRL + K, N | CTRL + CMD + E |
| Goto prev error | CTRL + K, P | CTRL + CMD + SHIFT + E |
Navigating to the next/previous error is done using the next_result and prev_result commands already built into Sublime Text.
Support & Bugs
Please use the debug mode and include all console output, and your settings in your bug report. If your issue is specific to a particular linter, please report it on that linter's repository instead.
Creating a linter plugin
Use the template to get started on your plugin. It contains a howto with all the information you need.
---
If you use SublimeLinter and feel it is making your coding life better and easier, please consider making a donation to help fund development and support. Thank you!
Donate via: * Paypal