Browse
rainbow_csv
Sublime Text plugin for highlighting csv/tsv table files in different rainbow colors
Details
0.1.0

6 days ago

8 hours ago

4 weeks ago
Installs
Total

336

Win

165

OS X

121

Linux

50
| | | | | | | | | | | | | | | | | | | | | | | | | | | | | | | | | | | | | | | | | | | | | | |
| --- | --- | --- | --- | --- | --- | --- | --- | --- | --- | --- | --- | --- | --- | --- | --- | --- | --- | --- | --- | --- | --- | --- | --- | --- | --- | --- | --- | --- | --- | --- | --- | --- | --- | --- | --- | --- | --- | --- | --- | --- | --- | --- | --- | --- | --- |
| | Feb 25 | Feb 24 | Feb 23 | Feb 22 | Feb 21 | Feb 20 | Feb 19 | Feb 18 | Feb 17 | Feb 16 | Feb 15 | Feb 14 | Feb 13 | Feb 12 | Feb 11 | Feb 10 | Feb 9 | Feb 8 | Feb 7 | Feb 6 | Feb 5 | Feb 4 | Feb 3 | Feb 2 | Feb 1 | Jan 31 | Jan 30 | Jan 29 | Jan 28 | Jan 27 | Jan 26 | Jan 25 | Jan 24 | Jan 23 | Jan 22 | Jan 21 | Jan 20 | Jan 19 | Jan 18 | Jan 17 | Jan 16 | Jan 15 | Jan 14 | Jan 13 | Jan 12 |
| Windows | 0 | 0 | 0 | 9 | 10 | 6 | 11 | 4 | 3 | 7 | 10 | 15 | 2 | 9 | 0 | 3 | 14 | 10 | 9 | 13 | 11 | 4 | 1 | 8 | 9 | 14 | 3 | 0 | 0 | 0 | 0 | 0 | 0 | 0 | 0 | 0 | 0 | 0 | 0 | 0 | 0 | 0 | 0 | 0 | 0 |
| OS X | 0 | 1 | 0 | 4 | 4 | 4 | 5 | 2 | 4 | 3 | 4 | 13 | 7 | 8 | 1 | 2 | 6 | 8 | 10 | 9 | 6 | 5 | 3 | 4 | 4 | 9 | 4 | 0 | 0 | 0 | 0 | 0 | 0 | 0 | 0 | 0 | 0 | 0 | 0 | 0 | 0 | 0 | 0 | 0 | 0 |
| Linux | 0 | 0 | 0 | 0 | 2 | 0 | 1 | 0 | 1 | 3 | 2 | 5 | 2 | 3 | 0 | 1 | 7 | 2 | 2 | 5 | 2 | 1 | 4 | 1 | 3 | 7 | 2 | 0 | 0 | 0 | 0 | 0 | 0 | 0 | 0 | 0 | 0 | 0 | 0 | 0 | 0 | 0 | 0 | 0 | 0 |
Readme
Source
Rainbow CSV
Main features
Highlight columns in *.csv, *.tsv and other separated files in different rainbow colors.
Provide info about columns on mouse hover.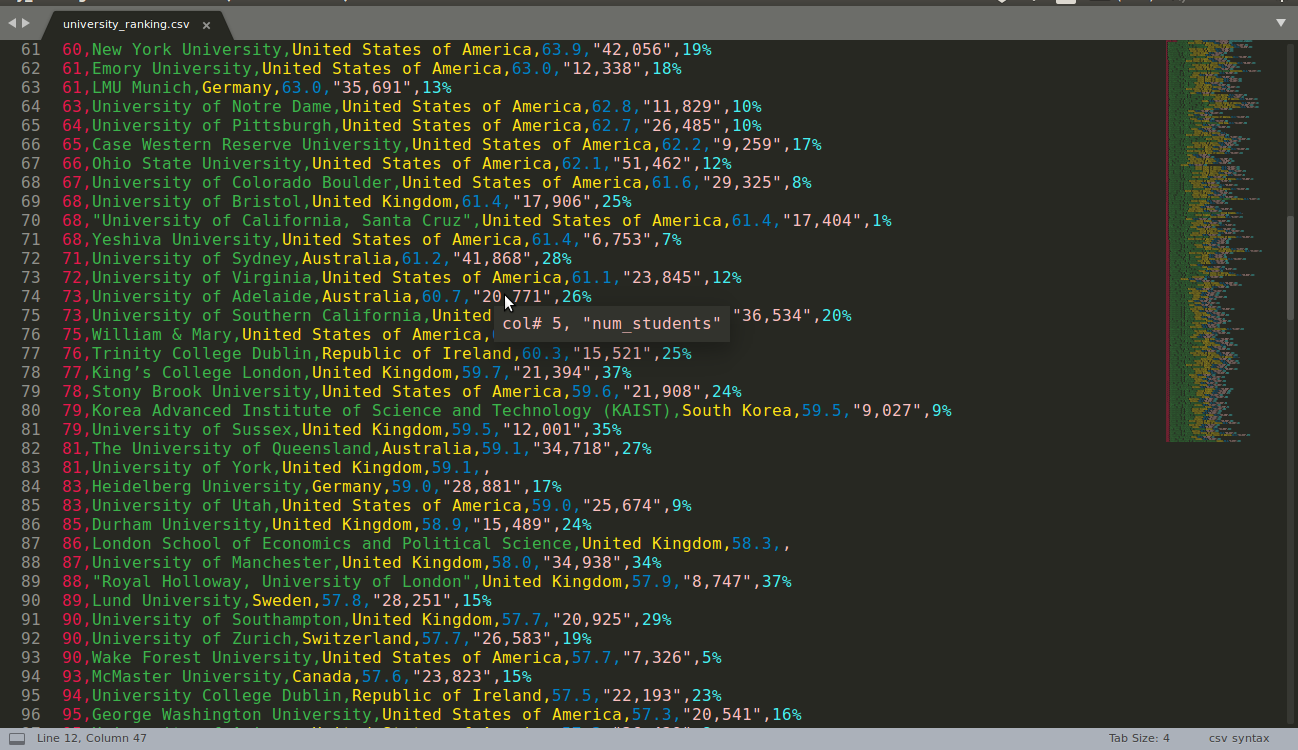 Usage
rainbow_csv has content-based csv/tsv autodetection mechanism. This means that package will analyze plain text files even if they do not have ".csv" or ".tsv" extension.
Rainbow highlighting can also be manually enabled from Sublime context menu (see the demo gif below): 1. Select a character that you want to use as a delimiter with mouse. Delimiter can be any non-alphanumeric printable ASCII symbol, e.g. semicolon 2. Right mouse click: context menu -> Rainbow CSV -> Enable …
You can also disable rainbow highlighting and go back to the original file highlighting using the same context menu. This feature can be used to temporary rainbow-highlight even non-table files.
Manual Rainbow Enabling/Disabling demo gif: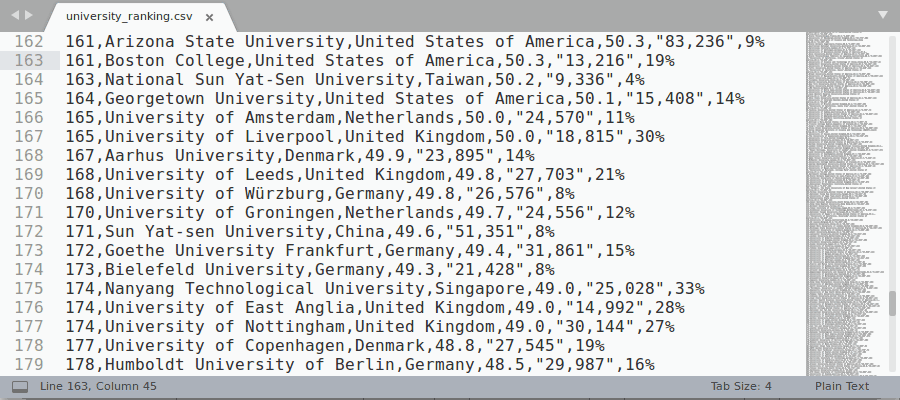 Difference between "Standard" and "Simple" dialects
When manually enabling rainbow highlighting from the context menu, you have to choose between "Standard" and "Simple" dialect. * Standard dialect will treat quoted separator as a single field. E.g. line sell,"15,128",23% will be treated as 3 columns, because the second comma is quoted. This dialect is used by Excel. * Simple dialect doesn't care about double quotes: the number of highlighted fields is always N + 1 where N is the number of separators.
References
This Sublime Text plugin is an adaptation of Vim's rainbow_csv plugin