Browse
Crontab
A Plugin for Crontab Highlighting in Sublime Text 3
Details
1.0.2

1.0.0

4 years ago

2 hours ago

9 years ago
Installs
Total

4K

Win

1K

Mac

2K

Linux

982
| | | | | | | | | | | | | | | | | | | | | | | | | | | | | | | | | | | | | | | | | | | | | | | |
| --- | --- | --- | --- | --- | --- | --- | --- | --- | --- | --- | --- | --- | --- | --- | --- | --- | --- | --- | --- | --- | --- | --- | --- | --- | --- | --- | --- | --- | --- | --- | --- | --- | --- | --- | --- | --- | --- | --- | --- | --- | --- | --- | --- | --- | --- | --- |
| | Sep 22 | Sep 21 | Sep 20 | Sep 19 | Sep 18 | Sep 17 | Sep 16 | Sep 15 | Sep 14 | Sep 13 | Sep 12 | Sep 11 | Sep 10 | Sep 9 | Sep 8 | Sep 7 | Sep 6 | Sep 5 | Sep 4 | Sep 3 | Sep 2 | Sep 1 | Aug 31 | Aug 30 | Aug 29 | Aug 28 | Aug 27 | Aug 26 | Aug 25 | Aug 24 | Aug 23 | Aug 22 | Aug 21 | Aug 20 | Aug 19 | Aug 18 | Aug 17 | Aug 16 | Aug 15 | Aug 14 | Aug 13 | Aug 12 | Aug 11 | Aug 10 | Aug 9 | Aug 8 |
| Windows | 0 | 1 | 1 | 0 | 0 | 1 | 0 | 3 | 0 | 0 | 0 | 1 | 0 | 0 | 0 | 1 | 0 | 0 | 1 | 0 | 0 | 0 | 1 | 1 | 0 | 1 | 0 | 0 | 0 | 1 | 0 | 2 | 2 | 0 | 0 | 0 | 1 | 0 | 1 | 1 | 0 | 1 | 0 | 0 | 2 | 0 |
| Mac | 0 | 2 | 0 | 0 | 0 | 0 | 0 | 1 | 0 | 0 | 1 | 0 | 0 | 0 | 0 | 0 | 0 | 0 | 0 | 0 | 0 | 0 | 0 | 0 | 0 | 0 | 0 | 0 | 0 | 0 | 1 | 1 | 0 | 0 | 0 | 0 | 1 | 0 | 0 | 0 | 0 | 1 | 1 | 0 | 1 | 1 |
| Linux | 0 | 1 | 0 | 0 | 0 | 0 | 0 | 0 | 0 | 1 | 0 | 1 | 0 | 0 | 0 | 0 | 0 | 0 | 0 | 0 | 0 | 0 | 0 | 1 | 0 | 0 | 0 | 0 | 1 | 0 | 0 | 1 | 0 | 0 | 0 | 0 | 0 | 0 | 0 | 0 | 0 | 0 | 0 | 0 | 0 | 0 |
Readme
Source
Crontab for Sublime Text 3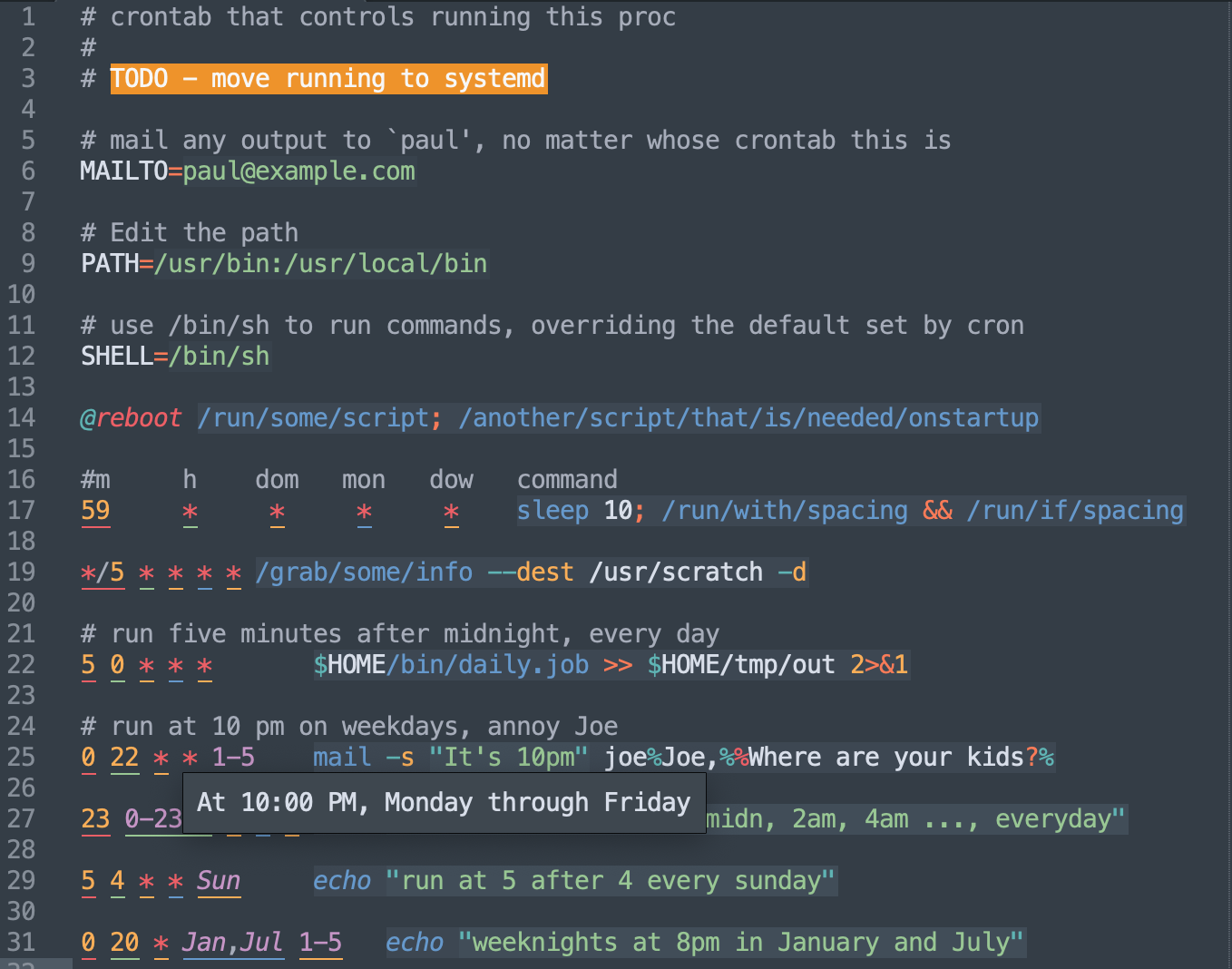 Features
Syntax highlighting for crontab files (default *.tab, *.crontab and cron.d)
Color-coded underline for cron expressions.
Completions for cron expressions and enums like month names.
Hover on a cron expression for an explanation.
Shell syntax highlighting for cron commands
Comment and uncommenting lines using Ctrl+/ or Cmd+/.
Installation
Run "Package Control: Install Package" command
Find and Install the Crontab plugin.
Restart Sublime Text.
Todos
Alert on unescaped usage of % in crontab line.
Provide a template file of things to do when creating a crontab file.
Additional "system" crontab syntax with user/group support.
Options to change or disable rainbow underlines.
Credits/Acknowledgements
clarkewd's original Crontab Highlighting Package which was inherited from kevinior and WheresWardy.
Varun Nayyar and his adaptation of the package to .sublime-syntax.
Adam Schubert and his cron_descriptor package.