Browse
Dark Crayon Color Scheme
sublime color scheme
Details
0.1.1

10 months ago

21 minutes ago

10 months ago
Installs
Total

664

Win

449

Mac

79

Linux

136
| | | | | | | | | | | | | | | | | | | | | | | | | | | | | | | | | | | | | | | | | | | | | | | |
| --- | --- | --- | --- | --- | --- | --- | --- | --- | --- | --- | --- | --- | --- | --- | --- | --- | --- | --- | --- | --- | --- | --- | --- | --- | --- | --- | --- | --- | --- | --- | --- | --- | --- | --- | --- | --- | --- | --- | --- | --- | --- | --- | --- | --- | --- | --- |
| | Sep 28 | Sep 27 | Sep 26 | Sep 25 | Sep 24 | Sep 23 | Sep 22 | Sep 21 | Sep 20 | Sep 19 | Sep 18 | Sep 17 | Sep 16 | Sep 15 | Sep 14 | Sep 13 | Sep 12 | Sep 11 | Sep 10 | Sep 9 | Sep 8 | Sep 7 | Sep 6 | Sep 5 | Sep 4 | Sep 3 | Sep 2 | Sep 1 | Aug 31 | Aug 30 | Aug 29 | Aug 28 | Aug 27 | Aug 26 | Aug 25 | Aug 24 | Aug 23 | Aug 22 | Aug 21 | Aug 20 | Aug 19 | Aug 18 | Aug 17 | Aug 16 | Aug 15 | Aug 14 |
| Windows | 0 | 3 | 2 | 0 | 0 | 1 | 2 | 3 | 1 | 2 | 2 | 1 | 3 | 1 | 4 | 1 | 0 | 2 | 3 | 0 | 0 | 0 | 1 | 2 | 2 | 3 | 0 | 2 | 1 | 1 | 0 | 1 | 1 | 2 | 1 | 1 | 0 | 0 | 1 | 0 | 1 | 0 | 0 | 1 | 0 | 2 |
| Mac | 0 | 0 | 0 | 0 | 0 | 0 | 1 | 0 | 0 | 0 | 0 | 0 | 1 | 0 | 0 | 1 | 0 | 0 | 0 | 0 | 0 | 0 | 0 | 0 | 0 | 0 | 0 | 1 | 0 | 0 | 0 | 0 | 0 | 1 | 1 | 1 | 0 | 0 | 0 | 0 | 1 | 0 | 0 | 1 | 0 | 0 |
| Linux | 0 | 0 | 0 | 0 | 1 | 0 | 0 | 0 | 0 | 0 | 0 | 1 | 1 | 0 | 0 | 0 | 0 | 1 | 0 | 0 | 0 | 0 | 1 | 0 | 0 | 2 | 0 | 1 | 0 | 1 | 0 | 1 | 2 | 0 | 0 | 0 | 0 | 1 | 1 | 0 | 0 | 1 | 1 | 0 | 0 | 0 |
Readme
Source
DarkCrayon
What changed in version 0.1.1?
fix Markdown link not highlighted properly
fix Sass/SCSS var(–variable) color
fix Sass/SCSS css build-in property color (inherit, linear, center, etc)
What changed in version 0.1.2?
fix Markdown inline link and image punctuation/bracket not highlighted properly
changes CSS path separator "/" color to match string color instead of white
Installation
This package is available in Package Control.
Recommended Syntax Packages
Supported Syntax/Languages
Babel
Javascript/JSX
Typescript/TSX
Java
Python
Markdown
JSON
HTML
CSS
Sass/SCSS
Preview
Babel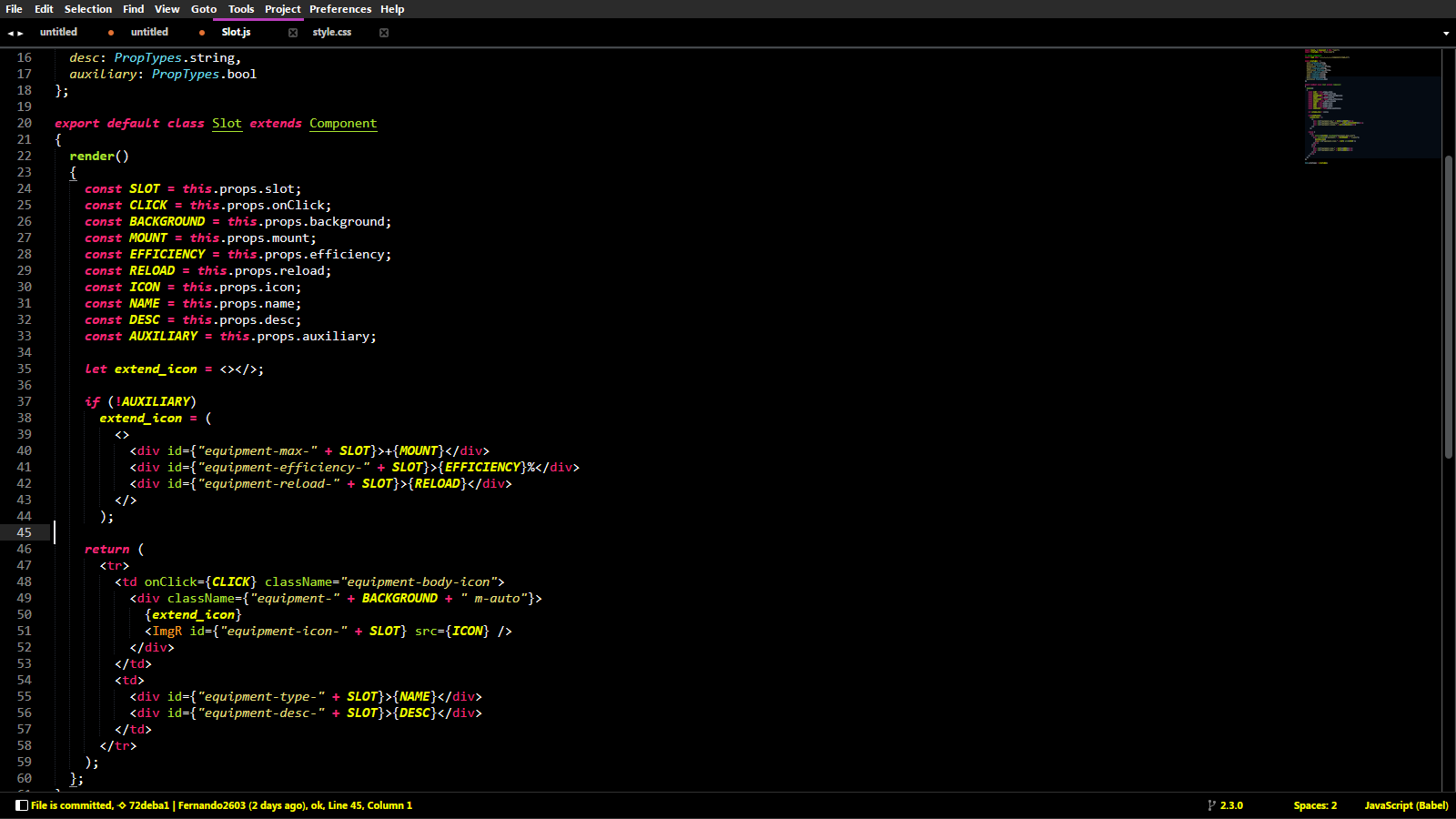 Typescript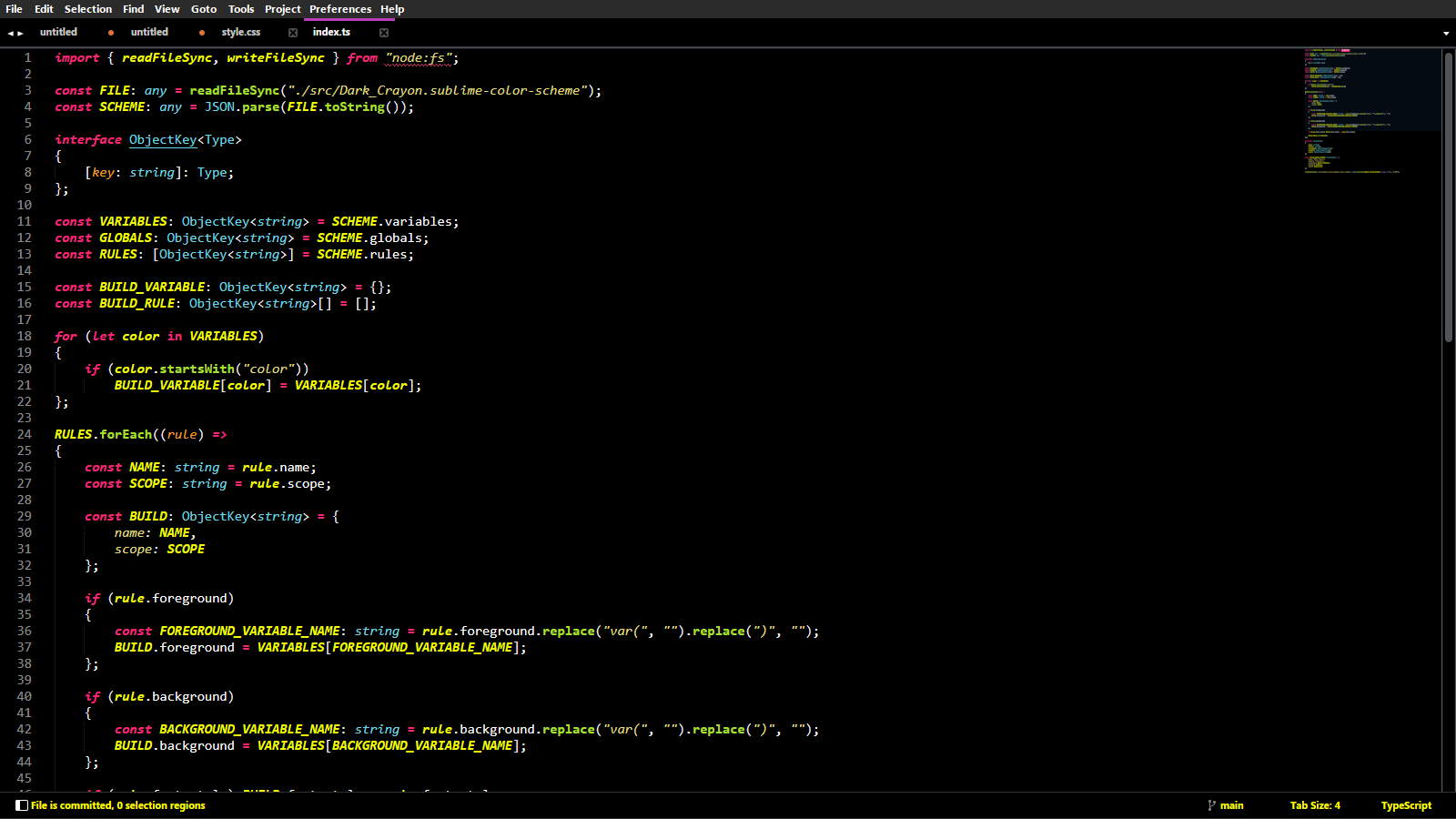 Python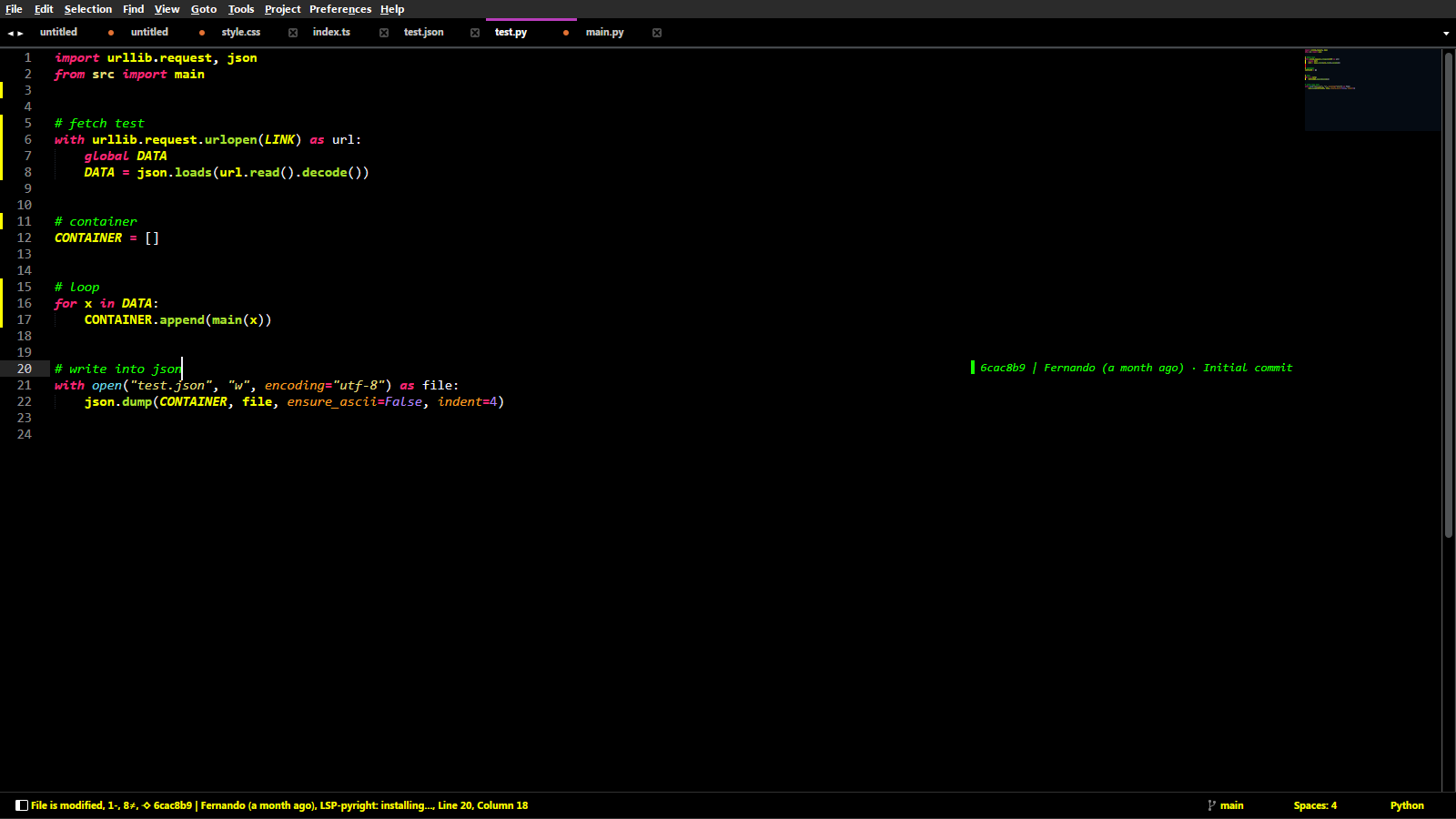 Markdown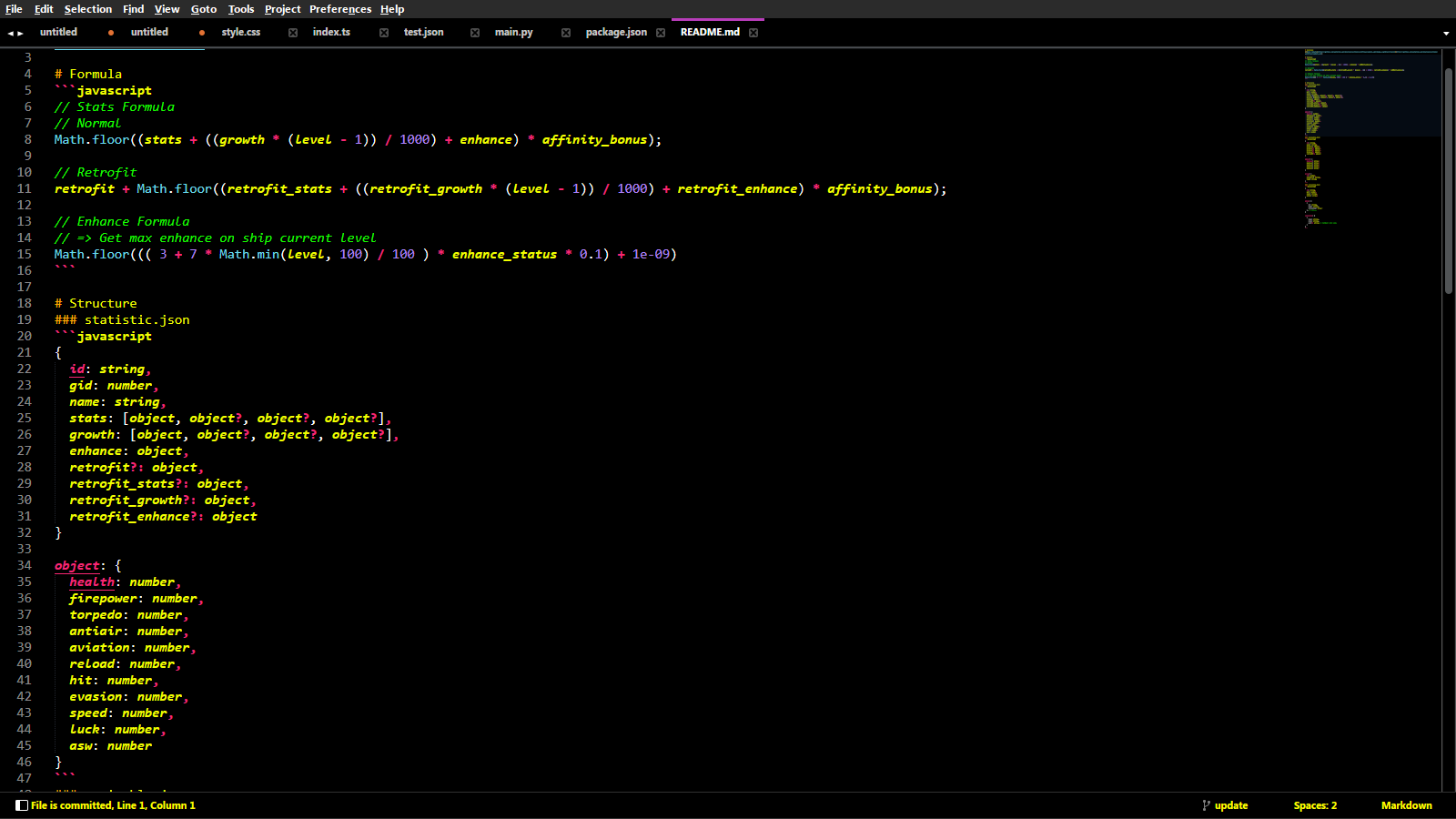 JSON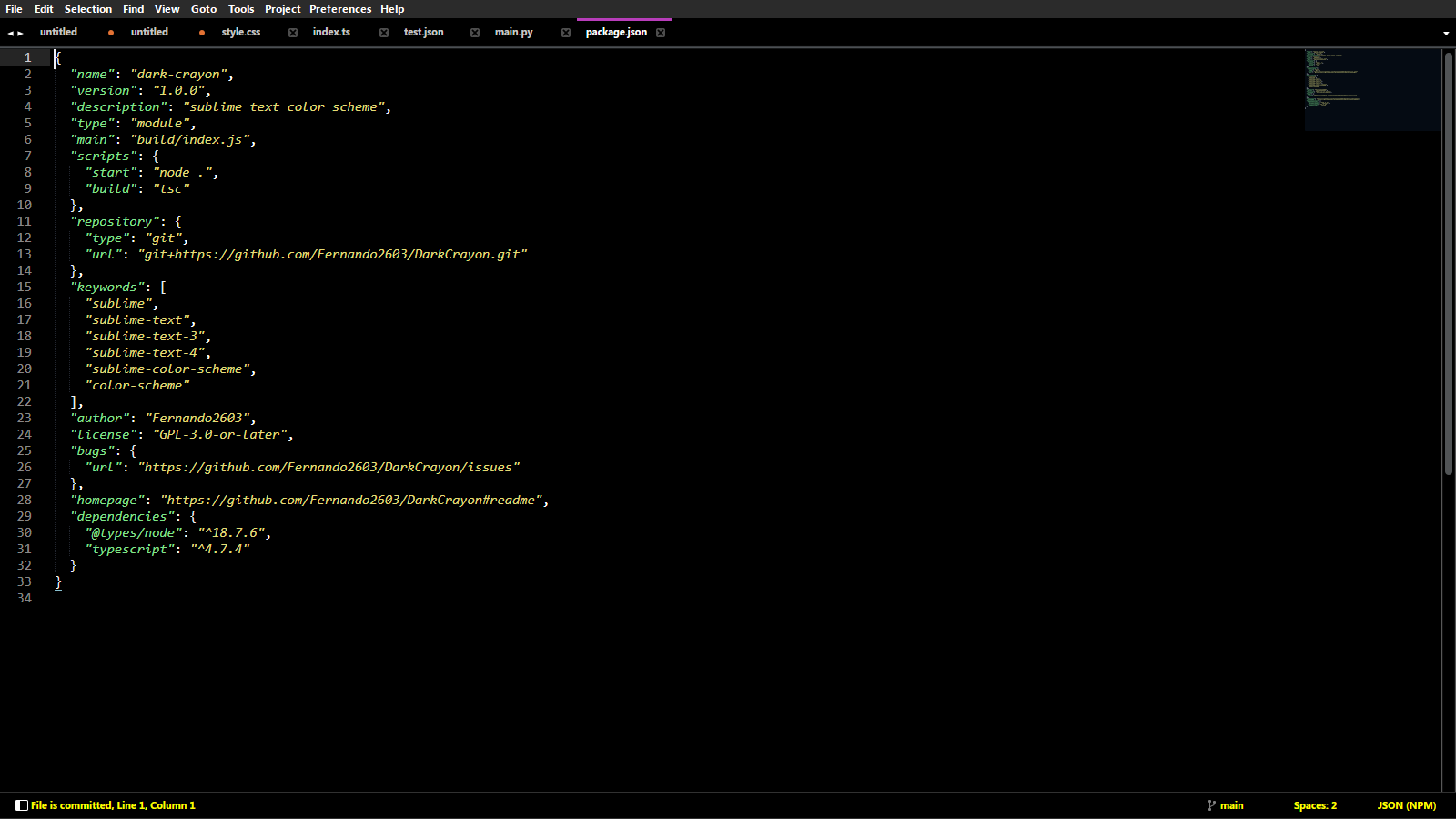 CSS/SCSS