Browse
Emoji Code
Sublime Text completions to insert escaped Emoji codes into HTML, CSS, JavaScript and Ruby
Details
0.4.1

3 years ago

19 minutes ago

8 years ago
Installs
Total

5K

Win

3K

Mac

982

Linux

923
| | | | | | | | | | | | | | | | | | | | | | | | | | | | | | | | | | | | | | | | | | | | | | |
| --- | --- | --- | --- | --- | --- | --- | --- | --- | --- | --- | --- | --- | --- | --- | --- | --- | --- | --- | --- | --- | --- | --- | --- | --- | --- | --- | --- | --- | --- | --- | --- | --- | --- | --- | --- | --- | --- | --- | --- | --- | --- | --- | --- | --- | --- |
| | Dec 3 | Dec 2 | Dec 1 | Nov 30 | Nov 29 | Nov 28 | Nov 27 | Nov 26 | Nov 25 | Nov 24 | Nov 23 | Nov 22 | Nov 21 | Nov 20 | Nov 19 | Nov 18 | Nov 17 | Nov 16 | Nov 15 | Nov 14 | Nov 13 | Nov 12 | Nov 11 | Nov 10 | Nov 9 | Nov 8 | Nov 7 | Nov 6 | Nov 5 | Nov 4 | Nov 3 | Nov 2 | Nov 1 | Oct 31 | Oct 30 | Oct 29 | Oct 28 | Oct 27 | Oct 26 | Oct 25 | Oct 24 | Oct 23 | Oct 22 | Oct 21 | Oct 20 |
| Windows | 0 | 1 | 0 | 0 | 1 | 1 | 2 | 0 | 0 | 0 | 1 | 0 | 0 | 0 | 0 | 0 | 0 | 0 | 0 | 0 | 0 | 0 | 0 | 0 | 0 | 0 | 0 | 1 | 0 | 0 | 0 | 0 | 0 | 2 | 2 | 1 | 1 | 0 | 0 | 0 | 0 | 0 | 0 | 0 | 4 |
| Mac | 0 | 0 | 0 | 0 | 0 | 0 | 0 | 0 | 0 | 0 | 0 | 0 | 0 | 0 | 0 | 0 | 0 | 0 | 0 | 0 | 0 | 0 | 0 | 0 | 0 | 0 | 0 | 0 | 0 | 0 | 0 | 0 | 0 | 0 | 1 | 0 | 0 | 0 | 0 | 0 | 0 | 0 | 0 | 0 | 0 |
| Linux | 0 | 0 | 0 | 1 | 0 | 0 | 0 | 0 | 0 | 0 | 1 | 1 | 0 | 0 | 0 | 0 | 0 | 0 | 0 | 0 | 0 | 0 | 0 | 0 | 0 | 1 | 1 | 0 | 0 | 2 | 0 | 0 | 0 | 0 | 0 | 2 | 0 | 0 | 0 | 0 | 0 | 0 | 0 | 1 | 0 |
Readme
Source
emoji-code
Sublime Text completions to insert escaped Emoji code into HTML, CSS, JavaScript, Python, Ruby and Svelte.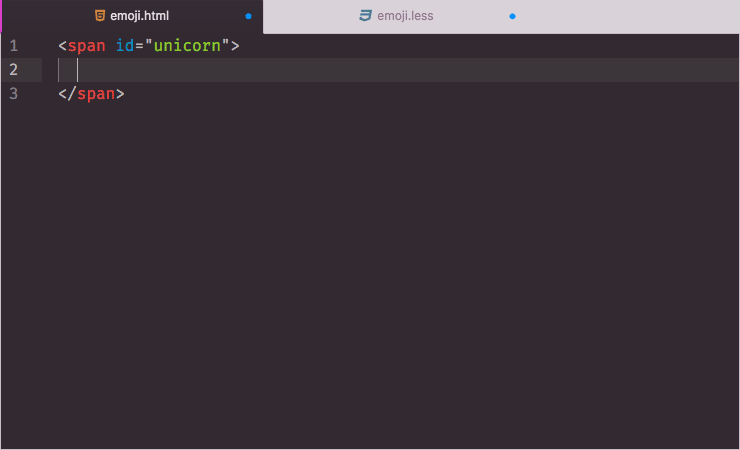 Screenshot nicked from the Atom package, sorry!
Usage
All emojis are prefixed with ji, following the string of the official Unicode terminology.
Examples:
Let's say, you want to insert the 😄 emoji
HTML: ji:grinning-face becomes 😀
CSS: ji:grinning-face becomes content: '\1F600';
JavaScript: ji:grinning-face becomes u\1F600
Ruby: ji:grinning-face becomes \u{1F600}
Keep in mind that Sublime Text supports fuzzy completion, inviting you to use abbreviation of your preference.
Installation
Package Control
Make sure you already have Package Control installed
Choose "Install Package" from the Command Palette (Super+Shift+p)
Type "Emoji Code" and press Enter
With auto_upgrade enabled, Package Control will keep all installed packages up-to-date!
There's also a collection of Sublime Text Packages available as a Windows installer.
Manual installation
Since package dependencies are handled by Package Control, manual installation is not advised! If you still want to install from source, you probably know what you are doing so we won't cover that here.
License
This work is licensed under the The MIT License.