Browse
NSIS
Sublime Text plugin for the Nullsoft Scriptable Install System
Details
2.10.4

2.5.0

9 months ago

2 hours ago

11 years ago
Installs
Total

7K

Win

6K

Mac

679

Linux

595
| | | | | | | | | | | | | | | | | | | | | | | | | | | | | | | | | | | | | | | | | | | | | | | |
| --- | --- | --- | --- | --- | --- | --- | --- | --- | --- | --- | --- | --- | --- | --- | --- | --- | --- | --- | --- | --- | --- | --- | --- | --- | --- | --- | --- | --- | --- | --- | --- | --- | --- | --- | --- | --- | --- | --- | --- | --- | --- | --- | --- | --- | --- | --- |
| | Jun 10 | Jun 9 | Jun 8 | Jun 7 | Jun 6 | Jun 5 | Jun 4 | Jun 3 | Jun 2 | Jun 1 | May 31 | May 30 | May 29 | May 28 | May 27 | May 26 | May 25 | May 24 | May 23 | May 22 | May 21 | May 20 | May 19 | May 18 | May 17 | May 16 | May 15 | May 14 | May 13 | May 12 | May 11 | May 10 | May 9 | May 8 | May 7 | May 6 | May 5 | May 4 | May 3 | May 2 | May 1 | Apr 30 | Apr 29 | Apr 28 | Apr 27 | Apr 26 |
| Windows | 0 | 1 | 0 | 0 | 1 | 3 | 1 | 0 | 0 | 0 | 2 | 2 | 0 | 0 | 0 | 0 | 1 | 0 | 1 | 0 | 0 | 0 | 0 | 1 | 0 | 0 | 2 | 0 | 1 | 1 | 0 | 2 | 2 | 2 | 0 | 7 | 3 | 6 | 0 | 1 | 0 | 0 | 0 | 0 | 0 | 2 |
| Mac | 0 | 0 | 1 | 0 | 0 | 0 | 0 | 0 | 0 | 0 | 0 | 0 | 0 | 0 | 0 | 0 | 1 | 0 | 0 | 0 | 0 | 0 | 0 | 0 | 0 | 0 | 0 | 0 | 0 | 0 | 0 | 0 | 0 | 0 | 0 | 0 | 1 | 0 | 0 | 0 | 0 | 0 | 0 | 0 | 0 | 0 |
| Linux | 0 | 0 | 1 | 0 | 0 | 0 | 0 | 0 | 0 | 0 | 0 | 0 | 0 | 0 | 0 | 0 | 1 | 0 | 0 | 0 | 0 | 0 | 0 | 0 | 0 | 0 | 0 | 0 | 0 | 0 | 0 | 0 | 0 | 0 | 0 | 0 | 0 | 0 | 0 | 0 | 0 | 0 | 0 | 0 | 0 | 0 |
Readme
Source
NSIS Bundle for Sublime Text 3
NSIS (Nullsoft Scriptable Install System) is an open source program and scripting language to create Windows installers. This package provides syntax highlighting and build tools.
Note: This package is compatible with Sublime Text 3 (Build 3103 or higher). Click here for a Sublime Text 2 version of this package.
Screenshots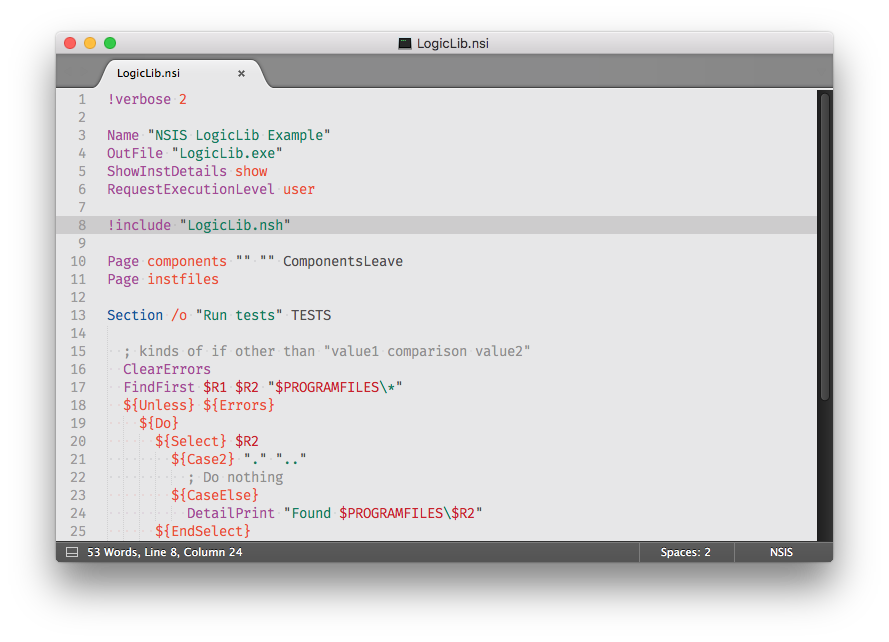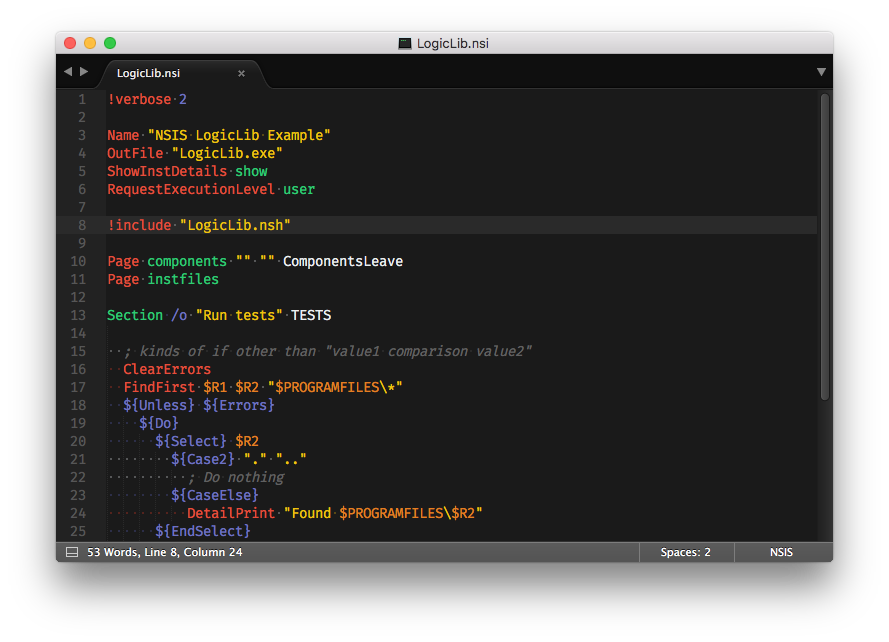 Installation
Easiest way to install the plugin is to use Package Control.
Alternatively you can git clone directly into Packages directory in the Sublime Text 3 application settings area.
Using Git
Go to your Sublime Text 3 Packages directory and clone the repository using the command below:
git clone https://github.com/SublimeText/NSIS

Download Manually
Download the files using the GitHub .zip download option
Unzip the files and rename the folder to NSIS
Copy the folder to your Sublime Text 3 Packages directory
Portable NSIS support
Support for portable NSIS can be achieved by putting the main NSIS program directory path in your PATH environment variable.