Browse
NSIS for Translators
NLF syntax definitions and snippets for Sublime Text
Details
3.0.0

2.0.1

1.0.1

7 years ago

1 hour ago

10 years ago
Installs
Total

2K

Win

1K

Mac

255

Linux

223
| | | | | | | | | | | | | | | | | | | | | | | | | | | | | | | | | | | | | | | | | | | | | | |
| --- | --- | --- | --- | --- | --- | --- | --- | --- | --- | --- | --- | --- | --- | --- | --- | --- | --- | --- | --- | --- | --- | --- | --- | --- | --- | --- | --- | --- | --- | --- | --- | --- | --- | --- | --- | --- | --- | --- | --- | --- | --- | --- | --- | --- | --- |
| | Sep 27 | Sep 26 | Sep 25 | Sep 24 | Sep 23 | Sep 22 | Sep 21 | Sep 20 | Sep 19 | Sep 18 | Sep 17 | Sep 16 | Sep 15 | Sep 14 | Sep 13 | Sep 12 | Sep 11 | Sep 10 | Sep 9 | Sep 8 | Sep 7 | Sep 6 | Sep 5 | Sep 4 | Sep 3 | Sep 2 | Sep 1 | Aug 31 | Aug 30 | Aug 29 | Aug 28 | Aug 27 | Aug 26 | Aug 25 | Aug 24 | Aug 23 | Aug 22 | Aug 21 | Aug 20 | Aug 19 | Aug 18 | Aug 17 | Aug 16 | Aug 15 | Aug 14 |
| Windows | 0 | 0 | 0 | 0 | 0 | 0 | 0 | 0 | 0 | 0 | 0 | 0 | 0 | 0 | 0 | 0 | 0 | 0 | 0 | 0 | 0 | 0 | 1 | 0 | 0 | 0 | 0 | 0 | 0 | 0 | 0 | 0 | 0 | 0 | 1 | 0 | 0 | 0 | 0 | 0 | 0 | 0 | 0 | 0 | 0 |
| Mac | 0 | 0 | 0 | 0 | 0 | 0 | 0 | 0 | 0 | 0 | 0 | 0 | 0 | 0 | 0 | 0 | 0 | 0 | 0 | 0 | 0 | 0 | 0 | 0 | 0 | 0 | 0 | 0 | 0 | 0 | 0 | 0 | 0 | 0 | 0 | 0 | 0 | 0 | 0 | 0 | 0 | 0 | 0 | 0 | 0 |
| Linux | 0 | 0 | 0 | 0 | 0 | 0 | 0 | 0 | 0 | 0 | 0 | 0 | 0 | 0 | 0 | 0 | 0 | 0 | 0 | 0 | 0 | 0 | 0 | 0 | 0 | 0 | 0 | 0 | 0 | 2 | 0 | 0 | 0 | 1 | 1 | 0 | 0 | 0 | 0 | 0 | 0 | 0 | 0 | 0 | 0 |
Readme
Source
NLF for Sublime Text
NSIS Language Files (NLF) syntax definitions and snippets for Sublime Text. Please note that this package is only meant for translators of NSIS and not required to create installer scripts!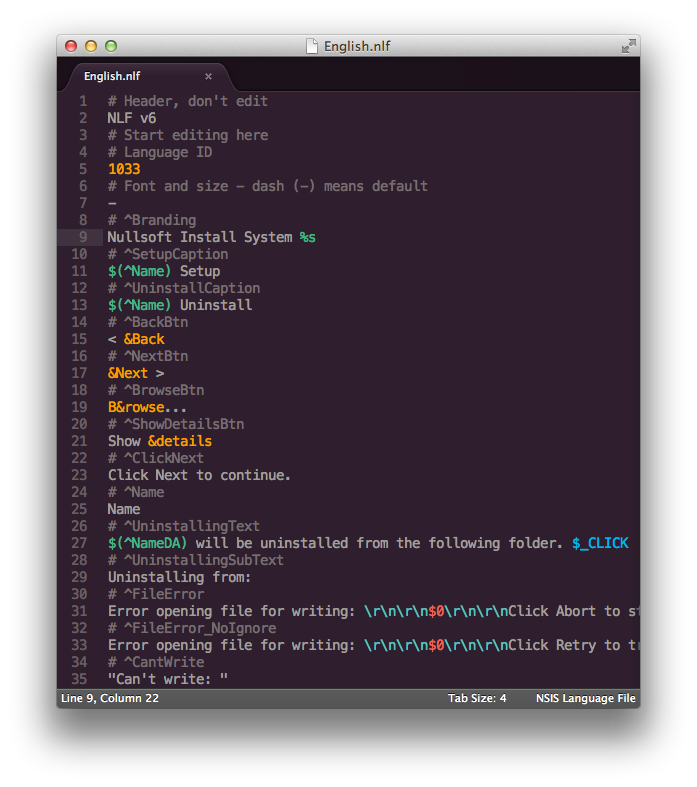 Screenshot of NLF file in Sublime Text with Paraíso theme
Installation
Package Control
Make sure you already have Package Control installed
Choose "Install Package" from the Command Palette (Super+Shift+p)
Type "NSIS Language File Syntax" and press Enter
Using Git
Change to your Sublime Text Packages directory
Clone repository git clone https://github.com/idleberg/sublime-nlf.git 'NSIS for Translators'
Manual installation
Download the latest stable release
Unzip the archive to your Sublime Text Packages directory
Usage
Scaffolding Snippets
As a translator, you can scaffold a language file based upon English, French or Spanish translations. In an empty NSIS Language File, you could type scaffold_NLF and choose a template of your liking. To jump between fields, use Tab/Shift+Tab.
License
This work is licensed under the The MIT License.