Browse
Tailwind CSS
A Sublime Text CSS syntax extension with support for Tailwind CSS
Details
1.2.0

5 months ago

1 hour ago

2 years ago
Installs
Total

7K

Win

3K

Mac

3K

Linux

2K
| | | | | | | | | | | | | | | | | | | | | | | | | | | | | | | | | | | | | | | | | | | | | | | |
| --- | --- | --- | --- | --- | --- | --- | --- | --- | --- | --- | --- | --- | --- | --- | --- | --- | --- | --- | --- | --- | --- | --- | --- | --- | --- | --- | --- | --- | --- | --- | --- | --- | --- | --- | --- | --- | --- | --- | --- | --- | --- | --- | --- | --- | --- | --- |
| | Mar 21 | Mar 20 | Mar 19 | Mar 18 | Mar 17 | Mar 16 | Mar 15 | Mar 14 | Mar 13 | Mar 12 | Mar 11 | Mar 10 | Mar 9 | Mar 8 | Mar 7 | Mar 6 | Mar 5 | Mar 4 | Mar 3 | Mar 2 | Mar 1 | Feb 28 | Feb 27 | Feb 26 | Feb 25 | Feb 24 | Feb 23 | Feb 22 | Feb 21 | Feb 20 | Feb 19 | Feb 18 | Feb 17 | Feb 16 | Feb 15 | Feb 14 | Feb 13 | Feb 12 | Feb 11 | Feb 10 | Feb 9 | Feb 8 | Feb 7 | Feb 6 | Feb 5 | Feb 4 |
| Windows | 3 | 4 | 3 | 7 | 5 | 4 | 5 | 4 | 8 | 5 | 2 | 8 | 5 | 4 | 7 | 6 | 6 | 3 | 7 | 7 | 1 | 10 | 5 | 9 | 8 | 5 | 7 | 9 | 6 | 8 | 3 | 7 | 5 | 4 | 5 | 8 | 6 | 10 | 5 | 6 | 9 | 5 | 4 | 2 | 5 | 4 |
| Mac | 3 | 6 | 5 | 2 | 4 | 5 | 9 | 5 | 5 | 5 | 8 | 3 | 2 | 1 | 1 | 4 | 5 | 3 | 7 | 2 | 4 | 4 | 4 | 3 | 4 | 4 | 6 | 6 | 6 | 2 | 0 | 0 | 2 | 8 | 5 | 3 | 4 | 1 | 4 | 4 | 2 | 12 | 2 | 1 | 2 | 6 |
| Linux | 3 | 4 | 0 | 5 | 1 | 2 | 1 | 0 | 3 | 2 | 1 | 2 | 3 | 2 | 1 | 2 | 1 | 1 | 1 | 3 | 0 | 4 | 1 | 1 | 4 | 4 | 2 | 2 | 3 | 2 | 4 | 4 | 1 | 1 | 2 | 3 | 2 | 5 | 2 | 4 | 4 | 4 | 3 | 6 | 1 | 4 |
Readme
Source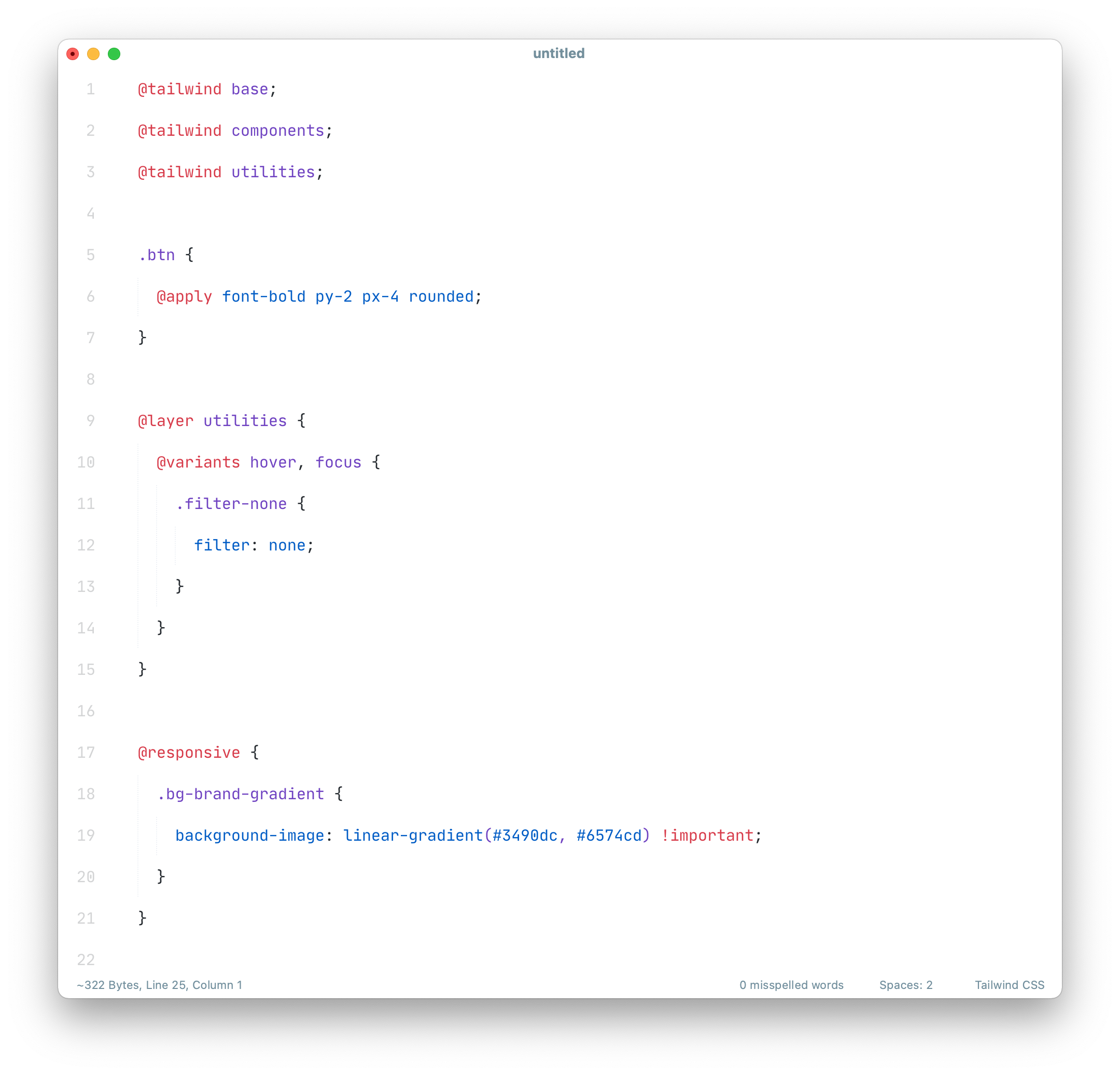 Tailwind CSS
A Sublime Text CSS syntax extension with support for Tailwind CSS
Requires ST 4092 or higher.
Install
Package Control:
Open Command Palette using menu item Tools → Command Palette or CMD/CTRL + SHIFT +P.
Choose Package Control: Install Package.
Type Tailwind CSS and press ENTER.
Manually:
Download latest release and unzip. it into your Packages folder.
Go to Sublime Text → Preferences → Browse Packages.
Move folder to inside and rename the folder to Tailwind CSS.
Usage
This syntax is assigned to files which end with tailwind.css by default.
You need to assign it to ordinary *.css files manually.
Click onto the syntax name in the status bar
Navigate to the sub menu Open all with current extension as...
Click on Tailwind CSS.
Related Extensions