Browse
Wild Cherry
:princess::tulip::japanese_ogre: a fairy-tale inspired theme, with tasteful use of emojis
Details
0.10.0

2 weeks ago

2 hours ago

3 years ago
Installs
Total

2K

Win

661

OS X

650

Linux

219
| | | | | | | | | | | | | | | | | | | | | | | | | | | | | | | | | | | | | | | | | | | | | | |
| --- | --- | --- | --- | --- | --- | --- | --- | --- | --- | --- | --- | --- | --- | --- | --- | --- | --- | --- | --- | --- | --- | --- | --- | --- | --- | --- | --- | --- | --- | --- | --- | --- | --- | --- | --- | --- | --- | --- | --- | --- | --- | --- | --- | --- | --- |
| | Sep 20 | Sep 19 | Sep 18 | Sep 17 | Sep 16 | Sep 15 | Sep 14 | Sep 13 | Sep 12 | Sep 11 | Sep 10 | Sep 9 | Sep 8 | Sep 7 | Sep 6 | Sep 5 | Sep 4 | Sep 3 | Sep 2 | Sep 1 | Aug 31 | Aug 30 | Aug 29 | Aug 28 | Aug 27 | Aug 26 | Aug 25 | Aug 24 | Aug 23 | Aug 22 | Aug 21 | Aug 20 | Aug 19 | Aug 18 | Aug 17 | Aug 16 | Aug 15 | Aug 14 | Aug 13 | Aug 12 | Aug 11 | Aug 10 | Aug 9 | Aug 8 | Aug 7 |
| Windows | 0 | 1 | 1 | 2 | 1 | 4 | 2 | 2 | 3 | 0 | 1 | 0 | 0 | 3 | 0 | 0 | 2 | 0 | 0 | 0 | 0 | 1 | 0 | 0 | 1 | 0 | 0 | 0 | 0 | 3 | 1 | 1 | 1 | 1 | 0 | 0 | 0 | 1 | 0 | 0 | 1 | 2 | 0 | 2 | 0 |
| OS X | 0 | 0 | 1 | 0 | 2 | 0 | 0 | 0 | 0 | 1 | 0 | 0 | 0 | 0 | 2 | 0 | 0 | 0 | 1 | 1 | 1 | 1 | 0 | 0 | 0 | 0 | 1 | 2 | 0 | 19 | 0 | 0 | 0 | 0 | 1 | 0 | 0 | 0 | 0 | 0 | 0 | 0 | 0 | 0 | 0 |
| Linux | 0 | 0 | 0 | 0 | 0 | 0 | 0 | 0 | 0 | 0 | 0 | 0 | 1 | 0 | 1 | 0 | 0 | 0 | 1 | 0 | 1 | 0 | 0 | 0 | 0 | 0 | 0 | 0 | 0 | 0 | 0 | 0 | 0 | 0 | 0 | 0 | 0 | 0 | 0 | 0 | 0 | 1 | 0 | 0 | 1 |
Readme
Source
Wild Cherry
A fairy-tale inspired theme, with tasteful use of emojis - Zsh, iTerm, Sublime, Atom, Slack, Mou, PuTTY, Notepad++, Vivaldi & DuckDuckGo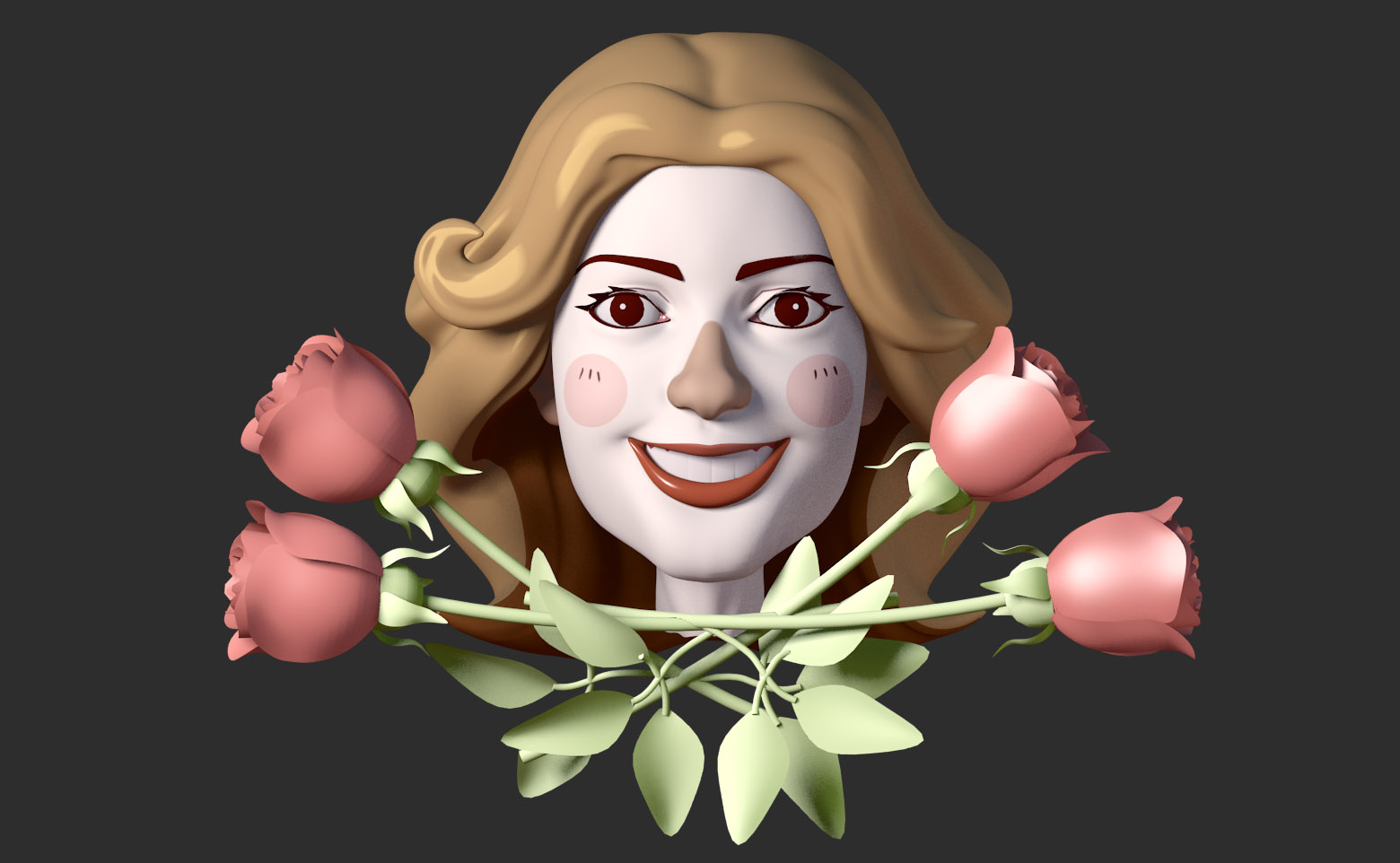 :skull: Git Princess is close to death.

:tulip: Commit to her and give her a flower.

:japanese_ogre: Japanese Ogre appears on error.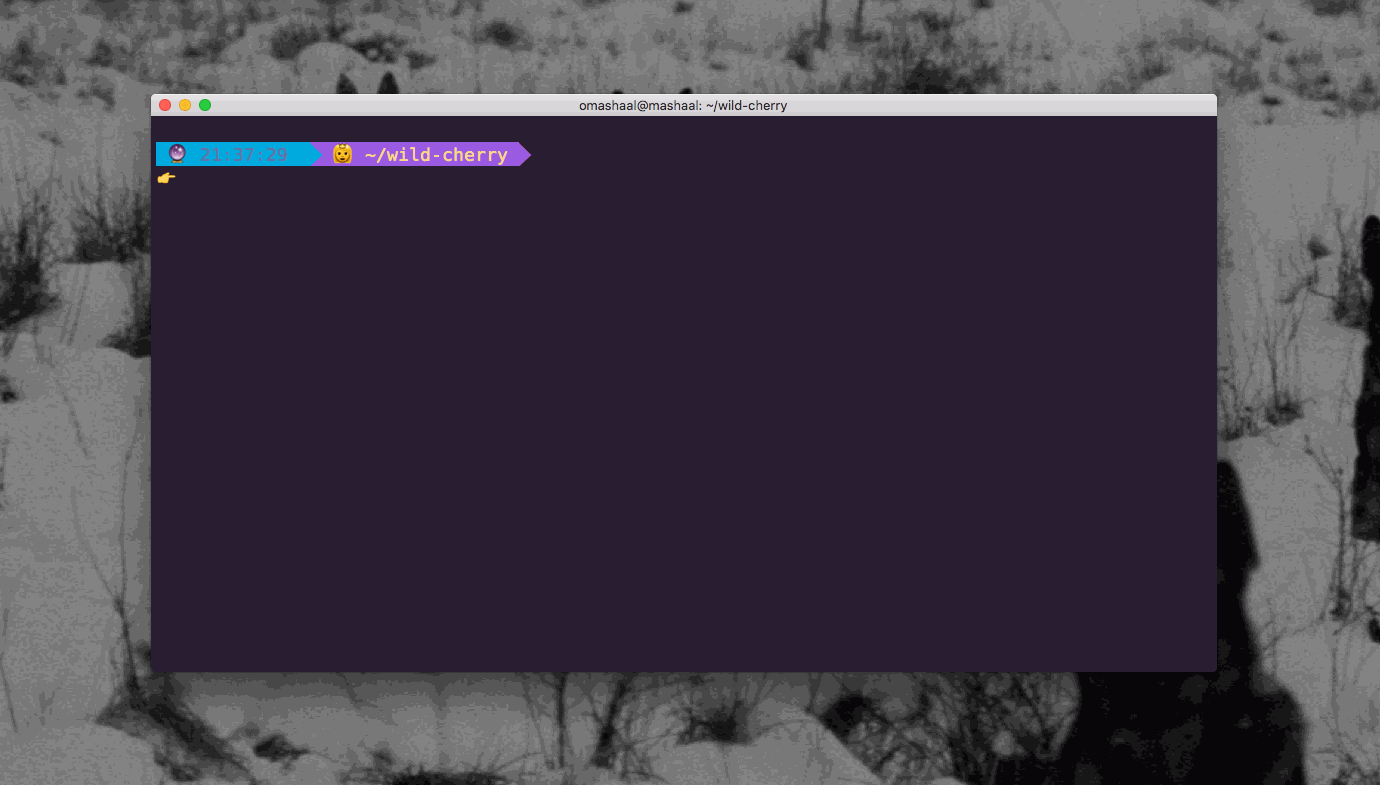 Git Emojis Explained
:skull: Dirty

:ribbon: New file

:boom: Removed file

:mushroom: Changed file

:nail_care: New files added/ ready to commit

:tulip: Clean

Plus many more!
Zsh
Activating…
Move zsh/wild-cherry.zsh-theme file to oh-my-zsh's theme folder: oh-my-zsh/themes/wild-cherry.
Go to your ~/.zshrc file and set ZSH_THEME="wild-cherry". Finally, reload your terminal.
iTerm
Activating…
iTerm2 → Preferences → Profiles → Colors Tab
Click Load Presets...
Click Import...
Select the iterm/wild-cherry.itermcolors file
Select the wild cherry* from *Load Presets...
Note: wild-cherry.itermcolors reflects only the theme colors in iTerm. To get the formatting and emojis, you will need to configure your Zsh theme via the instructions above.
Atom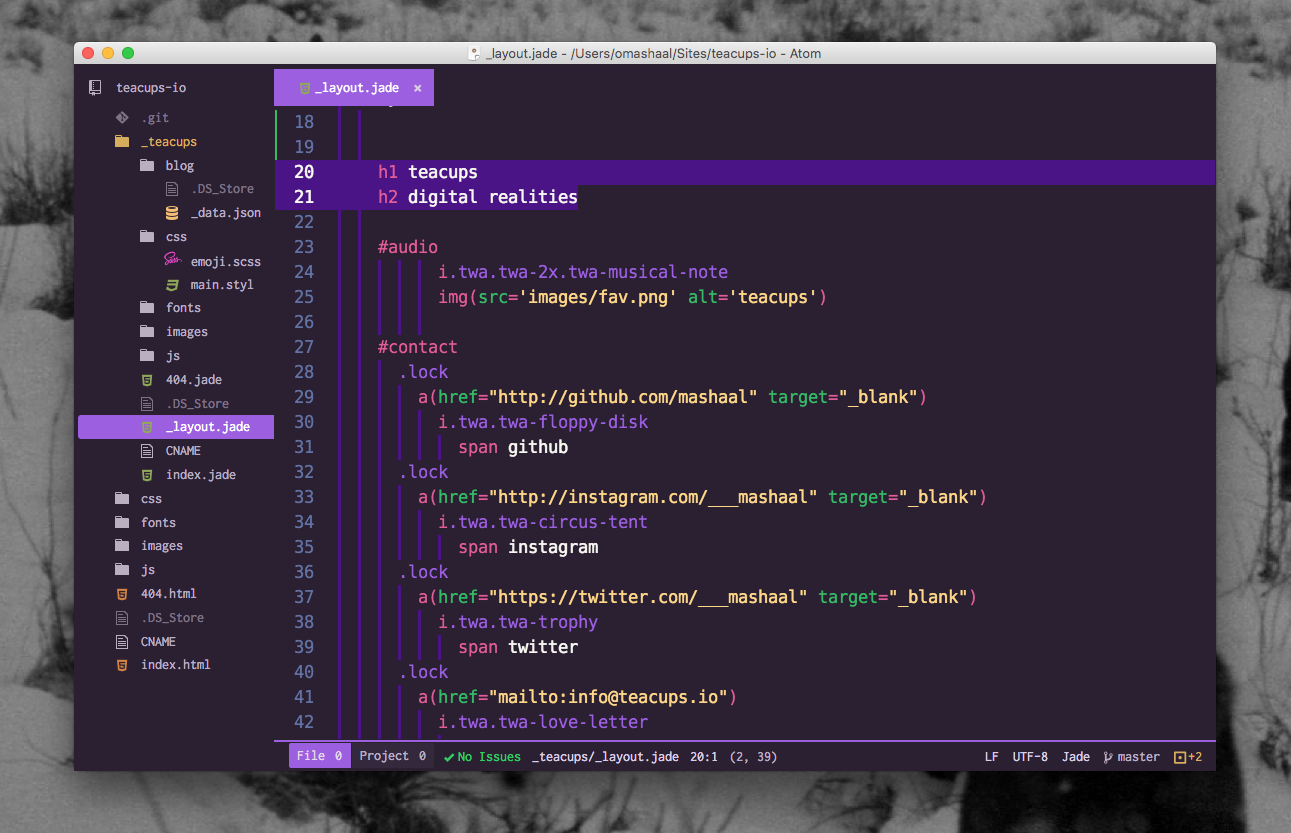 Atom Linter Emojis

:japanese_ogre: Japanese Ogre does not like trailing semicolons! (Atom Linter required)

:fire: Dodgy code may catch fire! (Atom Linter required)
Sublime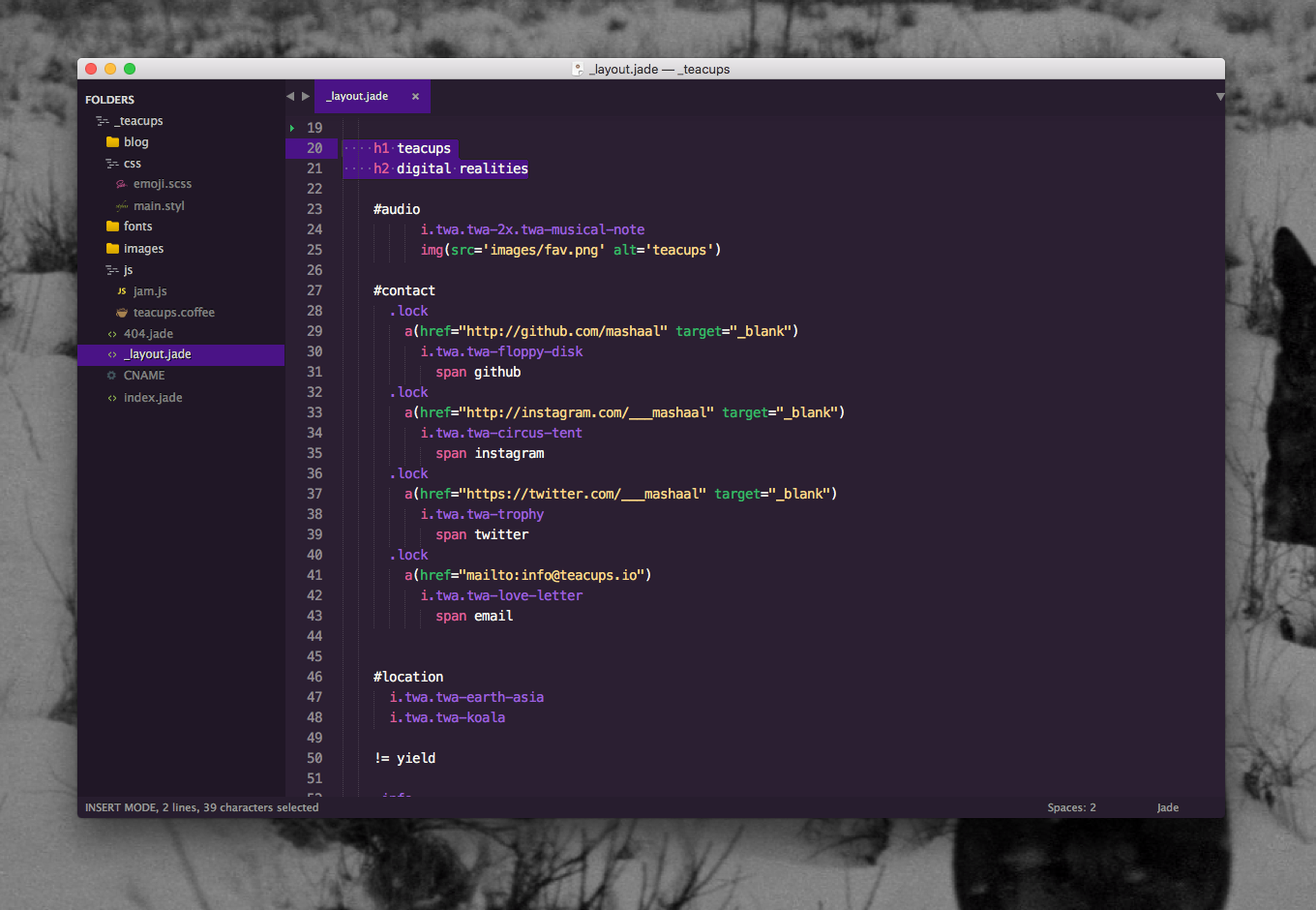 This is a customized version of the Cobalt2 UI.
Massive thanks to ctf0 for his help with the UI! :tophat:
Open package control tools → Command Palette and type Install Package
Search for Wild Cherry and hit enter
Lastly, open Preferences → Settings - User. Add the following two lines:
"theme": "wild-cherry.sublime-theme",
"color_scheme": "Packages/Wild Cherry/wild-cherry.tmTheme"

color_scheme defines how the code looks and theme defines how the sidebar, tabs, search, command palette work.
Slack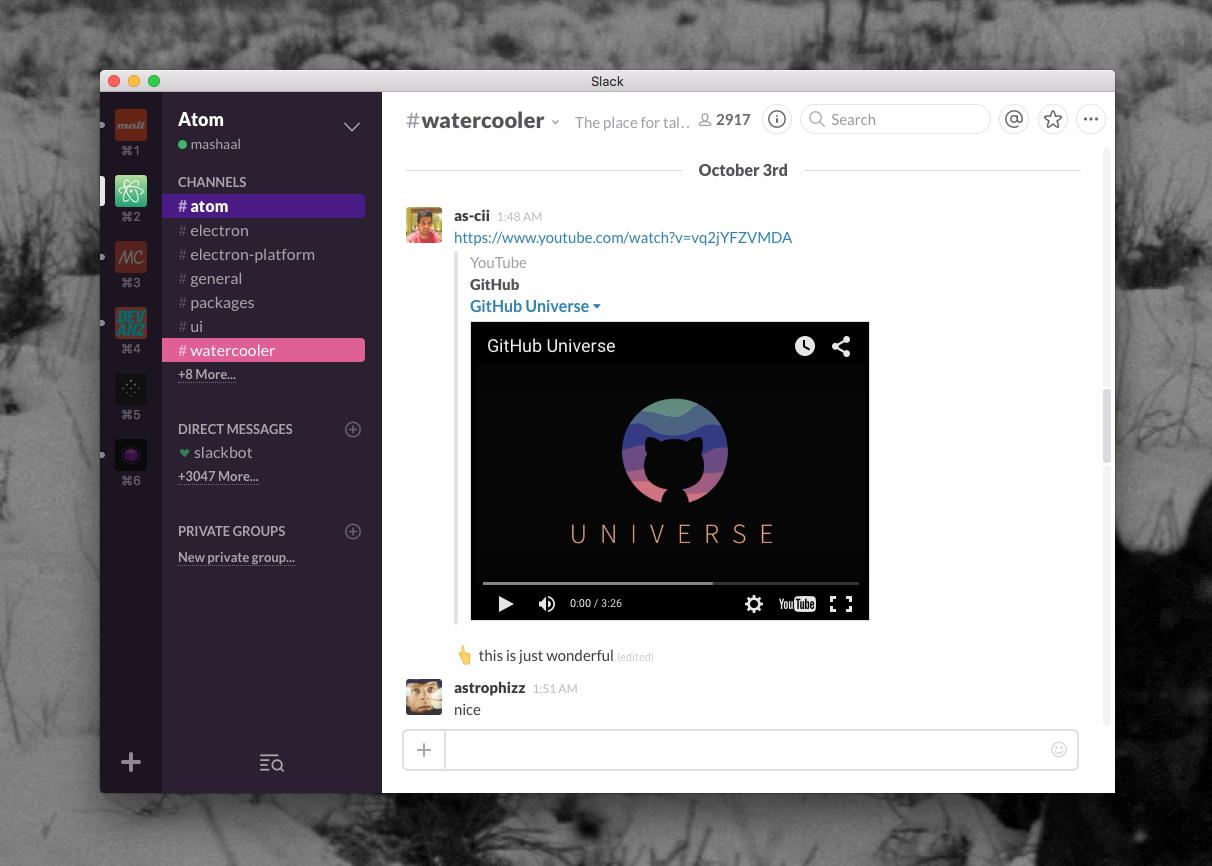 Activating…
#2B1F32,#FFB86C,#E15D97,#FFFFFF,#4A1386,#FFFFFF,#35BA66,#0AACC5
Mou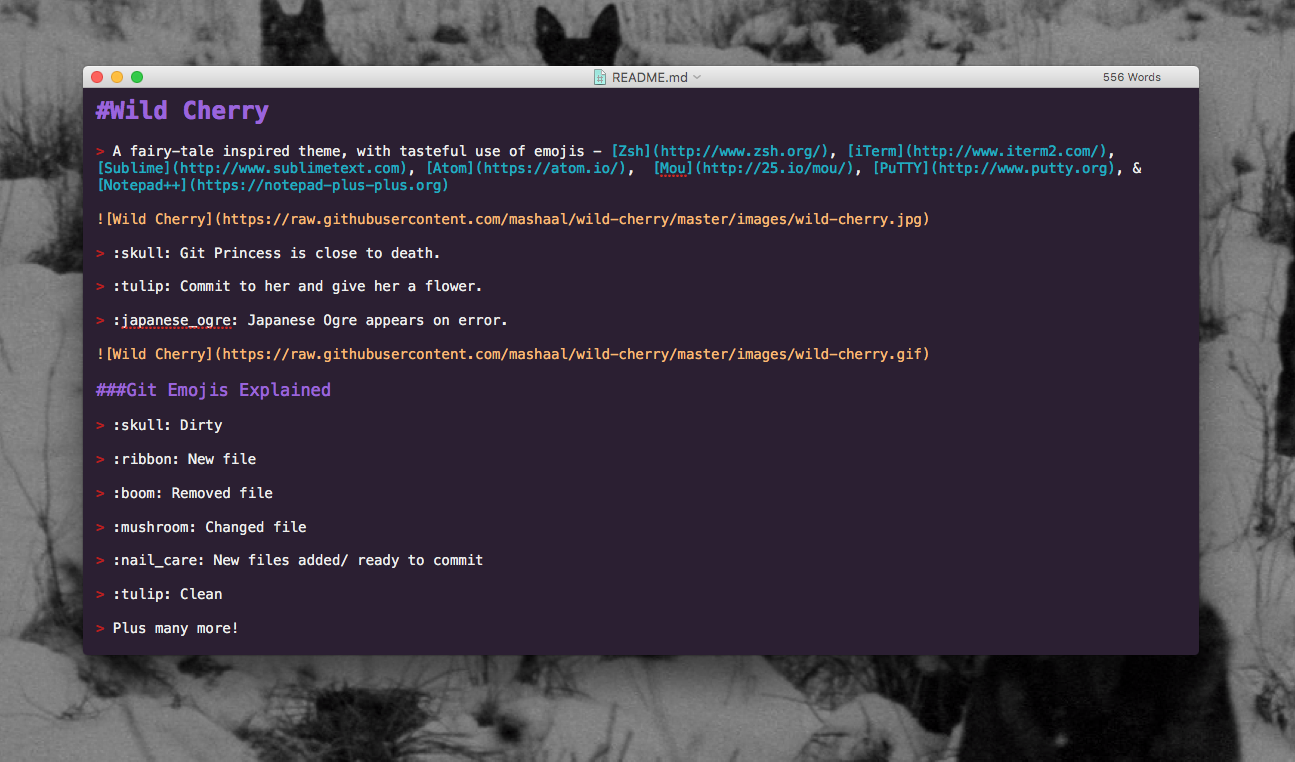 Activating…
Copy mou/Wild Cherry.txt to your Mou/Theme directory
Select Wild Cherry from Mou → Preferences → Themes
PuTTY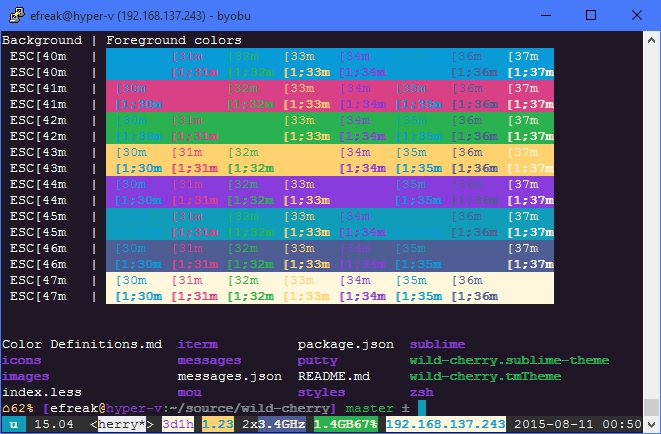 Same theme as for iTerm2!
Update your default profile, or create a new profile
Thanks to Efreak for PuTTY integration!
Activating
Download either putty/wild-cherry.reg or putty/wild-cherry.default.reg
Open it.
Click yes.
Delete it.
Notepad++
Activating
Vivaldi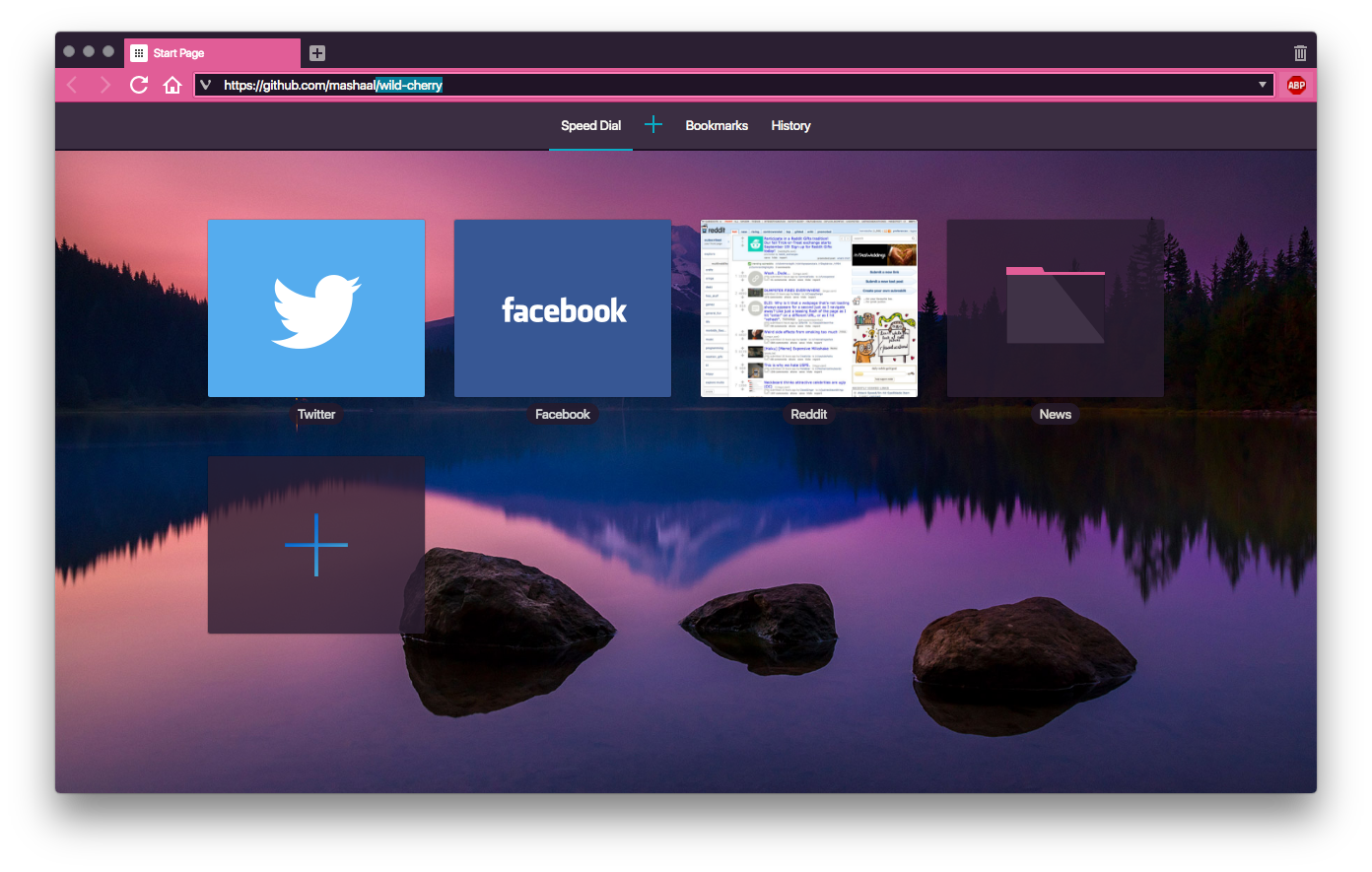 Activating…
Open settings → themes.
Click +.
Set background = #2B1F32, foreground = #FFFFFF, highlight = #0AACC5, accent = #E15D97.
Set name: Wild Cherry.
Click save.
DuckDuckGo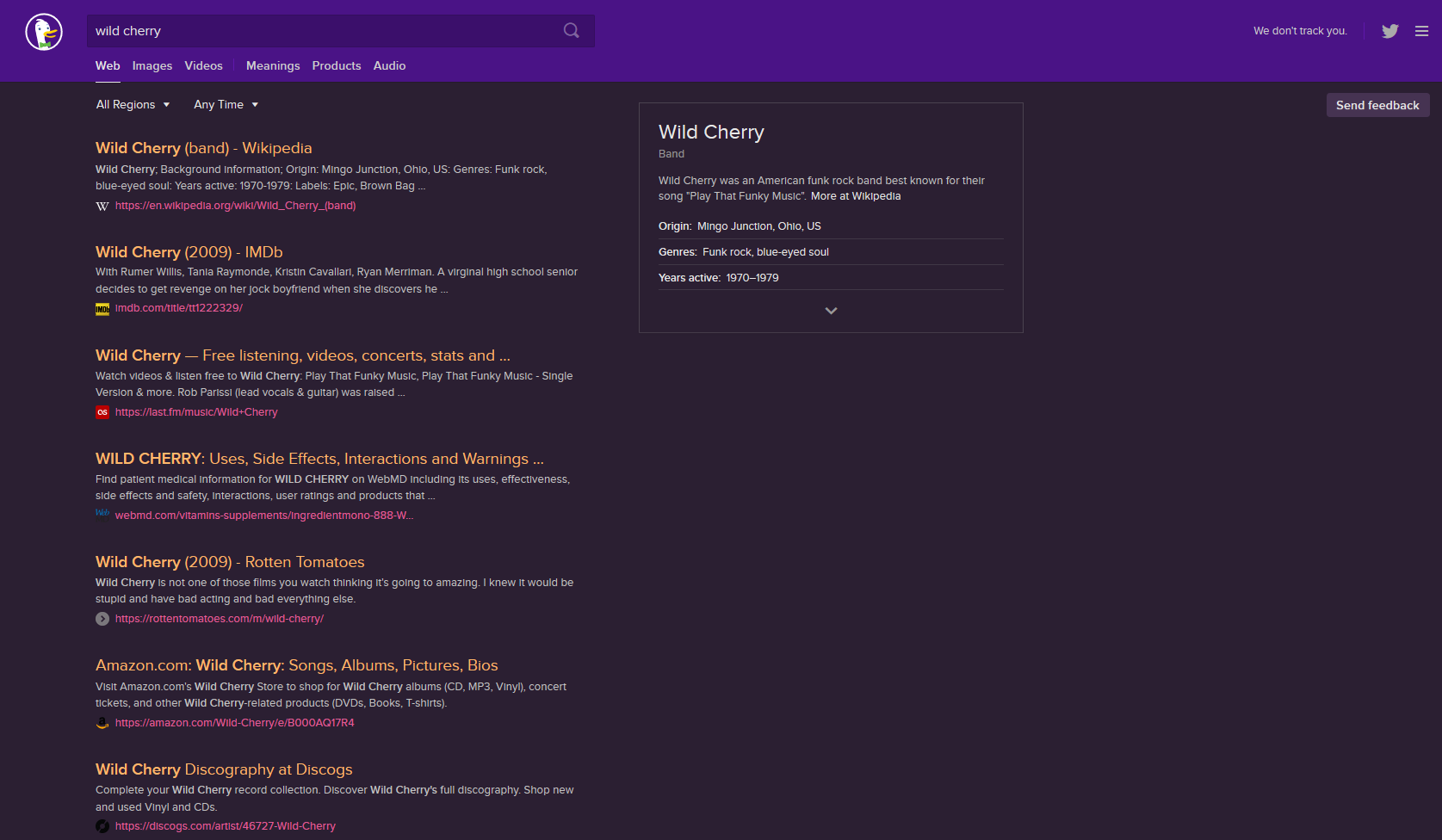 Activating
a) Use this bookmarklet
https://duckduckgo.com/?k7=2B1F32&kj=4a1386&kx=e15d97&k9=ffb86c&kaa=0AACC5

OR
b) 1. Go to Settings → Appearance 2. Set Background Color: #2b1f32, Header Color: #4a1386, Result URL Color: #e15d97, Result Title Color: #e15d97, Result Visited Title Color: #0aacc5
Future? :crystal_ball:
Want to give the princess a makeover? :lipstick: Fork- and submit a pull request! :ribbon: