Browse
klog
klog time tracking support for Sublime Text
Details
3.3.0

2 months ago

2 hours ago

2 years ago
Installs
Total

42

Win

21

Mac

13

Linux

8
| | | | | | | | | | | | | | | | | | | | | | | | | | | | | | | | | | | | | | | | | | | | | | |
| --- | --- | --- | --- | --- | --- | --- | --- | --- | --- | --- | --- | --- | --- | --- | --- | --- | --- | --- | --- | --- | --- | --- | --- | --- | --- | --- | --- | --- | --- | --- | --- | --- | --- | --- | --- | --- | --- | --- | --- | --- | --- | --- | --- | --- | --- |
| | Dec 6 | Dec 5 | Dec 4 | Dec 3 | Dec 2 | Dec 1 | Nov 30 | Nov 29 | Nov 28 | Nov 27 | Nov 26 | Nov 25 | Nov 24 | Nov 23 | Nov 22 | Nov 21 | Nov 20 | Nov 19 | Nov 18 | Nov 17 | Nov 16 | Nov 15 | Nov 14 | Nov 13 | Nov 12 | Nov 11 | Nov 10 | Nov 9 | Nov 8 | Nov 7 | Nov 6 | Nov 5 | Nov 4 | Nov 3 | Nov 2 | Nov 1 | Oct 31 | Oct 30 | Oct 29 | Oct 28 | Oct 27 | Oct 26 | Oct 25 | Oct 24 | Oct 23 |
| Windows | 0 | 0 | 0 | 0 | 0 | 0 | 0 | 0 | 0 | 0 | 0 | 0 | 0 | 0 | 0 | 0 | 0 | 0 | 0 | 0 | 0 | 0 | 0 | 0 | 0 | 0 | 0 | 0 | 0 | 0 | 0 | 0 | 0 | 0 | 0 | 0 | 0 | 0 | 0 | 0 | 1 | 0 | 0 | 0 | 0 |
| Mac | 0 | 0 | 1 | 0 | 0 | 0 | 0 | 0 | 0 | 0 | 0 | 0 | 0 | 0 | 0 | 0 | 0 | 0 | 0 | 0 | 0 | 0 | 0 | 0 | 0 | 0 | 0 | 0 | 0 | 0 | 0 | 0 | 0 | 0 | 1 | 0 | 0 | 0 | 0 | 0 | 0 | 0 | 0 | 0 | 0 |
| Linux | 0 | 0 | 0 | 0 | 0 | 0 | 0 | 0 | 0 | 0 | 0 | 0 | 0 | 0 | 0 | 0 | 0 | 0 | 0 | 0 | 0 | 0 | 0 | 0 | 0 | 0 | 0 | 0 | 0 | 0 | 0 | 0 | 0 | 0 | 0 | 0 | 0 | 0 | 0 | 0 | 0 | 1 | 0 | 0 | 0 |
Readme
Source
klog for Sublime Text
This package provides support for working with klog time tracking files in the Sublime Text editor.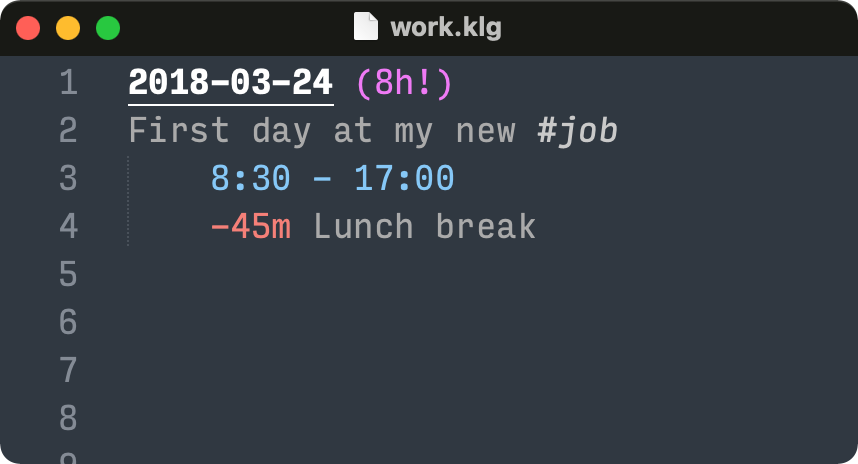 Features
Syntax highlighting
Smart completion for inserting the current date or time. For example:

Typing today completes to the current date
Typing now completes to the current time

A few sensible default settings for the .klg file format
Configuration
Colour overrides
The pre-defined syntax highlighting should look meaningful in most available colour schemes.
For klog-specific customisations, you can specify the following colour overrides:
markup.other.date.klog For the date, e.g. 2022-03-15
markup.other.should_total.klog For the should total, e.g. (8h!)
markup.other.summary.klog For summary text
markup.other.summary.tag.klog For tags inside summaries, e.g. #work
markup.other.duration_positive.klog For positive durations, e.g. 5h25m
markup.other.duration_negative.klog For negative durations, e.g. -15m
markup.other.range.klog For ranges, e.g. 8:00 - 9:20
markup.other.open_range.klog For open ranges, e.g. 14:30 - ?
You can achieve this by adding entries (see Sublime docs) to the rules list of your scheme's customisation file:
"rules": [
    {"scope": "markup.other.range.klog", "foreground": "#76c7ff"},
]