Browse
LSP
Language Server Protocol support for Sublime Text 3
Details
0.8.2

2 days ago

8 minutes ago

2 years ago
Installs
Total

8K

Win

2K

OS X

3K

Linux

3K
| | | | | | | | | | | | | | | | | | | | | | | | | | | | | | | | | | | | | | | | | | | | | | | |
| --- | --- | --- | --- | --- | --- | --- | --- | --- | --- | --- | --- | --- | --- | --- | --- | --- | --- | --- | --- | --- | --- | --- | --- | --- | --- | --- | --- | --- | --- | --- | --- | --- | --- | --- | --- | --- | --- | --- | --- | --- | --- | --- | --- | --- | --- | --- |
| | Mar 22 | Mar 21 | Mar 20 | Mar 19 | Mar 18 | Mar 17 | Mar 16 | Mar 15 | Mar 14 | Mar 13 | Mar 12 | Mar 11 | Mar 10 | Mar 9 | Mar 8 | Mar 7 | Mar 6 | Mar 5 | Mar 4 | Mar 3 | Mar 2 | Mar 1 | Feb 28 | Feb 27 | Feb 26 | Feb 25 | Feb 24 | Feb 23 | Feb 22 | Feb 21 | Feb 20 | Feb 19 | Feb 18 | Feb 17 | Feb 16 | Feb 15 | Feb 14 | Feb 13 | Feb 12 | Feb 11 | Feb 10 | Feb 9 | Feb 8 | Feb 7 | Feb 6 | Feb 5 |
| Windows | 0 | 4 | 9 | 8 | 12 | 6 | 9 | 8 | 9 | 17 | 5 | 8 | 4 | 2 | 9 | 8 | 4 | 6 | 17 | 1 | 5 | 6 | 10 | 11 | 14 | 10 | 6 | 11 | 7 | 8 | 7 | 7 | 4 | 5 | 6 | 11 | 8 | 6 | 9 | 4 | 3 | 7 | 11 | 11 | 6 | 11 |
| OS X | 1 | 8 | 5 | 17 | 13 | 7 | 9 | 15 | 28 | 15 | 6 | 4 | 8 | 8 | 4 | 12 | 17 | 8 | 10 | 7 | 7 | 10 | 8 | 16 | 15 | 10 | 7 | 9 | 9 | 7 | 9 | 14 | 8 | 7 | 6 | 10 | 10 | 5 | 19 | 8 | 11 | 7 | 8 | 14 | 9 | 10 |
| Linux | 0 | 8 | 13 | 11 | 11 | 10 | 14 | 18 | 13 | 13 | 12 | 15 | 5 | 7 | 5 | 7 | 16 | 6 | 5 | 15 | 4 | 10 | 10 | 9 | 8 | 5 | 9 | 9 | 9 | 11 | 7 | 14 | 11 | 10 | 10 | 11 | 13 | 9 | 9 | 11 | 9 | 6 | 6 | 7 | 12 | 13 |
Readme
Source
LSP
Gives Sublime Text 3 rich editing features for languages with Language Server Protocol support.
Tested against language servers for javascript, typescript, python, php, java, go, c/c++ (clangd), scala (dotty), julia, rust, reason.
See Language Server Protocol for available implementations.
Features
Completions with snippet support.
Navigate code with Go to Symbol Definition and Find Symbol References
Inline documentation from Hover and Signature Help popups

As-you-type diagnostics with support for code fixes (F4 to select, super+. to trigger actions)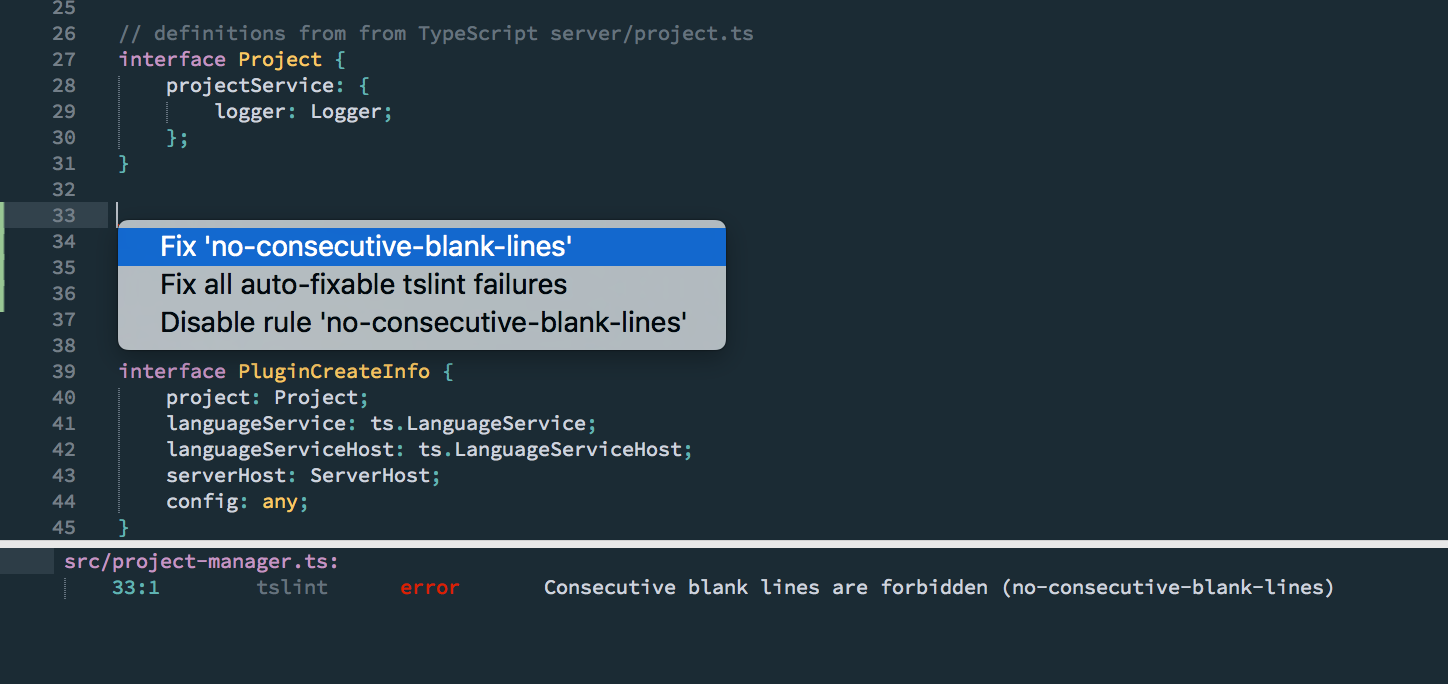 Installing
Normal installation: Install the LSP package through Package Control in Sublime Text.
To run latest master: 1. Clone this repository into your Packages directory 2. Run Package Control: Satisfy Dependencies in Sublime
Configuration
Install a language server for a language of your choice
Run LSP: Enable Language Server from the Command Palette to enable your server.

A configuration can be added under clients in Preferences: LSP Settings

Open a document supported by this language server.
LSP should report the language server starting in the status bar.
Documentation is available at LSP.readthedocs.io or in the docs directory
Troubleshooting
Enable the log_debug setting, restart Sublime and open the console. See the Troubleshooting guide for tips and known limitations.
Have you added multiple folders to your Sublime workspace? LSP may not handle your second folder as expected, see this issue for more details.