Browse
LSP
Language Server Protocol support for Sublime Text 3
Details
0.2.1

3 days ago

1 hour ago

1 month ago
Installs
Total

317

Win

84

OS X

149

Linux

84
| | | | | | | | | | | | | | | | | | | | | | | | | | | | | | | | | | | | | | | | | | | | | | |
| --- | --- | --- | --- | --- | --- | --- | --- | --- | --- | --- | --- | --- | --- | --- | --- | --- | --- | --- | --- | --- | --- | --- | --- | --- | --- | --- | --- | --- | --- | --- | --- | --- | --- | --- | --- | --- | --- | --- | --- | --- | --- | --- | --- | --- | --- |
| | Sep 20 | Sep 19 | Sep 18 | Sep 17 | Sep 16 | Sep 15 | Sep 14 | Sep 13 | Sep 12 | Sep 11 | Sep 10 | Sep 9 | Sep 8 | Sep 7 | Sep 6 | Sep 5 | Sep 4 | Sep 3 | Sep 2 | Sep 1 | Aug 31 | Aug 30 | Aug 29 | Aug 28 | Aug 27 | Aug 26 | Aug 25 | Aug 24 | Aug 23 | Aug 22 | Aug 21 | Aug 20 | Aug 19 | Aug 18 | Aug 17 | Aug 16 | Aug 15 | Aug 14 | Aug 13 | Aug 12 | Aug 11 | Aug 10 | Aug 9 | Aug 8 | Aug 7 |
| Windows | 0 | 3 | 9 | 2 | 2 | 6 | 19 | 27 | 2 | 0 | 0 | 0 | 4 | 0 | 3 | 0 | 1 | 0 | 2 | 0 | 0 | 0 | 0 | 0 | 2 | 1 | 2 | 0 | 0 | 0 | 1 | 0 | 0 | 1 | 0 | 0 | 0 | 2 | 0 | 0 | 0 | 0 | 0 | 0 | 0 |
| OS X | 0 | 8 | 11 | 6 | 7 | 20 | 24 | 37 | 11 | 3 | 1 | 4 | 4 | 1 | 1 | 2 | 7 | 2 | 2 | 1 | 1 | 1 | 2 | 1 | 1 | 0 | 1 | 1 | 2 | 0 | 0 | 3 | 2 | 1 | 0 | 0 | 0 | 0 | 0 | 0 | 0 | 0 | 0 | 0 | 0 |
| Linux | 0 | 15 | 5 | 2 | 8 | 9 | 19 | 26 | 8 | 2 | 0 | 1 | 3 | 1 | 1 | 1 | 0 | 2 | 1 | 2 | 1 | 2 | 0 | 0 | 0 | 0 | 1 | 0 | 3 | 0 | 1 | 0 | 0 | 0 | 0 | 0 | 0 | 0 | 0 | 0 | 0 | 0 | 0 | 0 | 0 |
Readme
Source
LSP
Universal Language Server support for Sublime Text 3 using the Language Server Protocol.
Features:
Hover
Completions
Go to document symbol
Go to symbol definition
Find symbol references
Diagnostics
Code Actions
Tested against language servers for javascript/typescript, python, c/c++ (clangd), scala (dotty), rust, reason. See langserver.org for available implementations
Screenshots
Rich hover support from js/ts language server

Cycle through diagnostics shown in output panel with F4. Code actions supplied by tslint language server plugin, applied by super+.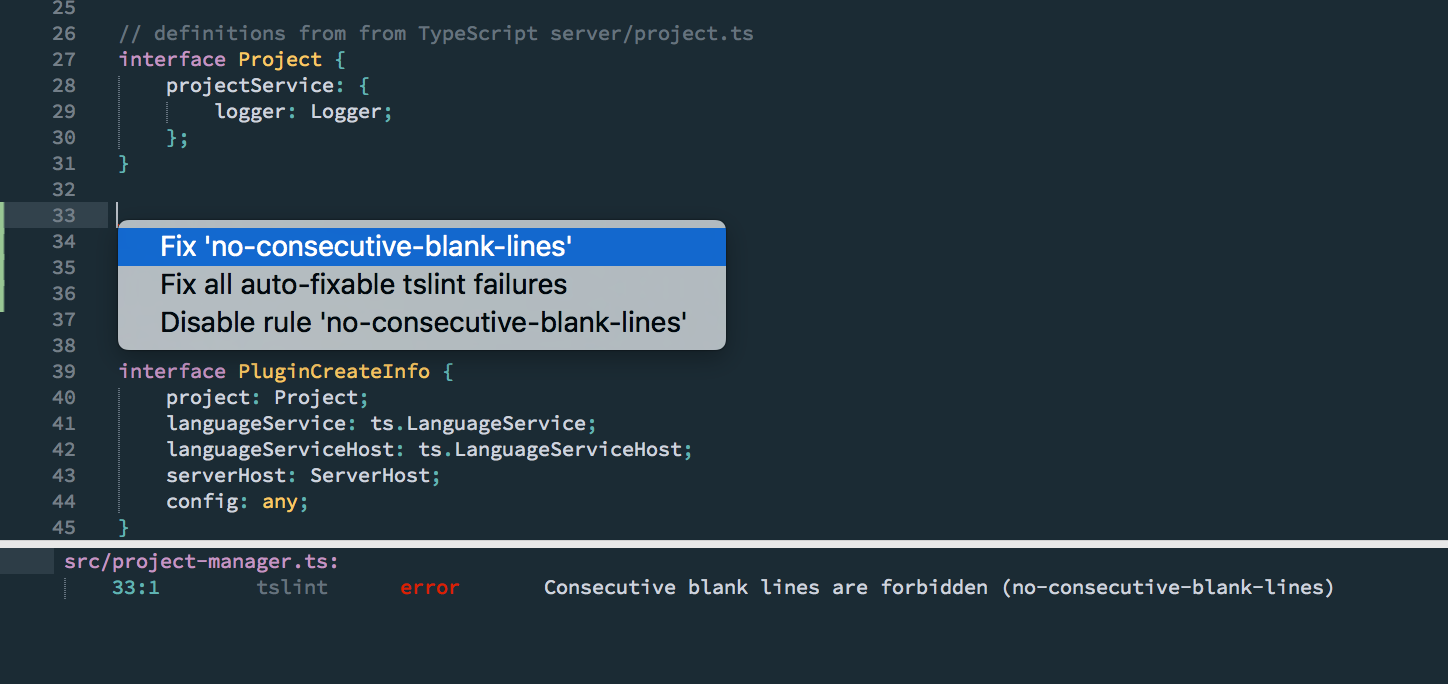 Installing
Releases are published as LSP in Package Control.
To run latest master: 1. Clone this repository into your Packages directory 2. Run Package Control: Satisfy Dependencies
Configuration
Documentation is available at LSP.readthedocs.io or in the docs directory
Troubleshooting
Enable the log_debug setting, restart Sublime and open the console. See the Troubleshooting guide for tips and known limitations.